The Players
Players 2022: First thing Cameron Young did with his newfound riches? Move out of mom and dad's house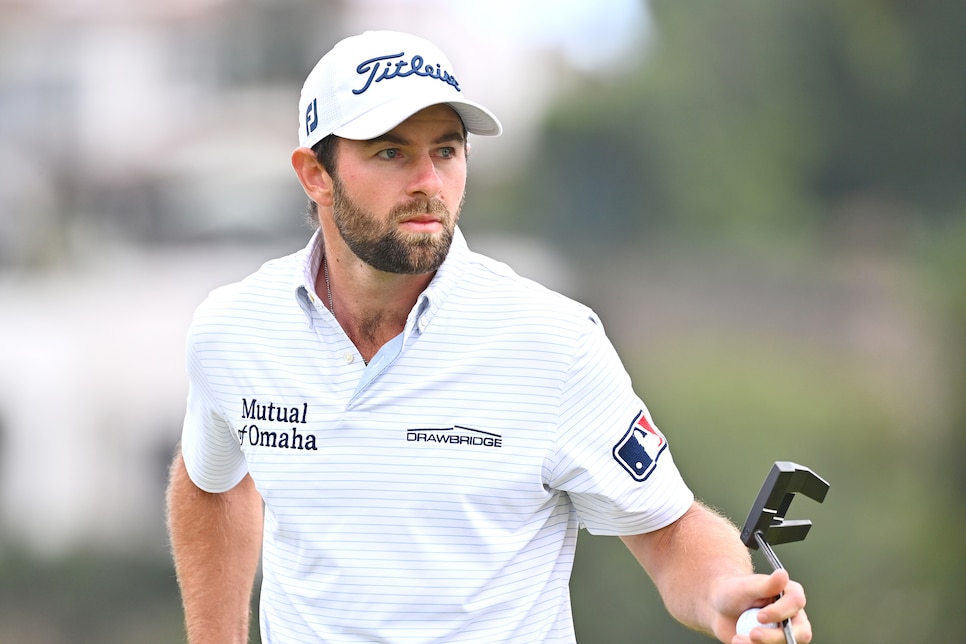 PONTE VEDRA BEACH—Saying Cameron Young has "burst onto the scene" in his rookie season on the PGA Tour would be willfully ignoring everything Cameron Young accomplished in golf prior to 2022. He's won at every level, dominating the Metropolitan Section as a junior and putting together a strong college campaign at Wake Forest University. He also won twice on the Korn Ferry Tour a season ago, which helped him earn his PGA Tour card. He's been "on the scene" for nearly a decade.
But the casual golf fan (understandably so) is likely just taking notice. Young has already racked up five top-20 finishes in 11 starts this season, including a pair of runner-ups at the Sanderson Farms and the Genesis Invitational. In the process, he's risen from 173rd to 44th in the Official World Golf Ranking, which helped him earn an exemption into this week's Players Championship. He's on the cusp of securing an April tee time at Augusta National.
Perhaps of greater importance to Young, though, is the growth of his bank account. He's already made north of $2.2 million, a number he could double this week by finishing in second. That PGA Tour money, quite literally, hits differently.
The timing of the cash infusion couldn't have been better for Young, who might be the oldest 24-year-old on the planet. He's got a grown-man beard, has already been married for a year, and he and his wife Kelsey have already had their first child. The one thing they didn't have, though, was their own place.
"We've been living with our parents the whole time," Young said Wednesday.
Of course, Young has also been on the road quite a bit of late, and Kelsey and the baby have been right there with him along the way. He's thoroughly enjoyed it.
"Spent a lot of time with my family, my wife," he said. "We have a little baby, so spent a lot of family time, which has been great. Honestly, they've been out with me the last couple weeks and it's been such a nice change of pace to be with them on the road. I think it just keeps you a little fresher. You get off the course and you can kind of forget about golf a little bit, which is really nice."
Still, though, no home base, at least to themselves. Back in January at the Farmers Insurance Open, where Young tied for 20th, he said he couldn't yet afford a place in Jupiter, Fla., which is all the rage in the golf world. Things have obviously changed since then, and Young's first order of busines with his newfound riches was to move out of mom and dad's house and into a townhouse. Jupe Life, engage.
"We said 'that's enough, we're gonna buy something," said Young. "In Jupiter right now it's like open house Saturday, sold on Monday, so we closed on Monday of Honda [Classic] week."
Funny enough, Young fired a final-round 65 that week at PGA National to vault 40 spots up the leader board into a tie for 16th. To put it another way, it was an $80,000 round. Timely, some would say.
"I feel like I've played a lot of good golf over the last year, but I just wasn't quite getting anything for it," he said. "Twentieth-place on the Korn Ferry Tour doesn't really do much for you. But out here [on the PGA Tour], it does moreso, but you're still getting lapped by the people finishing ninth. So to have a couple of those turn into second-places and 13ths instead of 35ths I think has been why it's kind of happened so quickly."
This week, 35th-place will earn you six figures. Thirteenth? $425,000. Hell, Young could simply make the cut, shoot 80-80, finish in dead last and take home $43,000. The lesson to all the moms and dads out there? Get a golf club in your child's hands as soon as possible. Some day, that club might make them enough money to get out of the house.