The Loop
Ping-pong leads to Ryder Cup rivalry
CARMEL, Ind. -- Ryder Cup tension already is running high here at the BMW Championship.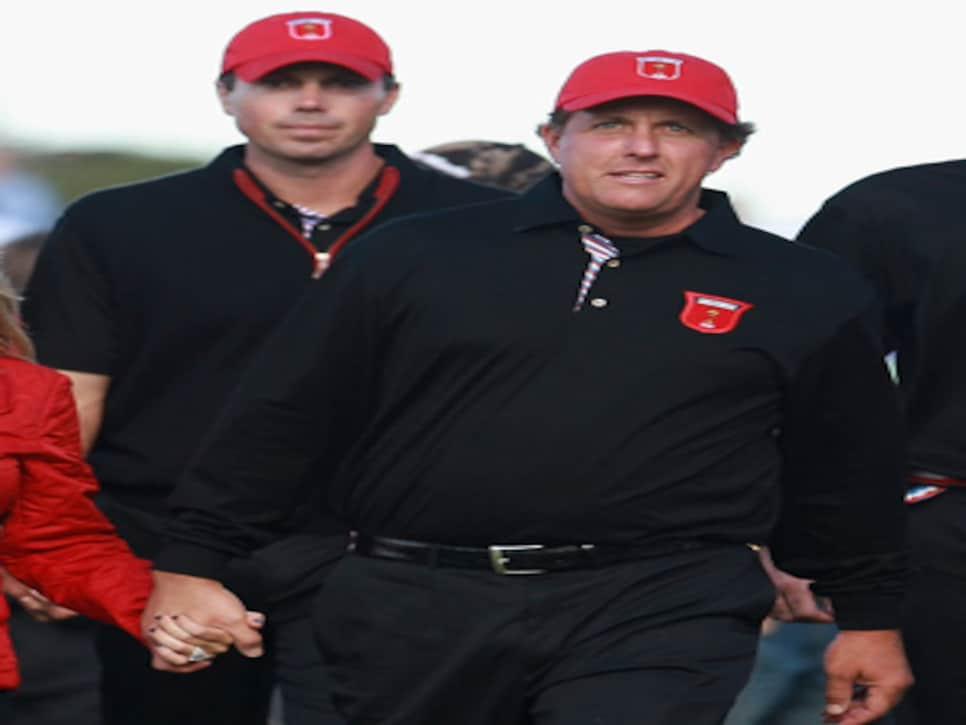 Phil Mickelson vs. Matt Kuchar.
On Wednesday, in the clubhouse at Crooked Stick GC, the two Americans rejoined their rivalry on the ping-pong table, and there may have been more shots fired in the aftermath than during Mickelson's come-from-behind 11-7 victory.
Their friendly table-top feud began two years ago at the Ryder Cup at Celtic Manor in Wales when Kuchar usurped Mickelson as the top American ping-pong player and it continued last year at the Presidents Cup at Royal Melbourne in Australia. Wednesday's match was unscheduled, and, according to Mickelson, unwise.
"I wasn't prepared to play him until the Ryder Cup. But he forced me to play. He called me out, and I spanked him," Mickelson said. "I think he's reeling a little bit, feeling bad. I can tell it affected him; he had a very poor aura thereafter. It was a monumental day."
Kuchar called into question the outcome. Usually they play until the winner reaches 21. This time it was an "Olympic-style" match to 11.
"Phil beat me. Not sure it was totally fair and square, but he beat me," Kuchar said. "I'm definitely a little bit irked about it. I am going to make sure that it's not going to happen again. We play at all of the team matches and I have dominated him. But today we just played to 11, and he took the first serve. He said I'm serving first.
"At 21 he doesn't stand a chance of beating me."
Replied Mickelson: "I don't know if he should really be talking smack right now when I handled him pretty good. But if it makes him feel better, then whatever he wants. I was down 7-3 and won 11-7. I peeled off 8 in a row. I got dialed in, and he had nothing for me."
Whether or not there is a rematch later this week remains to be seen, but Kuchar was looking ahead to the Ryder Cup at Medinah CC near Chicago later this month.
"He's talking big now, but he'll have to step up at the Ryder Cup," Kuchar said.