Limited-edition putters
Ping's limited-edition PLD Anser Patent 55 putter: What you need to know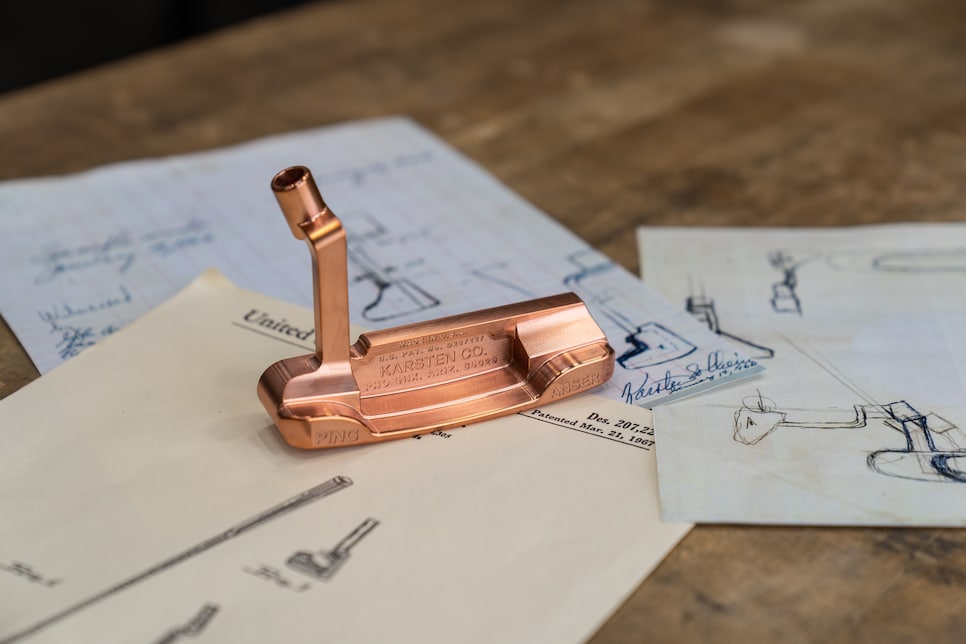 WHAT YOU NEED TO KNOW: The Ping PLD Anser Patent 55 in copper is the third of four collector's models. The choice of copper as the material is a tribute to Arizona and its status as the country's leading producer of copper. Arizona also has been the home of Ping for more than 60 years and is where founder Karsten Solheim first sketched the Anser design on a 78-rpm record sleeve in 1966.
PRICE: Only 55 of the precision-milled putters will be available via pingpld.com for $790 (limit one per customer). Sales start at 2 p.m. eastern on Monday, Sept. 26.
THE DEEP DIVE: For several years Ping has made its PLD (Putting Lab Design) putters available to its tour staff, with players such as Viktor Hovland, Joaquin Niemann, Bubba Watson and Tony Finau among those putting the highly customized putters in their bags. Ping has had two previous versions of the Anser Patent 55, both selling out in less than three minutes.
"Several golfers have acquired the first two versions, and we expect they'll be ready on Monday to add to their collection in hopes of collecting all four," said Ping executive chairman John A. Solheim.
The Anser—the most popular putter style of all time—started with a drawing on a 78-rpm record jacket.
That is the canvas Karsten Solheim, a Norwegian-born engineer who worked on jet fighters and missile guidance systems after World War II, used to sketch the Ping Anser putter in January 1966. A few weeks later Solheim brought the club to the Phoenix Open, and it piqued the interest of players such as George Archer, Kermit Zarley and Gene Littler—all who soon put it in play. The patent for the club was issued in March 1967 for what would come to be perhaps the most iconic putter model the game has ever known.
How the club got its name is nearly as interesting as how it was designed. Karsten had told his wife, Louise, he was determined to find an answer to the flaws of other putters used at the time. The day before Solheim's brainchild was produced they were at the engravers going over details when Louise suggested he call it the Answer. Karsten balked, saying it was no name for a putter and, besides, the name wouldn't fit on the toe. Louise held her ground and said, "Just leave out the w." After Karsten could not come up with a better idea, they settled on the Anser.
The final PLD Anser Patent 55 is gold plated and milled from stainless steel. It will be available on Dec. 12.