North & South Amateur
Pinehurst golfer uses local knowledge to shatter course record in North & South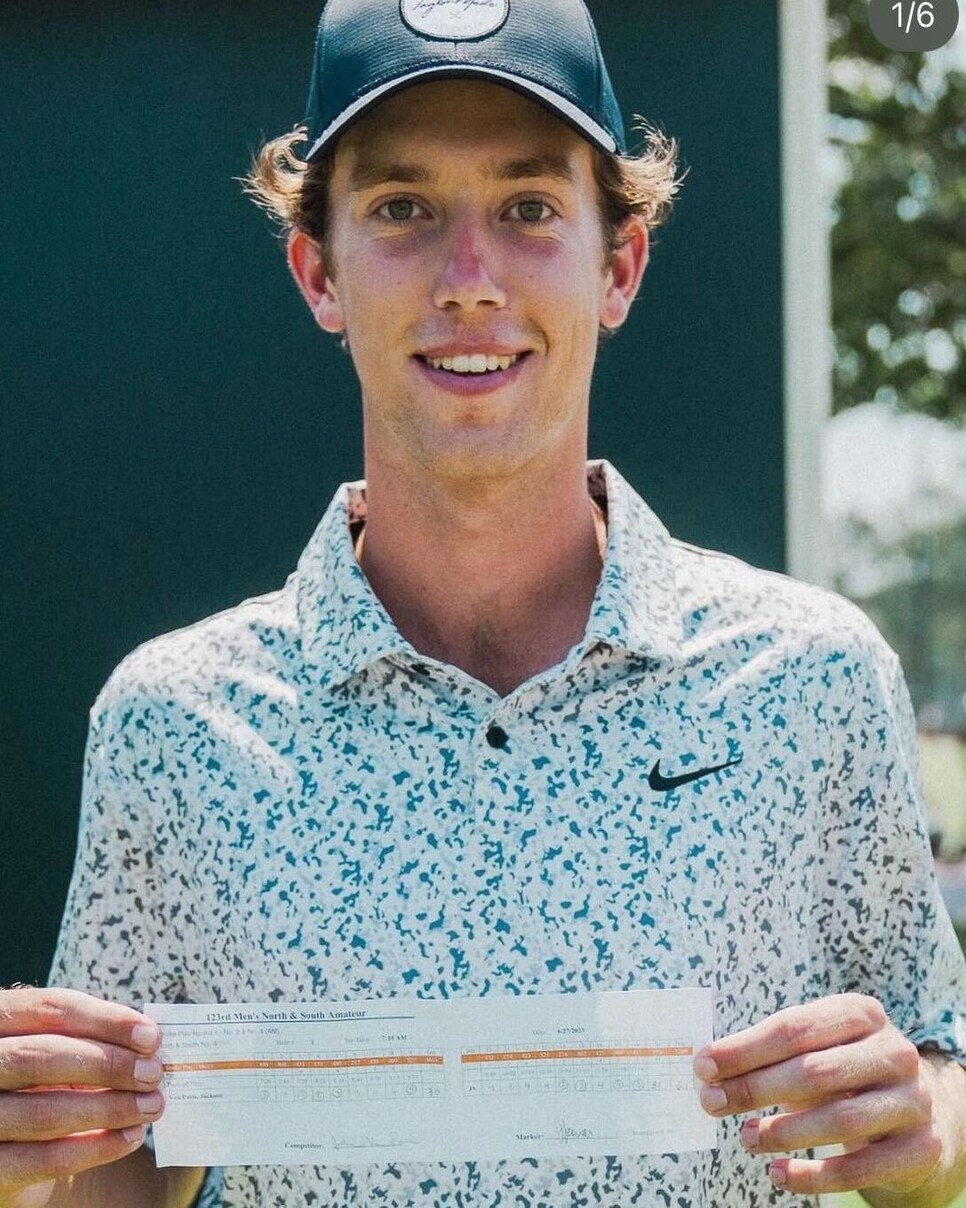 Jackson Van Paris shows off his scorecard from his record-setting round of 61 on Pinehurst No. 4 in the North & South Amateur
A Pinehurst native now holds a coveted local scoring record.
In the first round of the 123rd North & South Amateur on Tuesday, Jackson Van Paris shot a nine-under 61, setting a new course record at Pinehurst No. 4. He broke the old record, previously held by Jackson Koivun, by two strokes.
Van Paris, a rising junior at Vanderbilt who attended Pinecrest High School, attributed his impressive bogey-free round to the in-depth course knowledge that he's gained playing at Pinehurst throughout a majority of his golf career.
"Being from here played a huge part in my success today. It's why I feel so comfortable out here," Van Paris said. "Knowing where to miss the ball is just as crucial as knowing where to hit your ball out here."
Van Paris had a hot start, carding four birdies in his first five holes and said that it was a combination of solid ball-striking and making what he called "momentum putts" that elevated his round.
"I hit the ball really well and started off making birdies early," Van Paris said. "I made a lot of momentum putts. They weren't necessarily long putts; I don't think I made a single putt over 15 feet. But they definitely helped me keep momentum all day."
Van Paris also credited his friend and caddie Nick Boulanger, who works at the resort and knows the course well. He said Boulanger had a detailed understanding of No. 4 and gave great playing advice while also keeping it light and fun throughout the day.
Van Paris is currently ranked 60th in the World Amateur Golf Rankings and coming off of a big win after shooting a combined 13 under, including a second-round 61, over four days at the prestigious Sunnehanna Amateur. His impressive résumé includes an appearance in the 2018 U.S. Amateur, when, at 14, he became the youngest player since Bobby Jones to win a match.
The North & South Amateur is being played at Pinehurst No. 4 and Pinehurst No. 2, the site of numerous USGA championships, including the 2024 U.S. Open. After 36 holes of stroke play, the top-scoring 32 players advance to match play, with the final set for Saturday. The North & South Amateur scoring can be tracked here.