The overlength putter debate
Before you try the overlength putters used by pros, STOP and consider the options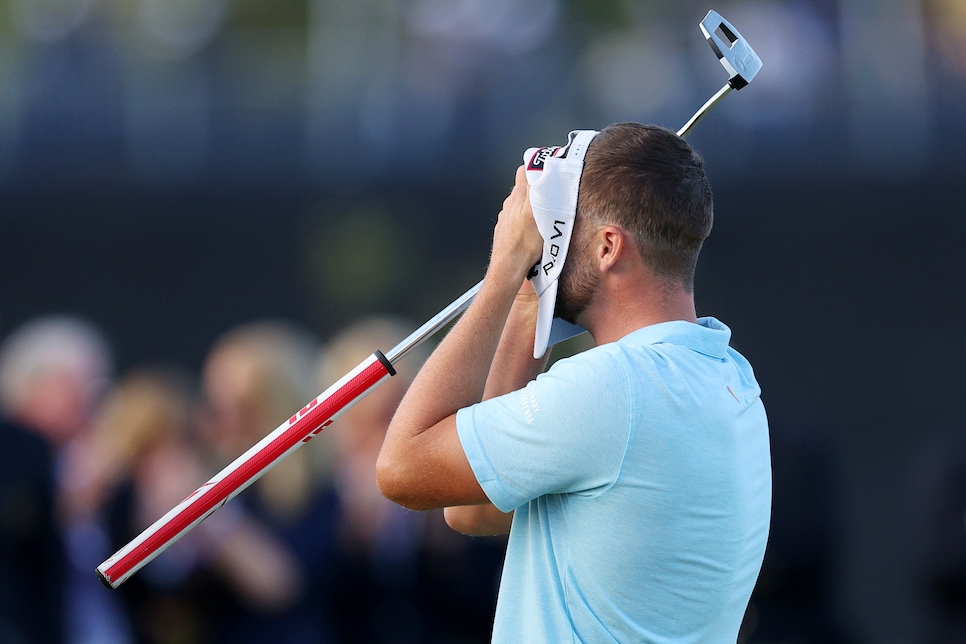 With overlength putter in hand, Wyndham Clark celebrates winning the U.S. Open.
Andrew Redington
Woody Lashen, longtime Golf Digest 100 Best Clubfitter at Pete's Golf in Mineola, N.Y., and one who's seen overlength putters come and go several times over the last 20 years, thinks there's a simple set of rules to guide whether you should be looking at making the switch to a dramatically different putter in terms of length, weight, flex and even possibly stroke.
It might be right if: 1) You are not a good putter; 2) You are in funk and need a big change; 3) You have used a long putter; 4) You need stability in the head because you can't find the center of the face.
But don't do it if: 1) You have a quick tempo; 2) You play slow greens; 3) You don't like the look or feel of a bigger, heavier head; 4) And by all means, don't do it because tour players are doing it.
There are two kinds of overlength putters
The putters that Wyndham Clark and Rickie Fowler used to tear up the U.S. Open, and the one that Keegan Bradley used to torch the Travelers may look exactly the same (the heads are all versions of the Odyssey Jailbird), but they are actually different because they are used differently. Bradley, who won the PGA Championship a decade ago by anchoring the putter against his midsection, eventually switched to this model and method after anchoring was banned. He braces the putter against the inside of his lead forearm with a special grip that has the flat end angled against his forearm. Because of that style and the forward press accompanying it, the putter has to have more loft then normal, 7-8 degrees as opposed to 2-4. It's a method similar to those used by Webb Simpson, Bryson DeChambeau and Matt Kuchar.
Somewhat differently, Fowler and Clark and the vast majority of those on tour contemplating a switch are looking to keep their standard grip but simply choke down several inches and make a relatively similar stroke. It leads to a counterbalanced effect where there's additional weight in the heavier grip above the hands to create stability and control in the stroke. It's a better option, said Craig Zimmerman, general manager at Retail Golf Center.
"We are big proponents of 'counterbalanced' putters," he said. "I think all of the vendors should go back to offering this type of putter, whereby you do not need to forward press and truly arm lock. The OEM's currently offer more armlock design putters than counterbalanced. In our opinion, this is a mistake, as the armlock putters are less appealing to most golfers given the differences versus a more traditional putter."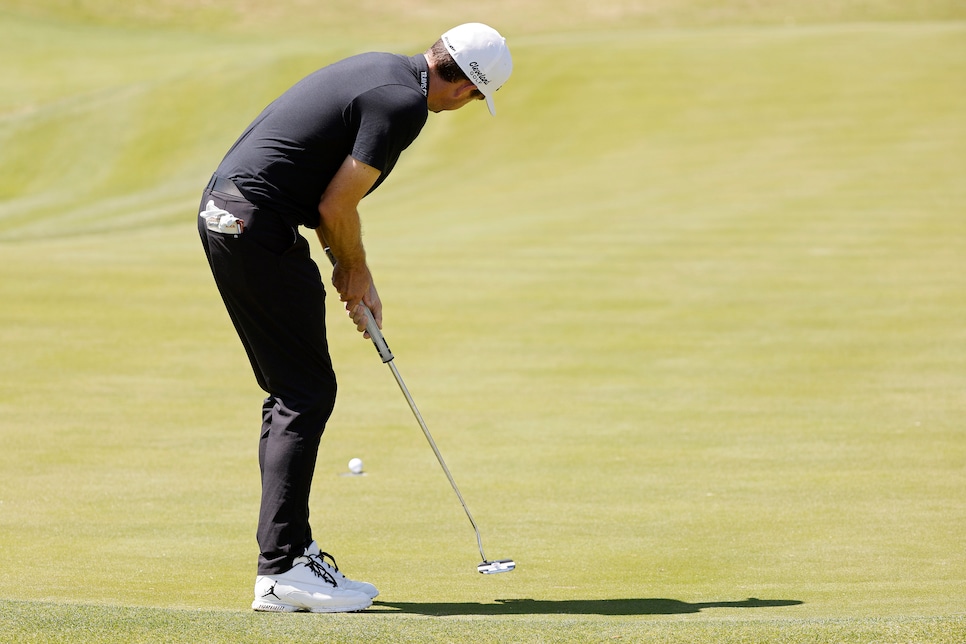 Keegan Bradley uses an armlock technique, and his putter needs more loft.
Mike Mulholland
You can't simply change out to a 39-inch shaft on your tried-and-true 2003 Odyssey 2-Ball and achieve putter nirvana.
First, the shaft often needs to be a much stiffer profile. That extra length is going to lead to more flexibility down at the head end—where you want the least flexibility. Making that shaft stability even more essential: The best overlength putters have larger, heavier heads (often in the neighborhood of 400 grams, or 50 grams heavier than many typical standard length putter heads). A heavier head needs a more stable shaft, what insiders call the ski pole shaft. The best heads tend to be larger mallets with a face-balanced shaft configuration to encourage a stroke with less rotation.
In addition to the wildly popular Odyssey Jailbird, Ping, Titleist/Scotty Cameron, Bettinardi and Evnroll, among others, have stock heads that work with armlock or overlength putting styles. lf your natural stroke is one with a lot of opening and closing of the face, that's likely going to need to change. There are some models that sport a slight degree of toe hang, but generally you're going to do better with a stroke that's more straight back and through.
Another key part of the idea of these overlength putters is a much heavier, longer grip, because the best way to use them is to choke down the shaft to an almost normal-length putter. The extra 3-5 inches above the hands leads to a counterbalanced effect. The additional weight above the hands is a little like gripping a dumbbell in the middle, balancing the weight to naturally increase the stability of your stroke.
About that length: While many designs have centered on 39 inches, a lot depends on your preferred standard putter length, as well as whether you plan to putt relatively conventionally (but with a longer putter) or armlock.
"Length is super important," said John Hutzler of SwingFit in West Virgina, a 100 Best Clubfitter, who thinks a lot of golfers, and especially junior golfers, might end up with the wrong length putter if they simply buy one they saw on TV. "Be careful to not allow too much of the handle to extend beyond your lead wrist," he said. "For the average golfer the rule of thumb is to have it extend no more than 3-4 inches max."
One unique alternative, notes 100 Best Clubfitter Kyle Cullum from No Bogeys Golf, is the Midlock grip from Evnroll putters. It uses the deepest pistol dimension allowed under the rules and then positions the grip sideways. The effect pushes the shaft angle away from the lead arm, which means the loft of the putter can be just 4 degrees, rather than 7 or 8. In fact, Cullum uses the grip and keeps the standard loft on his putter at 2.5 degrees, "If one doesn't game it, at the very least it is a great training aid," Cullum said. "It helps me to connect the arms and hands to the shoulders. I would encourage players to really give these kind of putters an extensive effort in getting use to it. I know so many people that have tried them briefly and give up so quick. Once you get used to it, it really simplifies putting."
Don't buy. Experiment. Then, buy.
This is not like walking into the pro shop after a 43-putt afternoon and grabbing anything that makes two six-footers and ringing it up on the Underhills' account. These putters, if you're getting the right one, involve a process, one that might not even end with a putter change. Find what works, ideally with a fitter, and experiment with all kinds of breaking putts, uphill and downhill and lag putts. The right setup might make the stroke change easier, too.
"This is a trial-and-error kind of thing," Lashen said. "Feel is subjective, based on stroke tendencies like tempo and rate of face rotation, the effectiveness of weighting the putter can appeal to different stroke types."
But if you're desperate, you better act now. Suitable heads, shafts and grips are going fast.