snoozefest
Philly local sound asleep during NBA playoff game, gotta respect it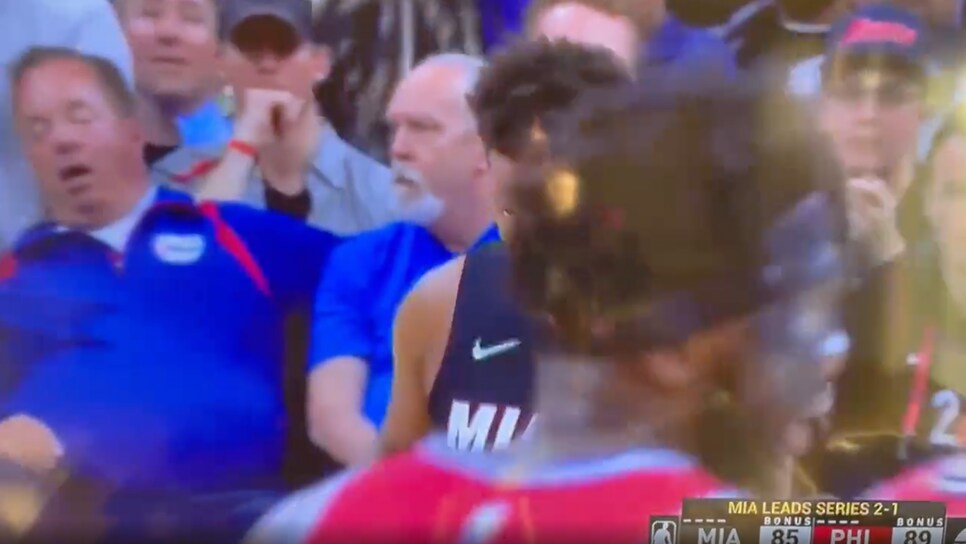 This 76ers-Heat series looked to be a blowout after the first two games. Joel Embiid was trying to return from a nasty injury, Miami was rolling and James Harden was James Hardening (the bad way). But suddenly, as the series moved to Philadelphia, everything changed. Embiid miraculously recovered, Miami started missing everything and James Harden started to James Harden (the good way).
Up four with the third quarter ticking away, Philly had its chance to tie up the series, gain even more momentum and close in on an Eastern Conference Finals appearance. It was a big moment.
Not for this guy though …
As someone who grew up with a father that was able to fall asleep during any movie or sporting event when on the couch, you can see all of the signs of a great sleep by this Philly fanatic.
His left arm is out to the adjoining seat to maintain great balance, his head is lolled back for maximum sleep efficiency and his mouth is open for that premium oxygen to carbon-dioxide conversion. It may not be the best place to snooze, but you can't say this man isn't doing it right.
You gotta give props to someone with the disposable income to sit in the first row during an NBA Playoff game and choose sleep over basketball.
To make matters worse, it looks like NBA Twitter has found out the man behind the snores, local car dealer/minor-celebrity David Kelleher.
Many online recognized the used car dealer due to his ads in the area. As the infamous quote goes, You either die a used car salesman or you live long enough to see yourself become the guy passed out at the Wells Fargo Center.
At least it looks like Kelleher is taking this all in good fun …
All news is good news in the used car industry.