The Loop
Phil Mickelson's right-handed wedge shot upstages Ryder Cup teammates (Updated with video)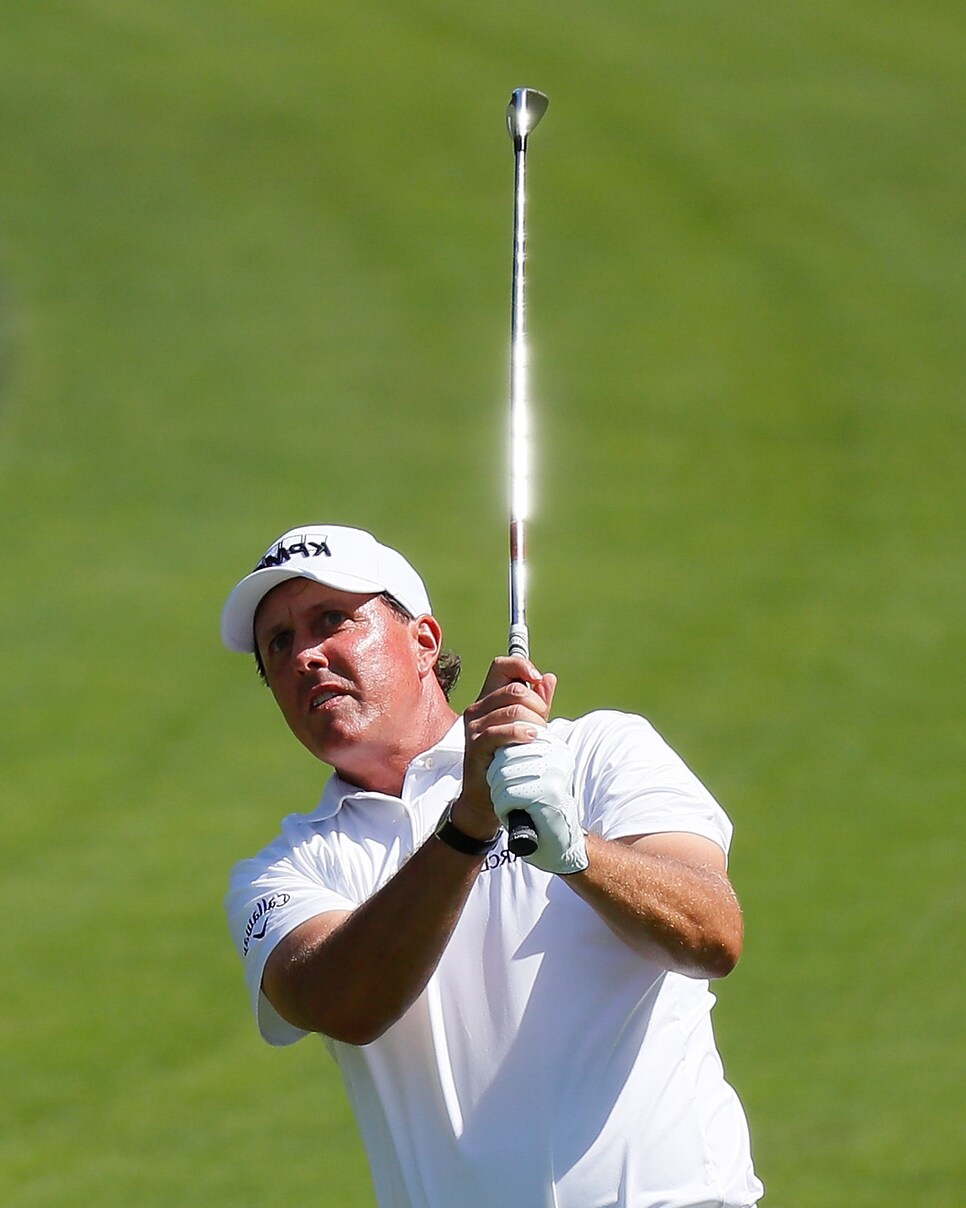 Update: Here's the video of Phil's righty wedge shot:
NORTON, Mass. -- Add one more tale to the legend of Phil Mickelson. And give the Americans an early 1-up lead in mojo as the run-up to the Ryder Cup begins in earnest.
While the European roster is set but generating questions after Russell Knox was omitted from Darren Clarke's captain's picks, the U.S. team enjoyed a night of fun and inspiration.
The U.S. squad as its presently constituted -- eight automatic picks, captain Davis Love III and three vice captains -- gathered on Wednesday night for dinner at Gillette Stadium in nearby Foxboro, home of the New England Patriots. One of the highlights was a motivational speech from Mike Eruzione, one of the stars of the 1980 U.S. hockey team that won the gold medal. The team dined with Patriots owner Robert Kraft and other guests, including PGA President Derek Sprague in a ground-level luxury box at one end zone.
But the main event was a shootout on the Gillette Stadium turf. Zach Johnson brought a bucket of balls from TPC Boston, where the second leg of the FedEx Cup playoffs, the Deutsche Bank Championship, begins Friday. Vice captain Tom Lehman helped arrange for a flagstick to be set up on the field. Shots were hit from a platform behind the end zone.
The only available club was a wedge. For right handers.
Mickelson, who is naturally right-handed, but has played golf all his life as a lefty, nonetheless emerged with bragging rights -- dangerous in his possession -- with a shot to four feet. It was an important moment for the development of the team, he said. Well, sort of.
"It was a 60-degree wedge from 80 yards so it wasn't rocket science," Mickelson said, grinning. "I feel like it identified a weakness in the U.S. team that we need to focus on in the next four, five weeks, hitting it right-handed inside of them. Now, we have time to fix it. But we've got an issue."
"Phil hit it to four feet right-handed on his second try, which made all of us feel really bad," said Jordan Spieth, "because he sure let us know about it."
"I think it was just a fun night to spend time together in a non-competitive light," Mickelson said, though, clearly, he knows when to get competitive.
"I just tried to have it [the shot] come in dead because we have that rubbery astroturf," he said, explaining the shot. "I didn't want to put too much sauce on it. I just got it on the line and it hit and just stayed there."