The Loop
Phil Mickelson's bad movie reviews, Bryson DeChambeau's controversial handshake, and a genius style innovation
Welcome to another edition of The Grind, where we're about as excited as we can be for a non-major week. Fresh off that thrilling charge (and not-so-thrilling tumble) at the Open Championship, Tiger Woods returns to Firestone for one final time. Well, unless he goes back to the newest Champions Tour major venue when he's on the senior circuit. Man, imagine Tiger playing against fellow 50-plus golfers with that fused back of his? It's not even a fair fight. Heck, he might be more dominant than he was at his peak. Anyway, that's a long ways off. For now, here's what else has us talking.
Dustin Johnson: DJ cruised to his 19th career PGA Tour title at the RBC Canadian Open. The victory matched Bubba Watson for the most on tour this season (three) and made Johnson the first player since Tiger Woods in 2009 to win three or more times on the PGA Tour in three consecutive seasons. And boy, did he look thrilled about it after:
We're guessing he'll show a bit more excitement when he makes win No. 20 his second major at next week's PGA Championship.
Miguel Angel Jimenez: There are golf legends and then there's Miguel Angel Jimenez. The guy is so cool that he could win a senior major (holding off Bernhard Langer, no less) AND revolutionize how we wear sunglasses all at the same time:
Keep your sunglasses under your hat? Absolutely brilliant. Of course, Big Sunglass won't be thrilled because that's going to mean a lot less fruitless trips to the lost and found. Moments after that stunning reveal, Jimenez lit up a cigar during his post-round interview with Golf Channel. Keep doing you, Miguel. And there has never been a trophy better suited for its winner.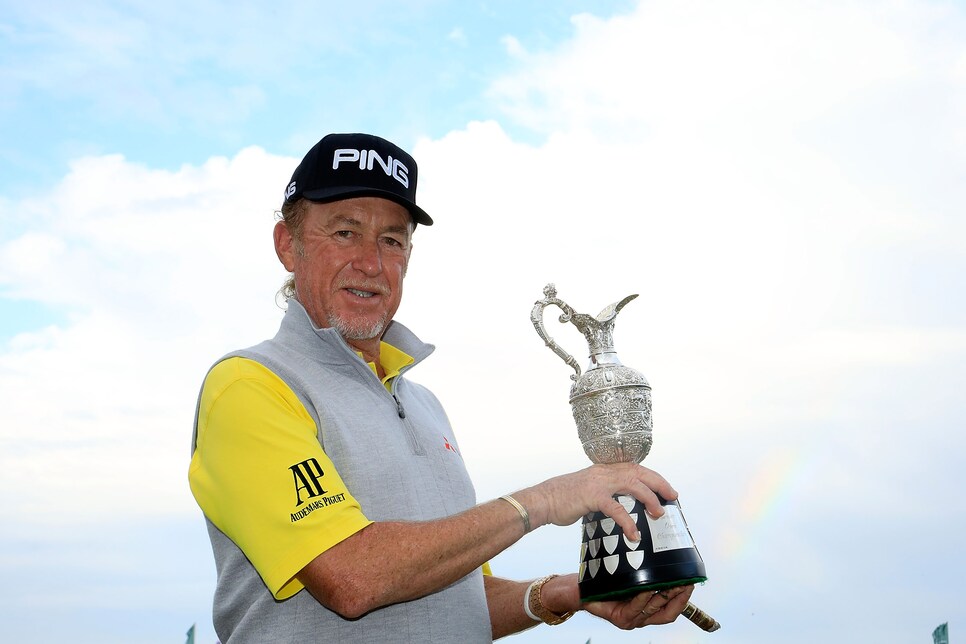 That jug is going to get a LOT of use.
Richard McEvoy: It took 285 starts on the European Tour, but McEvoy is finally a winner after holing a clutch birdie putt on the final hole of the Porsche European Open. "Incredible," McEvoy said after. "I fought hard. I believed." Love the story and love the name, because it reminds me of Roy McAvoy every time I see it on the leader board.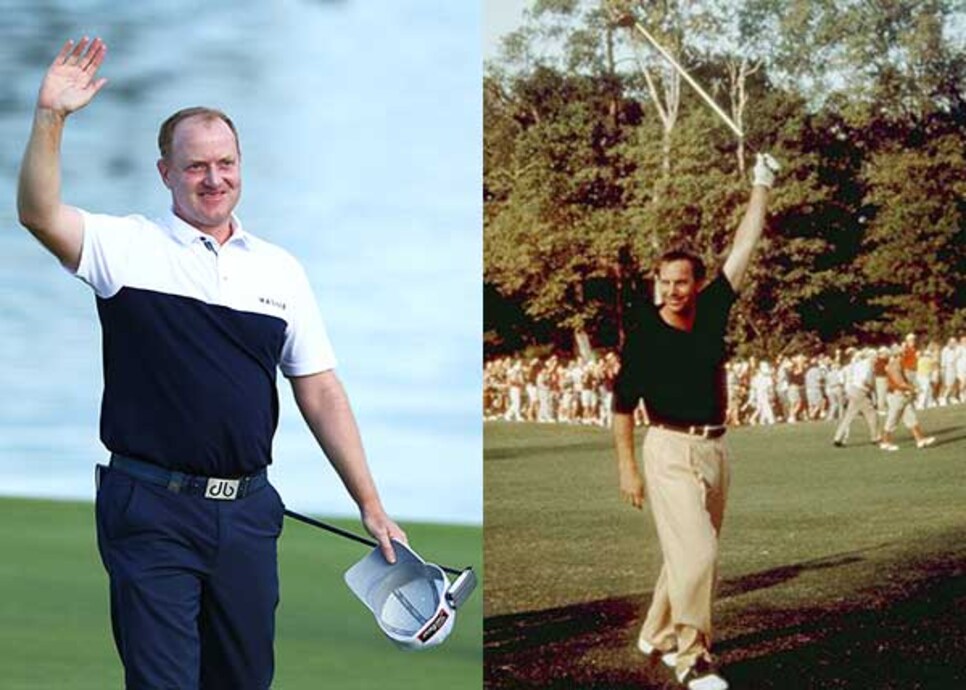 Both are extremely likable underdogs.
Bryson DeChambeau's handshake: Look, Bryson shouldn't serve any time for this, but he should have handled himself a little better at the conclusion of the Porsche European Open. Have a look for yourself:
Again, he's allowed to be upset after finishing with two bogeys and a triple in his final four holes to blow a tournament, and he did shake McEvoy's hand. I'm just asking for him to hold that handshake for an extra half second and to actually look his winning opponent in the eye. That's all. In any event, good for Bryson for issuing a quick apology. And since this is now officially the most over-analyzed handshake since Donald Trump met with Kim Jong Un, let's move on to more important other things …
Paula Creamer's "Happy Gilmore": First of all, it's good to see the Pink Panther, because I hadn't heard much about her lately. However, this "Happy Gilmore" attempt is as bad as it gets, especially for a tour pro.
Phil Mickelson's movie reviews: To be fair, Phil critiqued his own movie critiques in a recent interview with Golf Magazine's Alan Shipnuck. "Of course, I'm not a very good movie critic in that I'm not critical," Mickelson said. "I like 'em all. Except the movies that win awards, like The Shape of Water — I just didn't care for that. A love story with a water alien? I just didn't get it." How dare you, Phil! Don't take things so literally! Love can exist in many forms, have a heart! That movie was so moving it left me crying on my flight back from Scotland. I mean, never mind, that was the onions in the salad. . . Meanwhile, I began the flight by taking Mickelson's recommendation of "The 15:17 to Paris." Not great. It's an incredible example of bravery, but it could have been handled as a 30-minute documentary. In fact, here's a look at Phil Mickelson leaving a movie theater. Unless it's "The Shape of Water." Or another award-winning movie.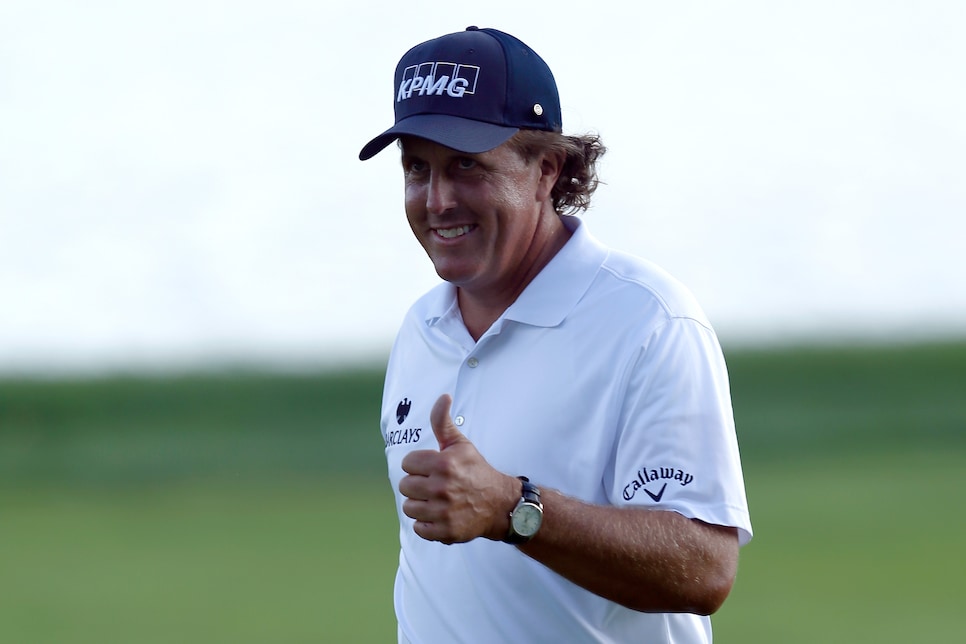 I'm scared to ask what Phil thinks of "The Shawshank Redemption," AKA the movie GOAT. So to review, when it comes to Philly Mick's movie picks, I'm giving a thumbs down.
The PGA Tour heads to Firestone one final time for the WGC-Bridgestone Invitational, AKA that event Tiger Woods always used to win. Well, one of those events. And in case you hadn't heard, he's back this week after creeping back into the top 50 of the Official World Golf Ranking thanks to a T-6 at the British Open. That's good news for golf fans, and bad news for the rest of the field.
Random tournament fact: In a span of 10 starts at Firestone from 1999-2009, Woods won seven times and had a T-4 as his worst finish. And yes, that included this 11-shot romp in the dark:
The guy was a decent player in 2000.
RANDOM PROP BETS OF THE WEEK
— Tiger Woods will win by 11 in the dark again: 1 million-to-1 odds
— Tiger Woods will win this week: 12-to-1 odds (Actual odds)
— TV ratings will be higher than they have in a few years: LOCK
I think we've found the next "Wanna get away?" commercial.
While Bryson DeChambeau drew criticism for his quick handshake, this viral video from the previous week won him a lot more fans. It shows DeChambeau totally frustrated on the range after the first round of the British Open. And you won't see better insight to the pressure and struggles tour pros face anywhere:
It also shows what a thin line there is between success and failure in pro golf. Seven days after this clip, DeChambeau took the lead in his next tournament.
VIRAL VIDEO OF THE WEEK (BAD TEMPER DIVISION)
Patrick Reed ejected a camera crew after claiming to hear some change jingle:
The best part is when he says the cameraman "lost privileges." So good. Between Reed and DeChambeau, there really might be an international incident at this year's Ryder Cup in France.
VIRAL VIDEO OF THE WEEK (BAD LUCK DIVISION)
Mark James is one of many to hit a shot out of bounds at St. Andrews' Road Hole, but he's probably the first to do it by hitting a seagull:
THIS WEEK IN DUSTIN JOHNSON-PAULINA GRETZKY PUBLIC DISPLAYS OF AFFECTION
Sorry, but we've got nothing. Paulina wasn't on the 18th green to meet her man. And she didn't send any sort of congratulatory Instagram.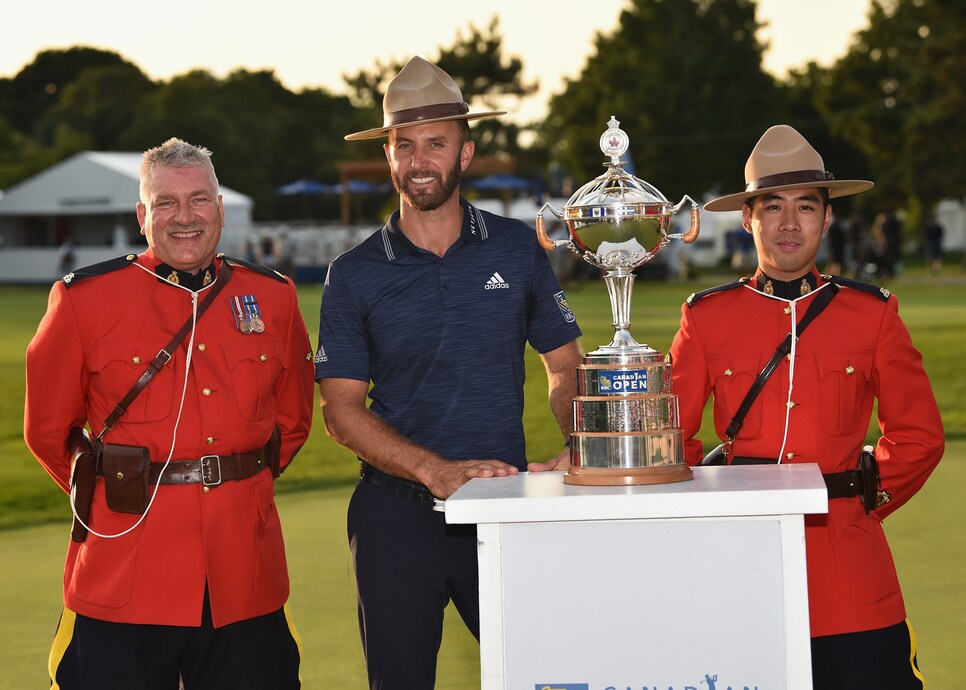 Guess winning is getting to be old hat. See what I did there? That being said, there was this sort of PDA between DJ and Paulina's dad:
"I didn't enjoy the experience. You only ever enjoy golf when you play well. It is misery when you don't play well. I'm a competitive person. I came in here thinking I could have a chance if I played well. But all my golf did was make me want to go practice." — Brandel Chamblee after missing the cut at the Senior British Open.
Chamblee also said he putted "like a buffoon." A pretty harsh assessment of someone who hadn't played in a tour event for a decade. But hey, the man doesn't pull punches — even at himself.
Heartbreaking news out of Australia as Jarrod Lyle's battle with leukemia appears over. At 36, he leaves behind a wife and two daughters. Please help them by donating here. … Ariya Jutanugarn won the Scottish Open for her LPGA leading third victory of the season. Could we see DJ and AJ win POY on their respective tours? … The USGA and R&A announced their plan to limit green-reading materials beginning next year. Good job, governing bodies. … And finally, I gave it the old college try in Scotland when it comes to whisky: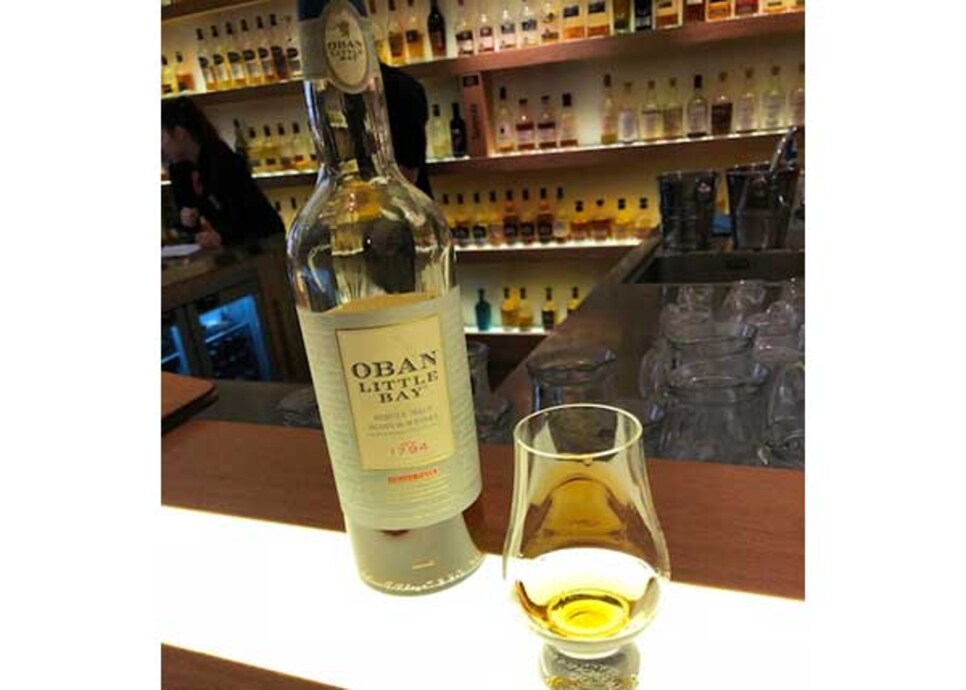 And by the old college try, I mean that I quickly reverted to mixing it with Coke.
RANDOM QUESTIONS TO PONDER
What did Phil Mickelson think of Three Billboards Outside Ebbing, Missouri?
Is that Phil-Tiger $10 million match still going to happen?
Is Miguel Angel Jimenez's victory celebration still going?