News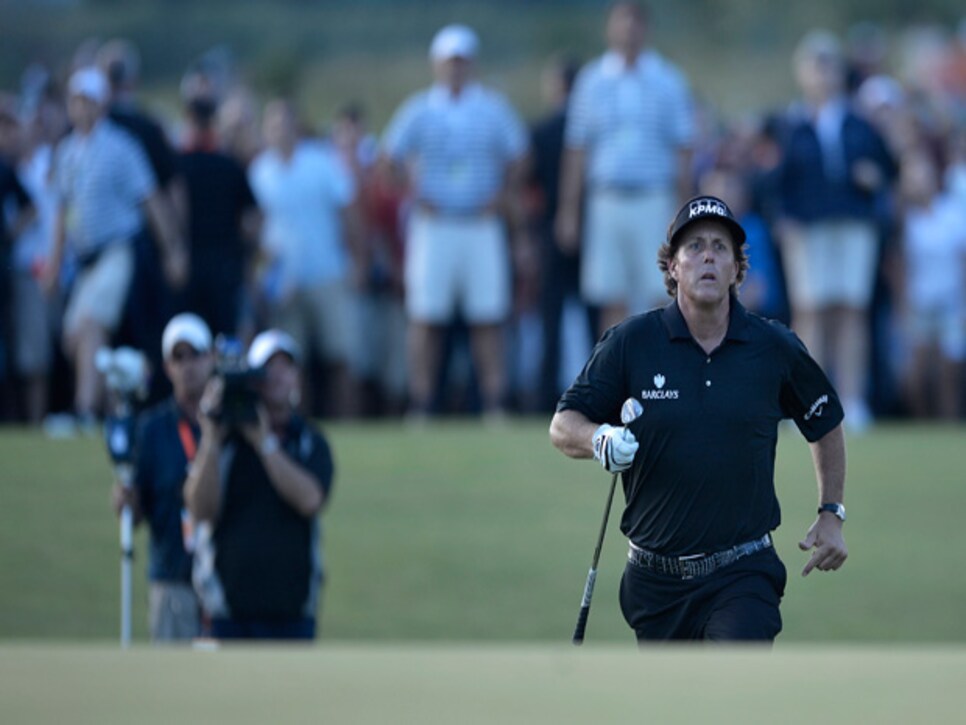 Mickelson couldn't summon anymore magic on No. 18 on Sunday at Merion.
ARDMORE, Pa. -- It's silly to say Phil Mickelson leaped in celebration when he took the lead Sunday afternoon in the U.S. Open. It's silly because, at age 43 and never mistaken for a zero body-fat triathlete, Mickelson does not leap. He makes valiant attempts to elevate, if not truly defy gravity, as we saw when he won his first Masters. These attempts end a microsecond after they begin. He might clear a credit card, provided the card is laid flat.
With a wedge in hand, the man is a circus.
His tee shot on the 10th hole was in the rough, 75 yards from the wicker basket.
By then, after two double-bogeys on the front, Mickelson had given up the lead to the young Brit, Justin Rose, last seen in Mickelson's company at last fall's Ryder Cup, winning their critical singles match with three straight putts, one dagger after another to the heart, each so elegantly delivered that Mickelson had to smile. He even turned a thumb up in appreciation of the art of the kill.
Nothing had worked for Mickelson on this Sunday. Every putt that might have caught an edge and fallen in, didn't. Then he put up the gap wedge shot at the 10th. It came to earth maybe 12 feet from the basket and rolled toward the hole -- and Mickelson raised up on his toes to see what was happening -- and he didn't blink once -- and his eyes opened wide -- and when the ball rolled into the cup, dead-center, Mickelson did his almost-a-leap thing. He did manage to raise both arms in athletic triumph.
Suddenly, with eight holes to play, he led the U.S. Open by a shot. He had been the Sam Snead of his time, a multiple major champion unable to win the most important tournament of all. He had finished second in the Open five times. No other man had ever done that. Think about it. To finish second once would be good, twice better, three times a feat. But to come so near and yet so far four times seems unfair, and when it happens to a man five times, he surely feels the pain defined by the sainted Bobby Jones when he wrote, "We are all dogged victims of inexorable fate."
So this, surely, would be Mickelson's time. Sunday was his birthday. It was Father's Day, and what father could have done a more fatherly thing than stay at home, in California, for his 13-year-old daughter's eighth-grade graduation and then fly overnight to make his first-round tee time at 7:11 a.m.?
More important, he was playing well. Not really sleepwalking but not really awake, either, he opened with a 67 that turned out to be as good a round as anyone had all week. Also, he loved the grand, old Merion Golf Club's East Course. It was a masterpiece of golf architecture, a test of mind as well as skill.
Early in the week, he felt confident enough to talk about his Open history. You may remember that he threw away one of those Opens, at Winged Foot, with successive ill-advised shots on the 72nd hole. That time, he said, "I am such an idiot."
Alas. Mickelson's lead on this day lasted mere minutes. Playing two groups head, Rose rolled in a 20-footer at the 12th to draw even and another at the 13th to go ahead. From the 13th tee, on a hole playing 115 yards, the last true birdie hole of the round, Mickelson flew a pitching wedge too far. The ball fell in deep rough right of the green. He couldn't get it up and down. Down two shots now, he came to the East Course's five most difficult holes needing a birdie, or two, to catch Rose. By then, inexorable fate had made its decision: Not yet, Phil.
Time after time, putts stayed out. "The stroke felt fabulous all day, starting at the first hole," he said. "I can't believe that ball didn't go in. Second hole, I hit a good putt. It was really rough around that hole there. I hit a good putt for eagle on 4. Hit a good putt on 6. I thought I made that. I thought I made the one on 8. Thought I made the one on 9, man. The one on 11 wasn't great, but I thought had a chance on 12. Certainly 16, I thought I made."
Not at Pinehurst, not at Bethpage Black, not at Shinnecock, not at Winged Foot, not even at Bethpage a second time.
Not at Merion, either, and maybe this one hurt more than any other.
"Very possibly, yeah," he said. "I think this was my best chance." He played well, he loved the place. "It's probably the toughest for me because at 43 and coming so close five times, it would have changed the way I look at this tournament altogether and the way I would have looked at my record."
An odd thing to say, that it would have changed the way he looked at his record, and he explained it.
"If I never get the Open," he said, "then I look back and I think that -- every time I think of the U.S. Open, I think of heartbreak."