Phil
Gambler claims Phil Mickelson tried to bet on Ryder Cup he was playing in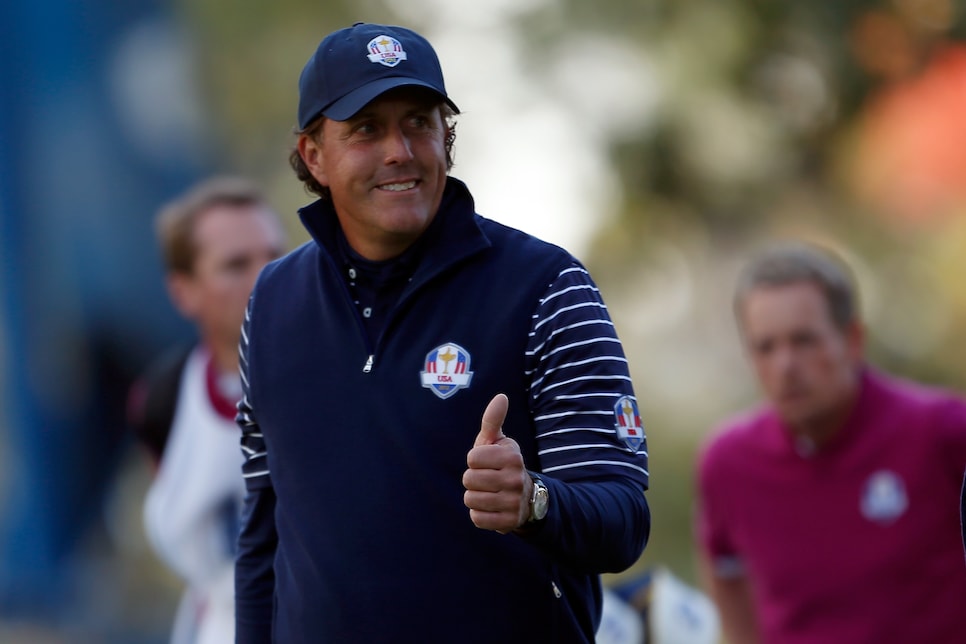 Phil Mickelson sought to place a bet on a Ryder Cup he was playing in, alledges a former associate of the six-time major champion in an excerpt of book set to be released later this month.
In Gambler: Secrets from a Life at Risk, sports bettor Billy Walters details his relationship with Mickelson. Among the revelations in an excerpt of the autobiography released publicly on Thursday are accusations that Mickelson has waged more than $1 billion in gambling and lost close to $100 million. Walters also claims that Mickelson called him to try and place a bet on the 2012 Ryder Cup, an event in which Mickelson was a competitor for the United States.
From the book:

In late September 2012, Phil called me from Medinah Country Club just outside Chicago, site of the 39th Ryder Cup matches between the United States and Europe. He was feeling supremely confident that the American squad led by Tiger Woods, Bubba Watson, and Phil himself was about to reclaim the Cup from the Euros. He was so confident that he asked me to place a $400,000 wager for him on the U.S. team to win.
I could not believe what I was hearing.
"Have you lost your fucking mind?" I told him. "Don't you remember what happened to Pete Rose?" The former Cincinnati Reds manager was banned from baseball for betting on his own team. "You're seen as a modern-day Arnold Palmer," I added. "You'd risk all that for this? I want no part of it.''
"Alright, alright," he replied.
I have no idea whether Phil placed the bet elsewhere. Hopefully, he came to his senses, especially considering the "Miracle at Medinah." Trailing 10-6 going into the final day of singles matches, the Europeans pulled off the greatest comeback in Ryder Cup history. They won eight matches and tied one to beat the Americans by a single point, 14½ to 13½.
Phil's loss to Justin Rose that Sunday contributed to the stunning defeat.
On Thursday at Trump Bedminster ahead of this week's LIV Golf event, Mickelson was approached by media members about the book, but declined comment. "I'm going toe pass," he told reporters. However, he later released a statement to Golf Digest that read: "I never bet on the Ryder Cup. While it is well known that I always enjoy a friendly wager on the course, I would never undermine the integrity of the game.
"I have also been very open about my gambling addiction. I have previously conveyed my remorse, took responsibility, have gotten help, have been fully committed to therapy that has positively impacted me and I feel good about where I am now."
In 2017, Walters was convicted in U.S. District Court of securities fraud, conspiracy and wire fraud. Prosecutors argued that from 2008 to 2014, Walters made more than $43 million from trades of Dean Foods by realizing profits and avoiding losses thanks to information he had obtained from former company chairman Tom Davis. At the urging of Walters, Mickelson (a golf partner of Walters) began to trade in Dean Foods stock, and made more than $931,000 in profits after buying and selling holdings between July and August 2012. Mickelson's trading in Dean Foods was used as evidence against Walters, but Mickelson did not testify at trial. The golfer's lawyers informed the prosecution and defense that if called by either side, Mickelson would decline to testify based on his Fifth Amendment right against self-incrimination.
The government had no proof whether Mickelson knew where Walters' information was coming from, and thus could not know if he intended to violate the laws against insider trading. But the SEC did name Mickelson a "relief defendant" in a civil case, meaning that the agency believed that he profited from insider trading in Dean Foods, even if he didn't engage in it himself. Mickelson settled that civil case by agreeing to surrender his trading profits plus interest of more than $100,000. In doing so, Mickelson neither admitted nor denied the allegations in the SEC's complaint.

Mickelson played in a record 12 Ryder Cups for the United States, owning an 18-22-7 record.