LIV Golf Miami
Phil Mickelson remains bullish on LIV Golf's future, says he knows more big names will join in 2024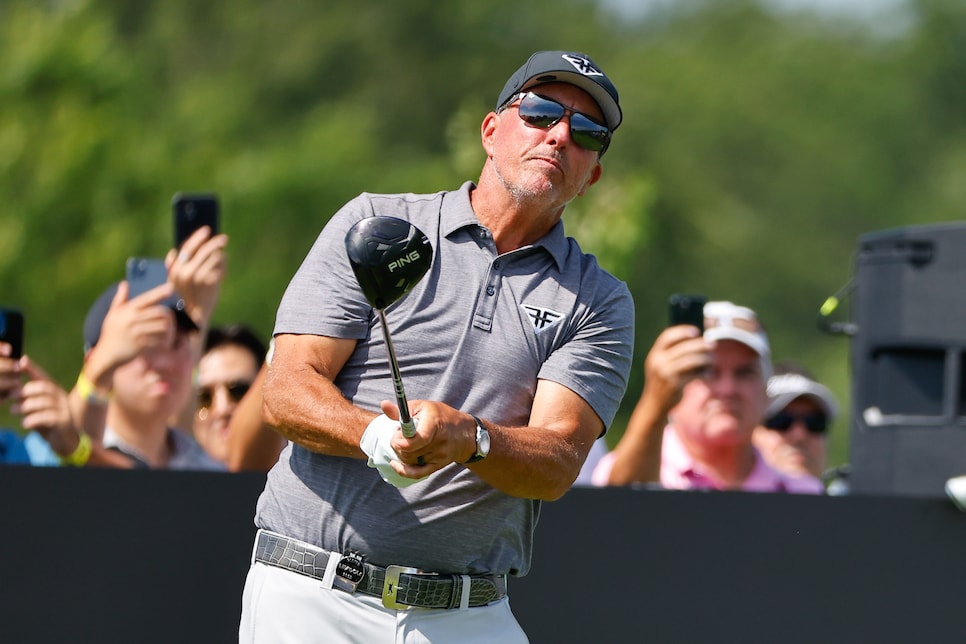 DORAL, Fla. — Phil Mickelson knows the LIV Golf League won't be getting Official World Golf Ranking points anytime soon. The league's application for OWGR sanctioning of its 48-player events was rejected last week. But what Lefty does believe the fledgling circuit will receive is another influx of players from established tours like the PGA and DP World tours.
Speaking Wednesday ahead of LIV Golf's teams championship in Miami, the six-time major winner was asked if there will be an "exodus" of players from golf's two major tours.
"Do I think that? No. I know that's going to happen," Mickelson said at Trump Doral. "When players look at LIV, they are wanting to be a part of it. Everybody here is happy … [they are] enjoying the team aspect of it and the camaraderie and playing golf globally. There are a lot of players that see that and want to be a part of it. But the reality is, I've been fielding calls, as we all have, from players that are free agents to PGA Tour players to DP World Tour players that want to come over. You know, the spot's probably going to be filled by the time the qualifying tournament is here."
Mickelson, 53, is not the first LIV player to say that. In July, two-time major winner and former World No. 1 Martin Kaymer said when the June 6 framework agreement between LIV's financier, Saudi Arabia's Public Investment Fund, and the PGA and DP World tours, was announced, he fielded multiple phone calls from DP World players enquiring about LIV.
If there is any significant interest from players to join LIV in 2024, the question is who would be squeezed out of the league, and how? The top 24 on LIV's points standings who are guaranteed for next season were cemented last week after its individual season finale. The 20 players who finished from 25th to 44th on points includes players who are contracted to the league beyond 2024. Those 20 are now open to being traded among teams, while four players were relegated to qualifying school set for Abu Dhabi in December. LIV also needs to account for four more players in 2024: the winner of the Asian Tour's International Series order of merit—which is currently Andy Ogletree—and three others who will earn LIV cards at qualifying school.
"The question is how many spots are available; there's a lot more players that want to come than there are spots," Mickelson claimed. There are spots on teams that are open."
Adding a layer of uncertainty are negotiations between the PGA Tour and LIV, which aim to form a new, for-profit entity that would see the Saudi PIF as a minority investor. In August at the Tour Championship, PGA Tour commissioner Jay Monahan was bullish about the agreement being ratified before its Dec. 31 deadline. Mickelson was quizzed whether the PGA Tour and LIV possibly uniting would prevent players from joining LIV.
"I think the merger talks allow for it," he said. "I think it allows and kind of opens the door."
Mickelson also used the time to echo comments made last week by Bryson DeChambeau that LIV players should be afforded a category into the majors from its money list.
"I think that the majors need to protect their product, and there's probably other ways that they can do that by creating slots," he added. "If they want to make sure they have the best fields in golf, they could create vehicles for players on LIV to play in majors where they don't have to use the OWGR, which would undermine the TV contract and revenue of the PGA Tour if they gave points to LIV."
Meanwhile, LIV's team finale begins Friday at Doral, which formerly hosted a PGA Tour event. The three-day team championship on the Blue Monster will see match play on Friday and Saturday. The top four teams—Dustin Johnson's 4 Aces, Bryson DeChambeau's Crushers, Joaquin Niemann's Torque GC and Bubba Watson's RangeGoats—received a bye into Saturday's semifinals.
On Sunday, all 12 teams will compete in stroke play to determine the team champion.
The pairing for Friday's four quarterfinal events are Louis Oosthuizen's Stinger vs. Kevin Na's Iron Heads, Sergio Garcia's Fireballs vs. Henrik Stenson's Majesticks, Cameron Smith's Ripper GC vs. Kaymer's Cleeks and Brooks Koepka's Smash vs. Mickelson's HyFlyers.