News
Phil Mickelson promises more trash talk in charity match: 'Tiger and I clamped up the first time'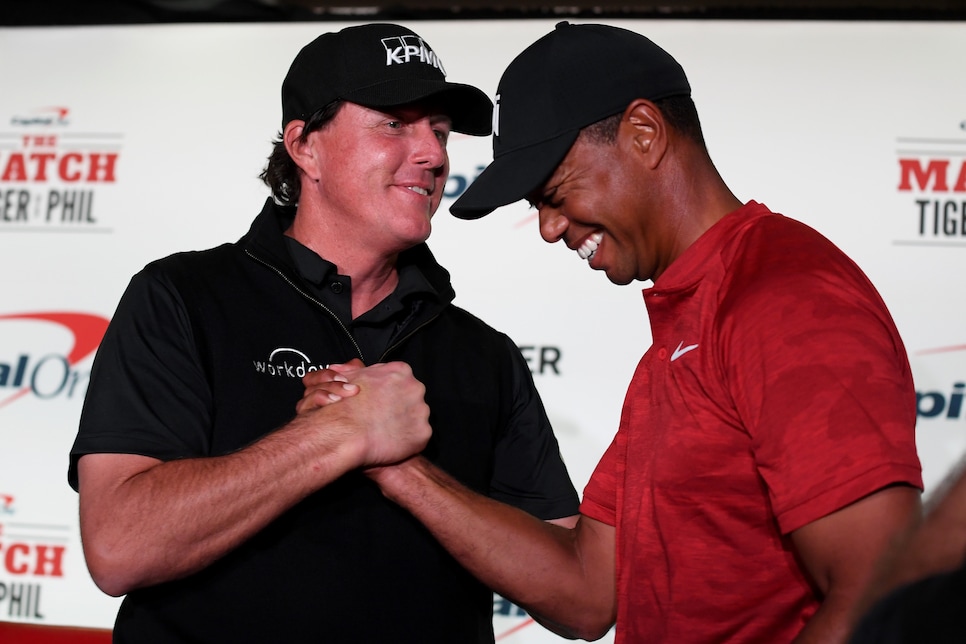 The main criticism of the first match between Tiger Woods and Phil Mickelson, as well as Sunday's TaylorMade Driving Relief skins game, was the lack of trash talk between the players. At both events, the banter was (somewhat) promising early, but it quickly fizzled out.
Mickelson promises it will be different this Sunday when he and Tom Brady face off with Woods and Peyton Manning in The Match: Champions for Charity, which is being held at Medalist, Woods' home club in Hobe Sound, Fla. Lefty told Golfweek's Steve DiMeglio that he believes Manning will play a large role in adding some spice.
"Tiger and I clamped up the first time," Mickelson said of the first match at Shadow Creek in 2018. "That won't happen again. I think having Peyton there will be a big part of it because he gives me and Tom somebody to rough up. Peyton, when he comes back at you, he does it in a funny way that elicits a laughter from you as opposed to a defensive response."
Based off of Manning's burgeoning acting career, Mickelson makes a strong case. Manning, a future Pro Football Hall-of-Famer is a natural in front of the camera. Never does his act feel forced or cringey, whether it be a 30-second spot for Nationwide or one of the all-time great SNL Digital Shorts. His television presence has never been "good, for an athlete." It's been very good, period.
"And I think that's why he's so funny," Mickelson added. "Because even the person he is cutting up finds it funny and doesn't take it personal. And that will allow us to free it up and do it a little bit more."
Woods and Manning had the trash-talking edge early thanks to the 15-time major champion laying his green jacket over himself like a blanket in response to a Mickelson dig. But Brady has returned serve multiple times as well, first saying he'd rather face Peyton than Eli, who took him down in the Super Bowl twice. Brady got in another jab on Monday night, telling Bleacher Report he's "worried they might pump in crowd noise, like they used to at the RCA Dome." Zing!
During his phone call with Golfweek, Mickelson poured some more gas on the fire.
"I can't wait to go to Tiger's place and take him down. Tiger thinks he has a huge advantage playing there because he was insistent that this event is played on his home course. Despite everyone else wanting to play it elsewhere. That's fine. We'll take it to him and Peyton.
"There will be no excuses. It's his home course but Tom and I are going to go down there and put it to them, and we'll make it that every time Tiger shows up at his home course, he'll have a bad memory."
Let's just hope everybody brings some of this ammunition to the course on Sunday when the mics are on.