News
Phil Mickelson talks tough competition and hitting 'bombs' for PGA Tour Champions debut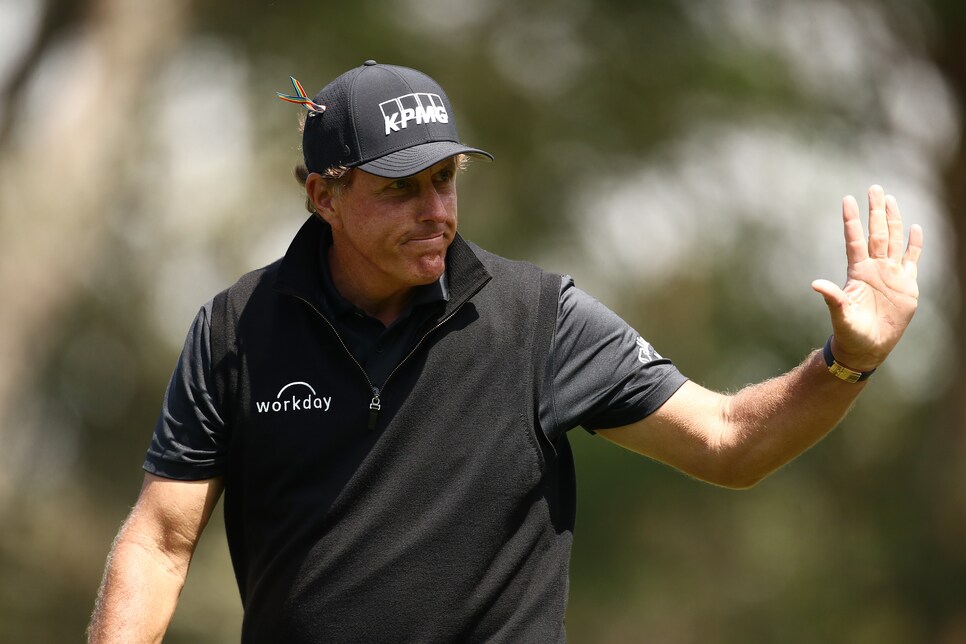 Phil Mickelson will make his PGA Tour Champions debut on Monday.
Doug Pensinger
In some ways, the timing couldn't have worked out better for Phil Mickelson. To be sure, he was disappointed to not make the weekend in the first event of the FedEx Cup Playoffs at TPC Boston while failing to advance to the second event for the first time.
But he didn't mope for long. Mickelson, who turned 50 in June, was out practicing on Saturday for his debut on PGA Tour Champions—he first announced his intentions on Friday—and in a brief on-camera interview posted by PGA Tour Champions on Twitter he talked about looking forward to playing with old adversaries and maybe hitting some "bombs'—one of his pet slogans.
"It's exciting and fun for me to see so many people I know. On the regular tour, I don't know a lot of guys now," Mickelson said during his practice at Ozarks National Golf Course in Ridgedale, Mo., a city that will host the 50-and-over tour for the second straight week with an event that runs in an unsual Monday through Wednesday slot.
Mickelson said he'd bene working hard on his game in advance of the playoffs and hoped to take advantage of that by playing in the coming week. He said he'll make his next PGA Tour start in the 2020-21 season opener, the Safeway Open in Napa, Calif., which comes the week before the U.S. Open is played at Winged Foot, where the World Golf Hall of Famer blew a lead on the 72nd hole in trying to claim a title he has never won.
There are high expectations for Mickelson to excel on PGA Tour Champions, but he diplomatically is trying not to ruffle any egos of guys against which he's played for more than two decades.
"It's a whole other thing against tough competition to shoot low scores," Mickelson said. "It's not going to be easy. I want to get my game sharp. I know how good the players are. … They are phenomenal players and I'm excited to have a chance to compete against them."
Asked if he'd be hitting bombs on the shorter courses on the Champions Tour, Mickelson smiled and said, "I need a few fairways to let it rip. I have a hard time holding back."