Cologuard Classic
Phil Mickelson opens with a 70 in bid for third straight PGA Tour Champions win, though he'd still rather be elsewhere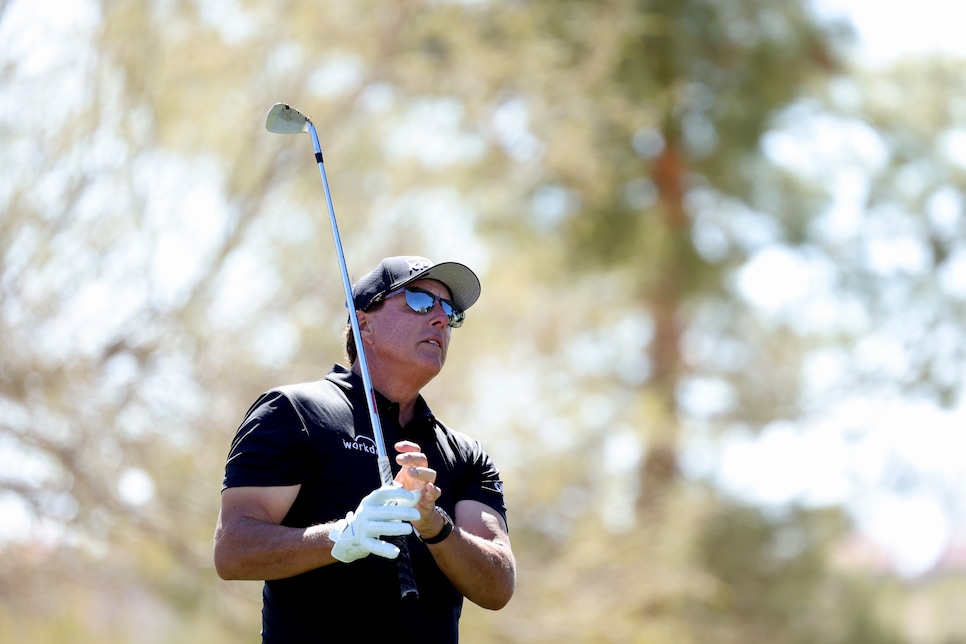 The direction Phil Mickelson's career will turn, like so many of his tee shots through the years, is anyone's guess, and the first round of the Cologuard Classic on Friday provided no clarification.
Mickelson, 50, began his bid to become the first to win his first three starts on the PGA Tour Champions with a three-under-par 70 at Omni Tucson National. He is four shots behind leader Mike Weir and tied for ninth.
The PGA Tour still is his preference, though his lack of success in recent months has had him questioning whether he now can talk a better game than he can play.
Yes, broadcasting is on his radar, but in the meantime he is looking for guidance from his golf game to help to plot his future as a player, whether to increase his senior schedule at the expense of PGA Tour aspirations to which he clings.
His opening gambit was a decent round that foretold little about the state of his game. He hit a tee shot out of bounds on the 13th hole, leading to a double bogey. That and a three-putt bogey on the 11th hole were the only scorecard blemishes.
"I got a little heated out there because I was letting a lot of scoring opportunities slide," he said. "After driving it well and having flip L-wedges into four or five holes and not only did I not make a birdie, I played them over par. I was kind of losing it. Fortunately, I made some birdies on the par 5s to kind of salvage the round.
"But I've got some work to do to get those short irons close. If I can do that, I can make a lot of birdies here, but this was not the day. I did not score very well today. I've got to get after it because these guys are making a lot of birdies and I've got to try to pass them."
However it plays out for Mickelson on the weekend, even were he to win, will be no barometer by which to gauge his game in the context of the PGA Tour. Indeed, in eight PGA Tour starts in this 2020-21 wrap-around season, he has missed the cut in four and finished no better than a tie for 44th in the other four. And in one European Tour start, at the Saudi International, he tied for 53rd.
Looking ahead, he intends to play the Players Championship, the Honda Classic, possibly the Valero Texas Open and the Masters, and has made no mention of senior starts on his schedule.
"I want to start playing on the regular tour with a little bit less stress," he said in advance of the Cologuard Classic. "I've been really hard on myself when I make some mistakes and I've got to kind of ease up and play a little bit more free and a little bit lighter. If I can do that, I think I can shoot some pretty good scores out there.
"When I go out and play at home, I'm playing well enough and shooting the scores to play and compete. When I get on [the PGA] Tour, I'm playing a little bit tight, which is not normal for me. So I've got to work on that."
What Tucson offers are positive memories on which he hopes to lean in bolstering his optimism. It was there, in the Northern Telecom Open in 1991, that Mickelson, still an amateur, recorded the first of his 44 PGA Tour victories. He also won the tournament in 1995 and '96.