The Grind
Phil Mickelson's Manning brother daggers, Bryson DeChambeau's dangerous drive and a golf "landmark" gets removed
Welcome to another edition of The Grind, where we are reminded every fall just how old we are when we wake up the day after picking up leaves for the first time. The struggle is real—especially because our neighbors just refuse to cut that giant oak tree down. But being old can have its perks, especially when it comes to the annual Golf Digest Seitz Cup. Playing the stunning Hudson National on a positively glorious autumn day, us geezers ran up the score on the youngins worse than Team USA did at the recent Ryder Cup: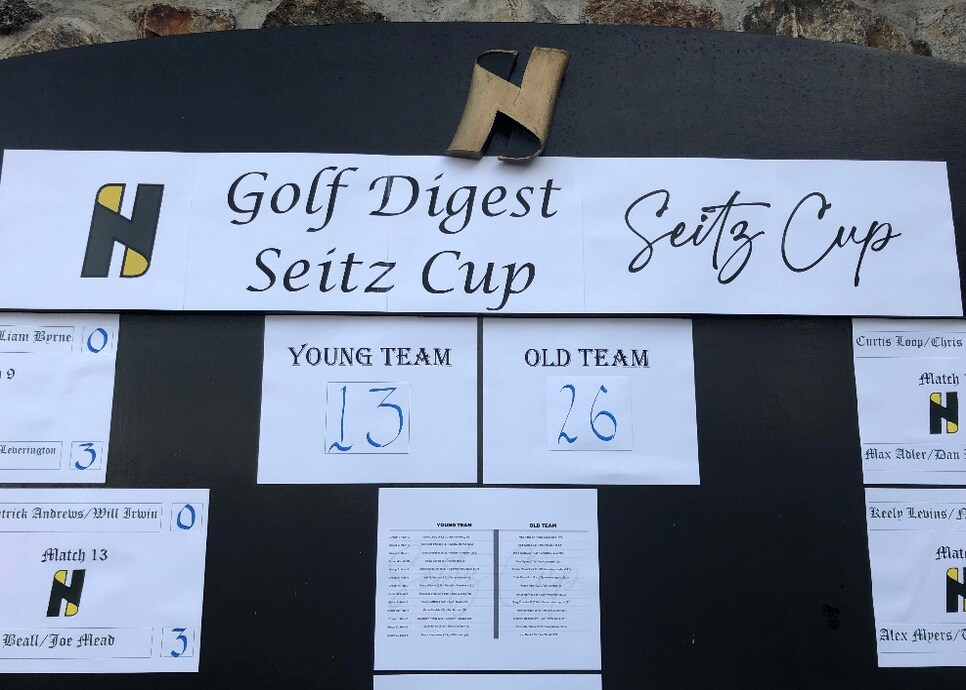 What an absolute beat down. As Lloyd Christmas says in Dumb and Dumber, "Senior citizens, although slow and dangerous behind the wheel, can still serve a purpose." (The age cut-off for this event was 32 by the way.) Meanwhile, here's what else we learned during a surprisingly busy November week in golf.
Jason Kokrak: After going winless in his first 232 PGA Tour starts, Kokrak has won three times in his past 28 starts. This guy is the new Jimmy Walker! More amazing is that Kokrak says he nearly withdrew before the tournament because he was hitting it so bad. Then he was actually hitting it so bad during the second round that he shot a back-nine 41. And yet, he still won! Golf! Although, not quite as "Golf!" as Martin Trainer nearly winning despite having 60 missed cuts and zero top-25s in his past 70 starts. Anyway, to the victor of the Hewlett Packard Enterprise Houston Open goes the photo-op with Orbit, the Houston Astros mascot: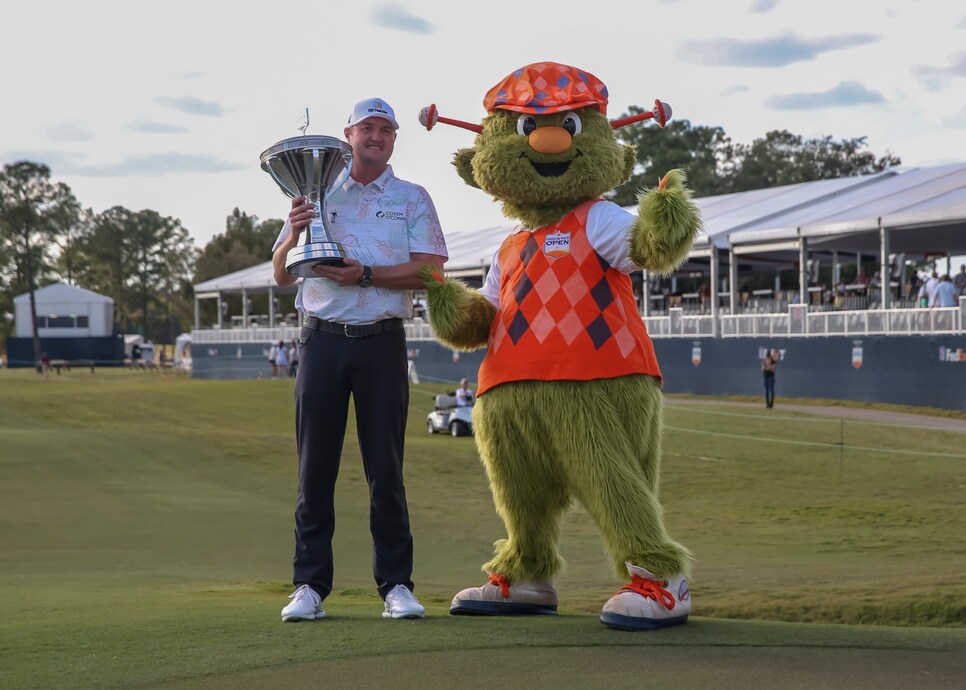 We're not sure who was wearing the bolder top.
Nelly Korda: We're running out of good things to say about Korda in the same way we're running out of good things to say about HBO's Succession. (Seriously, that shareholder-meeting episode? It just can't get any better.) Anyway, shares of Korda are at an all-time high following her latest victory in which she spotted the field a TRIPLE BOGEY on the penultimate hole before making birdie on 18 in both regulation and sudden death to win an epic playoff between four of the LPGA's biggest stars.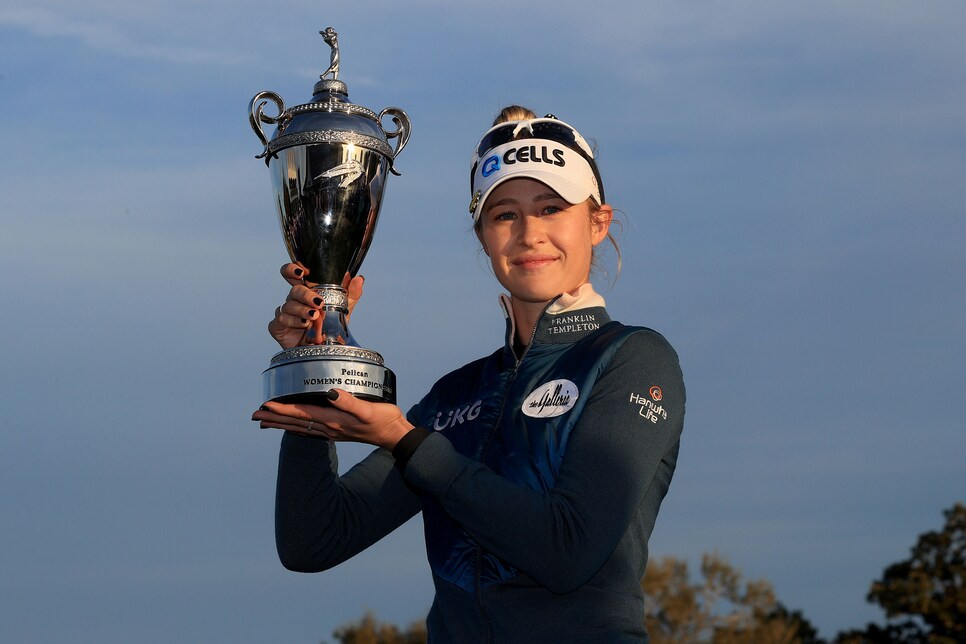 And if Nelly wasn't already the frontrunner for LPGA POY, now she's certainly in the driver's seat. Although, surprisingly, she didn't win a car at the Pelican Women's Championship. More on that in a bit …
Phil Mickelson: This may have been Mickelson's most impressive week of the year—and that's saying something considering he became the oldest player to win a major in May. With a win at the Charles Schwab Championship, Mickelson joined Jack Nicklaus as just the second player with four victories in his first six career PGA Tour Champions starts: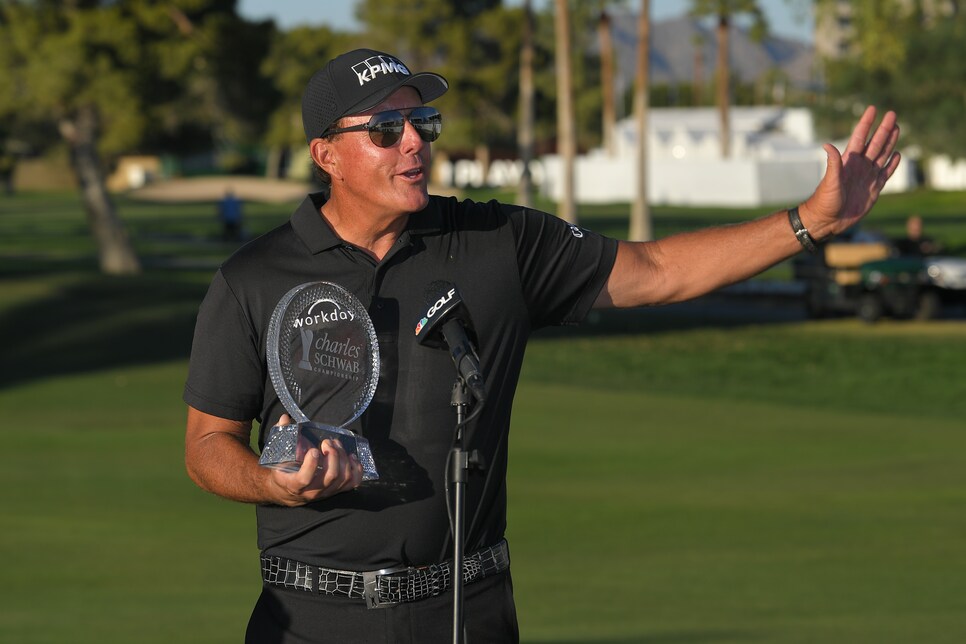 But he was only just getting started. He also provided the year's best performance during the Monday night Manningcast broadcast of the Rams-49ers football game, proving once again that this King of Content will be the King of the TV Booth if and when he ever gets tired of dominating the old guys. The highlight? Taking a shot at Peyton for losing two Super Bowls and this dagger at Eli Manning:
Cute! Seriously, the thing I'm looking forward to most about next week's Brooks/Bryson match is hearing Phil (and Charles Barkley) providing commentary.
Bernhard Langer: Another year, another season-long Charles Schwab Cup title for this ageless wonder. That makes six of them! Let the people know, Bernhard!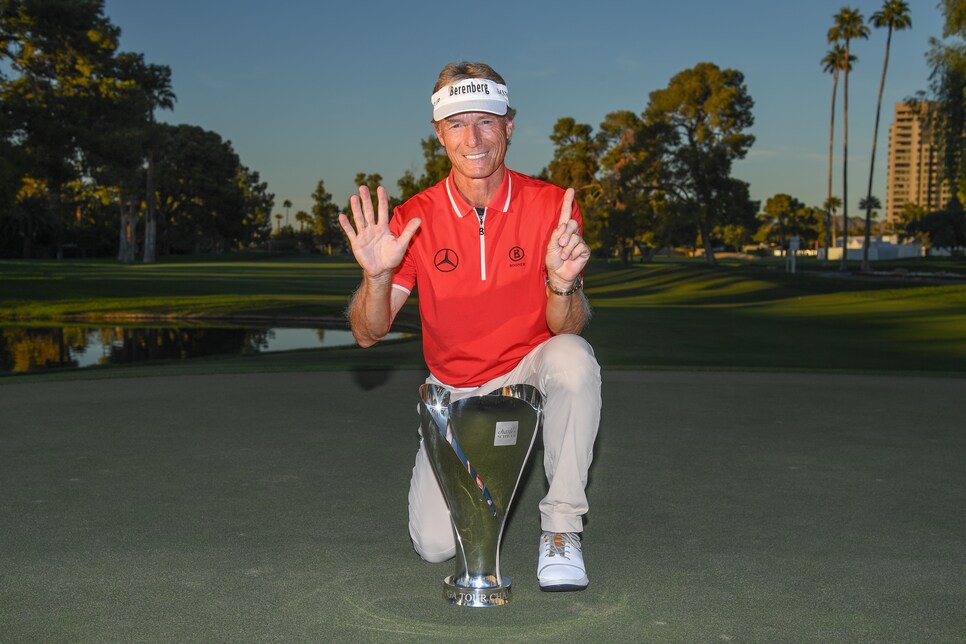 Love that photo. It reminds me of Michael Jordan holding up six fingers after winning his final NBA title in 1998. Just iconic. Sadly, Bernhard believes this might be it for him as well. "I'm just overwhelmed, you know, at 64 to win this thing six times," Langer said. "It will probably be my last one, I'm almost sure of that, but it's very, very special." Whether it is or not, he's now made $8.2 million in Schwab Cup bonuses alone to push his unofficial career PGA Tour Champions earnings to more than $40 million! Talk about making sure you're financially set in retirement.
Lexi Thompson's putting: It makes no sense that this former child prodigy has been stuck on 11 career LPGA wins for nearly two-and-a-half years. Well, unless you watch her on the greens. While Korda made a pair of 20-footers on 18 to win, Thompson missed a trio of putts from hole 17 on that may have totaled 10 feet. Tough to watch, really. So we won't even show them. OK, moving on …
This Tampa-area Lamborghini dealership: Lambos were up for grabs at the Pelican Women's Championship and THREE players made aces. What are the odds?! Especially that none of them (Austin Ernst, Pavarisa Yoktuan and Su Oh) were Nelly Korda?!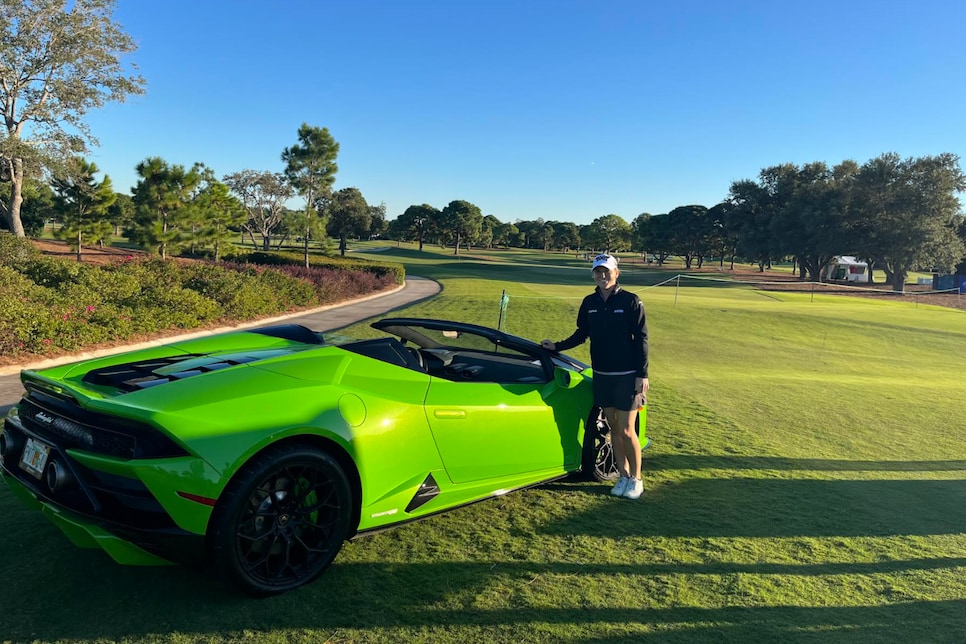 Anyway, we should note these lucky ladies won two-year leases. Still, that turned out to be a more expensive giveaway than planned.
Broken windows: Speaking of unexpected costs, Charley Hoffman's daughter did some damage to the family's house: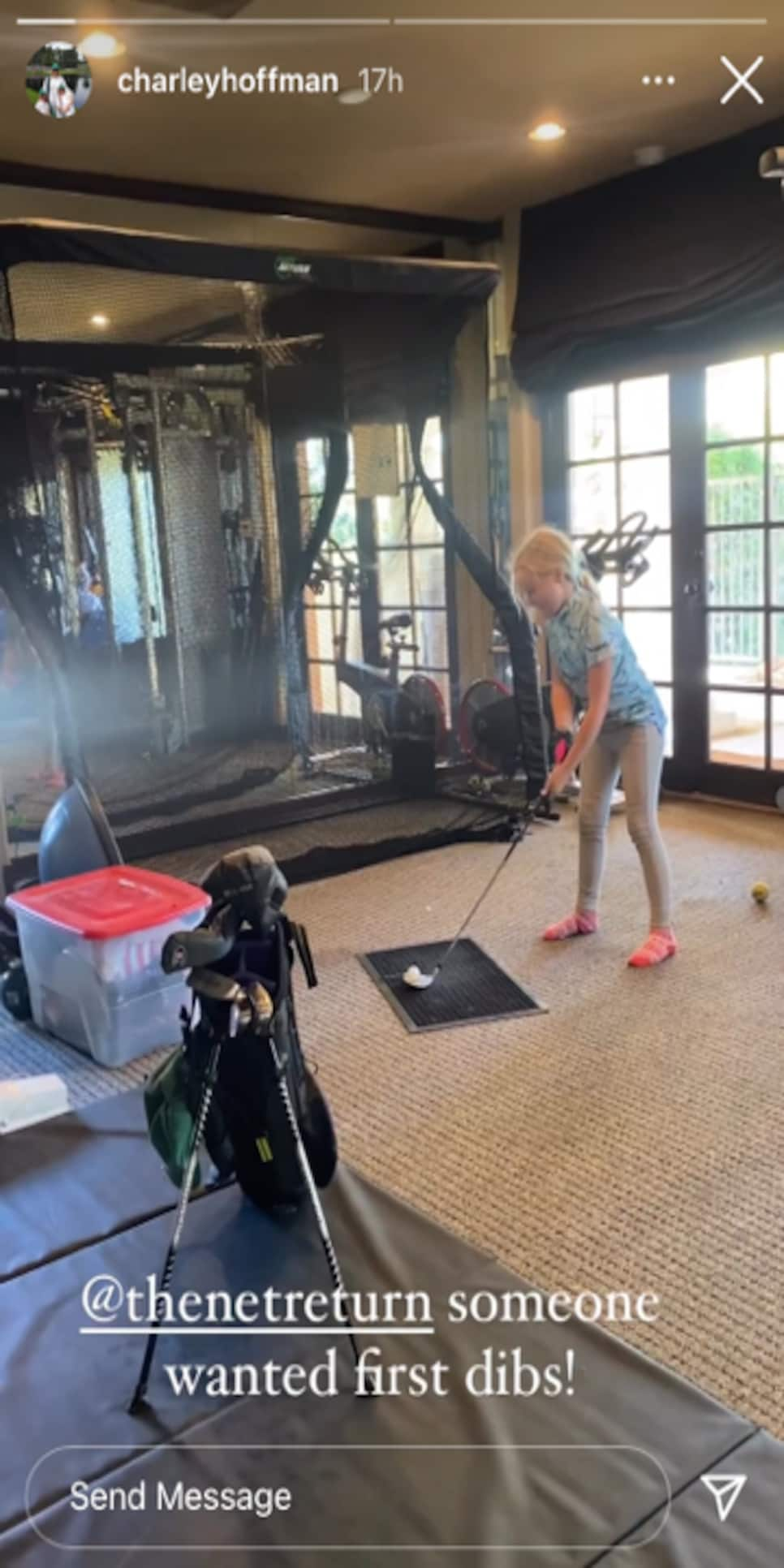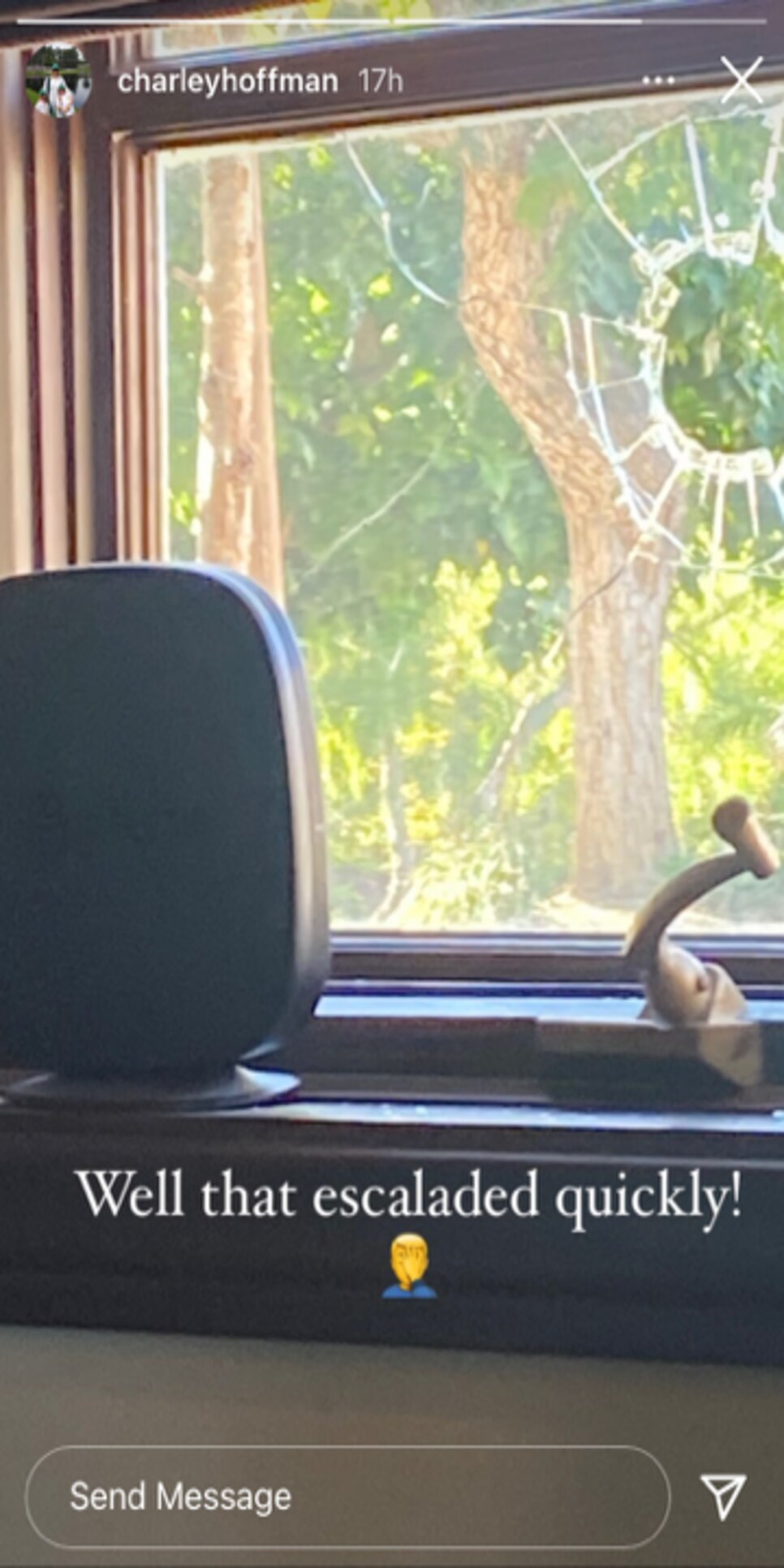 Hey, no one said growing the game would be easy.
Trying to hustle a former PGA Tour pro: One Topgolf employee learned the hard way that sometimes the dads who come to Topgolf are actually ex-tour pros:
Frankly, it was nice of Kyle, now an insurance salesman, to only take five bucks off the young man.
The PGA Tour heads to Sea Island for the RSM Classic, AKA that one I randomly covered two years ago and gained about 15 pounds from press room BBQ, fried chicken and sweet tea. Incredibly, this is the last official event of the year on the PGA Tour. Not that there won't be other golf going on in the next six weeks, including season finales this week on both the LPGA and European Tours, where the Race to CME Globe and the Race to Dubai wrap up. In other words, it's RACE WEEK!
Random tournament fact: The RSM Classic is also that event where a giant capsized cargo ship could be seen beginning in 2019. Remember this?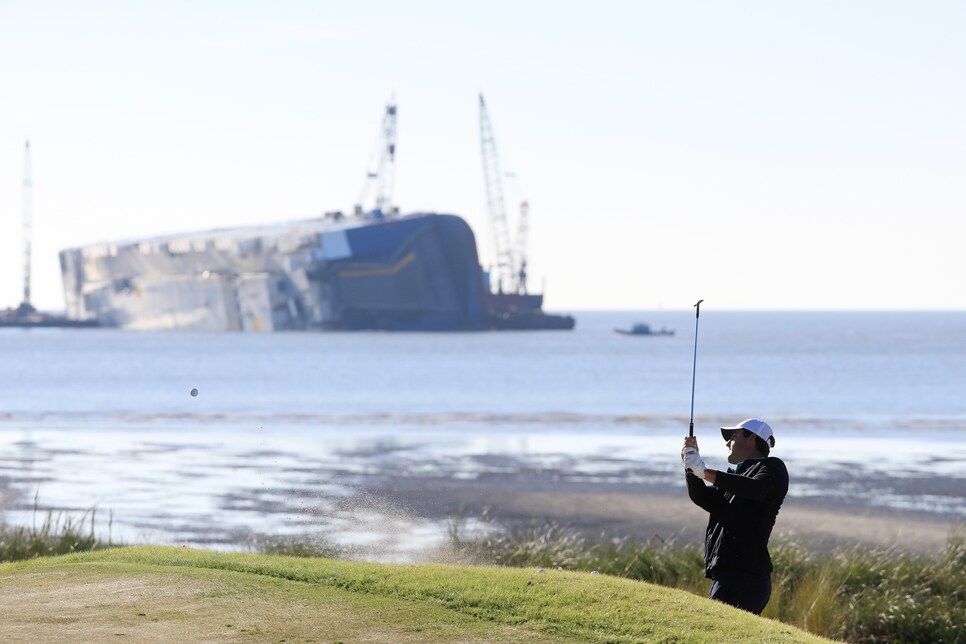 Well, incredibly, after more than two years, the last part of the Golden Ray was finally removed last month! As much as we're sorry to see this golf "landmark" go away, we're guessing the environment is better for it. Or is it a "seamark"? Anyway, it's gone. Finally. Rest in peace pieces, Golden Ray.
RANDOM PROP BETS OF THE WEEK
—Another giant cargo ship will overturn at Sea Island this week: 1 MILLION odds
—Bernhard Langer is done winning on the PGA Tour Champions: 10 MILLION-to-1 odds
—They will pick a different hole to give away a Lambo next year: LOCK
VIRAL VIDEO OF THE WEEK (BRYSON DIVISION)
This guy is becoming a driving-range menace!
And he certainly looks sharper than his archrival right now …
VIRAL VIDEO OF THE WEEK (BROOKS DIVISION)
Brooks Koepka burning the midnight oil on the range? Really?
At first, we thought this must be some sort of troll job ahead of his match with Bryson, but … Brooks is really struggling right now. The guy doesn't have a top-20 finish in eight starts since July, and he missed a second consecutive cut in Houston. And that was at a course he helped redesign. Tough times.
THIS WEEK IN PUBLIC DISPLAYS OF AFFECTION
It turns out that the biggest Nelly Korda fan in the world might be a fellow player:
Awww. But yeah, she's right. Nelly is freaking awesome. Just like Succession. (Sorry, I just can't get that show out of my head. Or its theme song.)
"I've always been a slow learner … [but] once I learn something, I normally get pretty good at it." —Jason Kokrak with the understatement of the week.
Jon Rahm withdrew from this week's DP World Tour Championship, meaning he's conceding the chance to win the European Tour's season-long prize again after doing so in 2019. So much for "racing" to Dubai! … The Country Club in Brookline will feature a short par 3 for this year's U.S. Open that hasn't been used in the tournament since Francis Ouimet won in 1913. No word on whether there will be a Lambo giveaway as well. … Congrats to Joachim Hansen for winning the European Tour's Dubai Championship. At 31, he would have just missed the cut-off to be on our company's old team. Which, speaking of … finally, it's worth mentioning again that Team Old dominated Team Young at the annual Golf Digest Seitz Cup. Here's a look at our two grizzled captains, Sam Weinman and Ryan Herrington, accepting the trophy: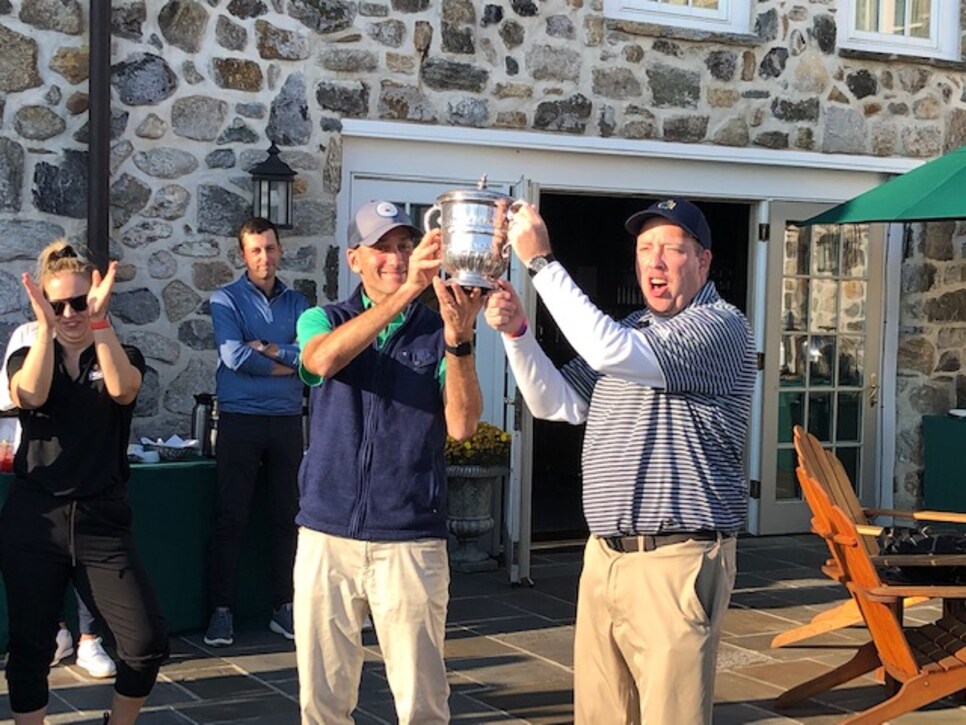 And, yes, myself and Tod Leonard took care of business in our own match. Go Team Old! What a great day! And what a time to (still) be alive!
RANDOM QUESTIONS TO PONDER
Does Succession have the best TV theme song ever?
Are any of my younger co-workers available for yardwork?
Why did I move to a town where you have to bag leaves?