News
Phil Mickelson makes his case: Put him on the Presidents Cup team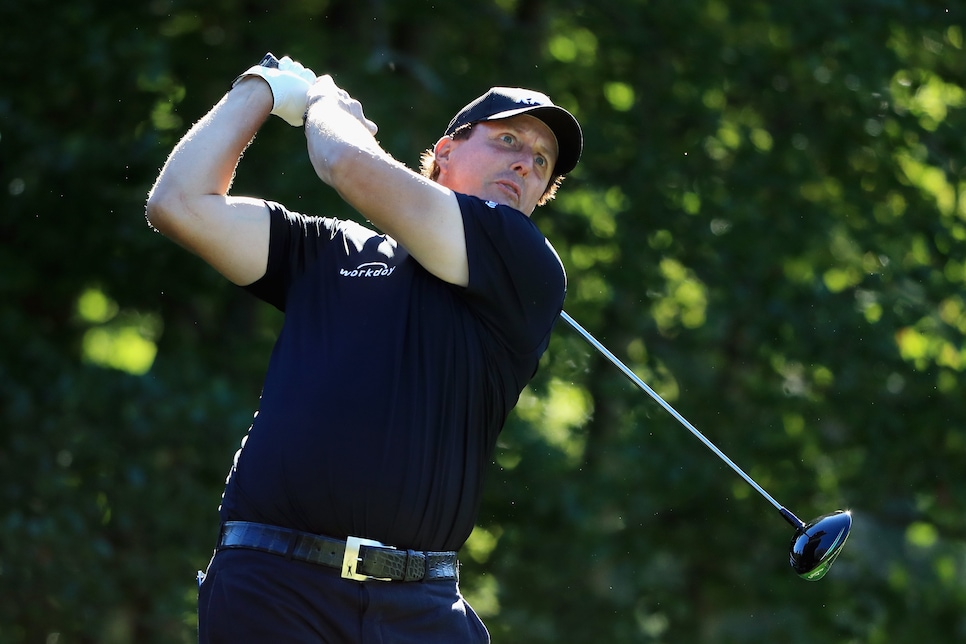 Photo By: Andrew Redington
NORTON, Mass. — Quick, name two players not named Phil Mickelson who you would take as captain's picks for this year's Presidents Cup team?
Better yet, name two players not named Mickelson you'd rather watch in the biennial matches this September at Liberty National?
OK, good. That didn't take long, did it?
Yes, Mickelson hasn't won since the 2013 British Open, a drought longer than Tiger Woods'. Yes, he has just three top-10 finishes in his last 24 starts. Yes, he's 46.
Should you care? Also no.
With all due respect to the other names above Mickelson's in the standings—the top 10 after Monday's final round of the Dell Technologies Championship automatically make the team, with two captain's picks announced on Wednesday—there aren't two that stand out more than the big Lefty's, both in form and star power.
Kevin Chappell and Brian Harman, 11th and 12th in the standings, have had nice seasons. Chappell has finished in the top 15 in three of his last four starts and won earlier this season in San Antonio. Harman finished second at the U.S. Open and had a gritty victory at the Wells Fargo Championship.
'He needs to do what's best for the team. I would love to be the one he felt added to the team, but if I'm not, he's got to make that tough call. I totally understand it.' —Phil Mickelson on Steve Stricker's decision
One of them should make the team—probably Harman because he is deadly with the putter and carries a chip the size of the Statue of Liberty on his shoulder that would play well in match play.
The next guy on the list? Jason Dufner.
Then comes Mickelson, who through two rounds of this week's Dell Technologies Championship suddenly finds himself re-focused and re-energized after a visit with the same doctor who helped him manage his psoriatic arthritis.
"These first two days, my visualization, my mental clarity and focus have been much better, but my energy level has been up," Mickelson said after a 67 on Saturday that included five birdies and just one bogey and has him in contention through 36 holes at TPC Boston. "I'm going to go practice when we're done. I haven't done that in a while because I've been so tired after the round, and I just feel a lot better."
When's the last time the five-time major champion who looked rickety and old a month ago at the PGA Championship at Quail Hollow had that kind of fire?
Good timing, by the way, with an event he loves just a few weeks away.
"It's been a while, yeah," he admitted. "It's been quite a while. Certainly all year. It's been difficult all year. Energy level, focus, the whole thing. I'm glad to see that I'm on the right track.
"It might be too little, too late, but … at least I know I'm on the right path."
And the right call for captain Steve Stricker would be to put Mickelson, who has been a part of every Presidents Cup and Ryder Cup since 1994, on this year's team.
The Presidents Cup is the ultimate chum-fest in team golf and no one is more chummy than Philly Mick, who in addition to reveling in that role and thriving in the Big Apple atmosphere is also a member at Liberty National.
He also helped transform the culture of the American Ryder Cup team and then delivered on the course, too, going 2-1-1 last fall and coming through in arguably the greatest singles match in the event's history against Sergio Garcia.
In the more laid back Presidents Cup, he has been even better, racking up a 17-4-7 mark over the last seven contests, going unbeaten along the way three times during that period.
Which also leads to experience. A handful of Americans who will be on the team have never played in the event, and Mickelson has a long history of taking young players under his wing.
"He needs to do what's best for the team," Mickelson said of Stricker. "I would love to be the one he felt added to the team, but if I'm not, he's got to make that tough call. I totally understand it. I've had a tough time for a while. But these two rounds, although they have been great, I don't know if that's enough or not. Let's see how the weekend goes and we'll go from there."
The rest of the weekend shouldn't matter. Mickelson has shown plenty, this week, in his career and at plenty of points in between.
Besides, who else would be better, to lead, to play and to watch? I'm still waiting.