Twitter awakening?
Is a mildly pithy tweet from Phil Mickelson a sign he might get back in the mix on social media again?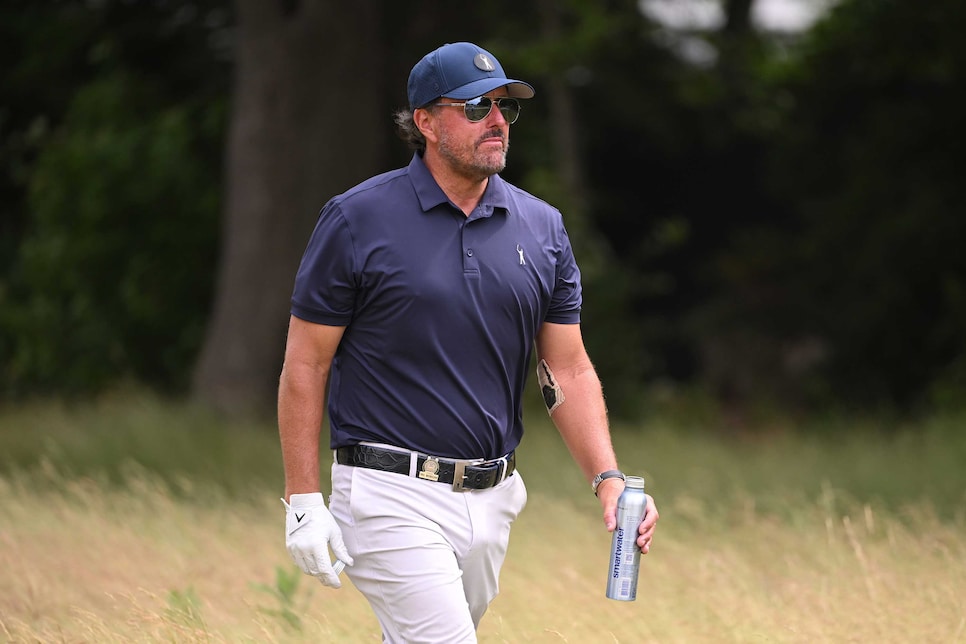 If there's one thing we lament about Phil Mickelson and the awkward place he now holds in professional golf after defecting from the PGA Tour to the LIV Golf League last summer, it's the lack of playful commentary he once authored on his social-media accounts. Before the controversial comments that changed public perceptions on Lefty as he transitioned to the upstart Saudi-backed circuit, the six-time major champion had developed a humorous persona on Twitter, becoming a fun follow as he answered questions and fueled debate with combination of wit and snark.
In recent months, Mickelson has returned to Golf Twitter with the occasion comment, trying to find the right place to make some noise again. He did so over the weekend as he watched from afar the DP World Tour's Abu Dhabi HSBC Championship.
During Friday's second round at Yas Links, Luke Donald, who'll be captaining the European Ryder Cup team in Rome in September, was just short of the green on the par-5 second hole in two, with a somewhat awkward shot ahead given the humps and bumps of the green. As he stood over his ball, the flag was not in the hole or even being tended by the caddie (Johnny "Longsocks" McLaren holding it off to the side), which surprised the commentators since that meant Donald would be unable to see the cup as he played the shot.
"This is adventurous … pin out for Luke Donald," said the an announcer on Golf Channel.
"I'm not sure why the pin was out there," said another announcer. "Any reasons there?"
"Yeah, he's crazy," a third announcer said.
Donald proceeded to hit a pretty tidy chip, leaving himself just seven feet for birdie, which he'd convert. And he later explained the method to his madness via Twitter.
Not long after Donald's tweet, Mickelson entered the fray, providing a short but glib approval to Donald's actions.
In a vacuum, Mickelson's comment was innocuous, one tour pro talking about another. But layer in the context. Donald is set to be Europe's Ryder Cup captain later this year. The DP World Tour, and the PGA Tour, have signalled they want no part of LIV golfers competing in the event. Mickelson, of course, is one of American most decorated Ryder Cup participants of all time and he's the face of LIV golf sticking its nose up at the the DP World and PGA Tours. So the "I feel ya captain' tag from Lefty comes marinated with a lot of other spices.
Was he just trolling Donald and all the Ryder Cup cronies? Was he just making a comment because he was bored on his couch? Is he ready to get back into the fray with more pithy commentary?
Golf Twitter waits with curiosity.