LIV Golf
Phil Mickelson laments his 'atrocious' results since joining LIV Golf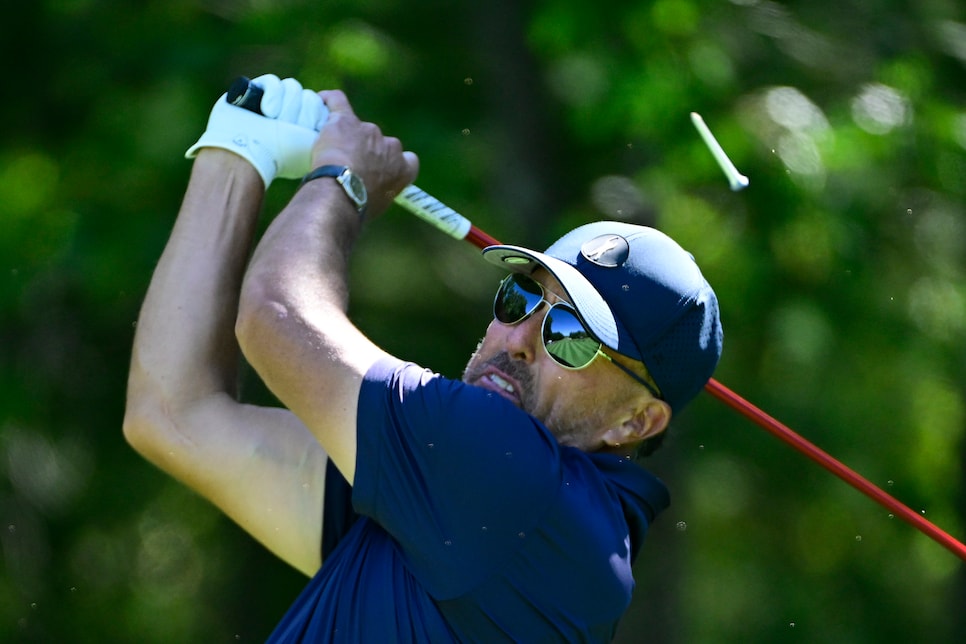 Phil Mickelson plays his shot from the 18th tee during the first round of the LIV Golf Invitational Boston.
Charles Laberge/LIV Golf
BOLTON, Mass — Phil Mickelson did not mince his words Friday at the LIV Golf Invitational Boston. His scores have been terrible since returning to golf in June—which he did at LIV Golf's opening event in England—following a personal break he took to allow the dust to settle from inflammatory comments he made about how the PGA Tour conducted its business.
That first LIV round outside London was a solid, one-under-par 69. But Mickelson has not broken 70 in 13 rounds since then, which includes missed cuts at the U.S. Open, the Open Championship at St. Andrews and Friday's 74 at the par-70 course at The International outside Boston. The score put Mickelson fourth from last in the 48-man field and 11 shots behind leaders Matthew Wolff and Talor Gooch.
"I'm certainly frustrated because I'm playing well at home and I'm not bringing it out here; I feel I'm closer than it looks even though the scores have been atrocious," Mickelson told Golf Digest on Friday.
The six-time major winner and World Golf Hall of Fame member said he was playing great golf at the handful of courses he plays in his native San Diego. But translating that to tournament rounds is the issue.
"It's the little things," he said. "I'm forcing it a little bit out here. [For example] hitting a great shot on the very first hole today to 25 feet and three-putting [for bogey]. Just little mistakes like that, I'll have to clean up."
The 52-year-old, though, is optimistic about things on and off the course going forward.
Outside the ropes, Mickelson has been credited with being the catalyst for recent changes to the PGA Tour's schedule that will see bigger purses and its top 20 stars committing to a schedule in 2023. On Thursday, he told Sports Illustrated that the PGA Tour's changes would not have occurred without a rival golf circuit, but did not take credit.
Inside the ropes, Lefty said better scores would come soon. He cited his ability to overcome slumps in his career, including a largely poor stretch that lasted from March 2019 until May last year. That slump ended when Mickelson became the oldest major winner in history at the PGA Championship at Kiawah.
"I've had lows in my career, and I fought through them. I'm excited to fight through this one, too," Mickelson said. "I'm motivated. I'm having fun. I'm enjoying playing. I'm working on my game and I'm excited to compete. I'm hitting a lot of shots that make me optimistic. Back home, I've been playing well, and I just need to bring it from home out here."
If there's any consolation, Mickelson's LIV team, Hy Flyers GC, is leading the LIV Boston event at 11 under, courtesy of teammates Wolff (63) and Bernd Wiesberger (66). "The great thing about this teams [concept] is we've got Matt and Bernd who have put us on top of the leaderboard even though I played terrible today," Mickelson said. "[But] I can contribute tomorrow and I'm going to see if I can turn it around and do that."