LIV Golf
Anirban Lahiri contends LIV Golf can heighten interest among potentially massive audience in India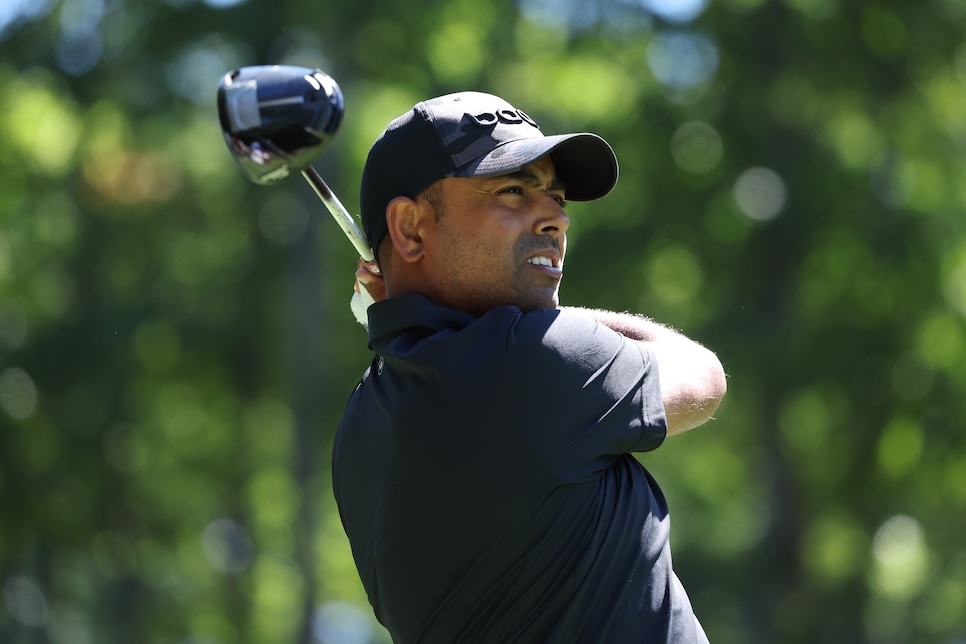 Anirban Lahiri is a two-time winner on the DP World Tour.
Jonathan Ferrey/LIV Golf
BOLTON, Mass. — The signing of India's Anirban Lahiri has been one of LIV Golf's more prudent acquisitions, if population size and YouTube are anything to go by. Lahiri was unveiled this week among a group of six signings, including Cameron Smith and Joaquin Niemann, who made their debut on Friday at the LIV Golf Invitational Boston.
While Lahiri, ranked 92nd in the world, finished second to Smith at the Players Championship in March, he is not exactly at the top of his game. The 35-year-old is without a win in seven years. But he remains a popular athlete in his homeland with a population is 1.4 billion people. According to Statista, India was estimated earlier this year to have 467 million YouTube users, the most of any country. The United States was second at 247 million.
That's important to LIV Golf because it does not have a TV rights deal and is broadcast free on YouTube. Lahiri, who made the PGA Tour's FedEx Cup Playoffs last season before moving to LIV, said the video search engine could be key to converting the percentage of India's golfing population that plays the game but doesn't necessarily watch professional tours.
"There's a part of the demographic that plays golf, but is disconnected with professional golf," Lahiri said on Thursday at The International course outside Boston. "They'll just go and play. To some extent I'm hoping, and my goal is that through this platform, they see more of me, and they see more of all us [players]. The [LIV] coverage has been really good in terms of not just following guys that are playing well, but all 48 guys. Obviously, people back home in India want to see me play golf for sure. And they're going to see a lot more of me out here, whether it's YouTube or not. I believe that sooner rather than later, it will be broadcast on TV in India, 100 percent."
Lahiri, a two-time winner on the DP World Tour, also hopes the team franchise aspect of LIV Golf will resonate in cricket-loving India, where its sports landscape is ripe for the concept. India is home to the Indian Premier League, a series that disrupted traditional cricket's global schedule by luring the best players from around the world for a 14-match series between 10 teams. Now in its 16th season, the IPL's media rights were recently sold for $6 billion. While an all-Indian team within LIV may be difficult to both assemble and squeeze within its 48-player field, Lahiri said his place on a LIV team with former U.S. Open winner Bryson DeChambeau, Paul Casey and Charles Howell III will get Indian sports fans watching. "Me being on Bryson's team, he's a global figure in golf," Lahiri said.
But are YouTube viewers and a team concept enough for LIV to actually grow the game globally? Certain personalities in golf are skeptical. TV analyst Dottie Pepper posted a statement on social media last month that accused LIV CEO Greg Norman of trying "to bankroll his vengeance under the guise of 'growing the game,' while promising his LIV players money just for showing up and the luxury of playing less and spending more time at home." Pepper was referring to a push by Norman in the 1990s to create a world tour which then-PGA Tour Commissioner Tim Finchem shot down.
Lahiri said his efforts to grow the game would be to encourage LIV to stage future tournaments in India, either through its 48-player top-tier circuit or through its partnership with the Asian Tour's International Series.
"I would definitely try and lean [on LIV] for certain tournaments to be scheduled in a way [that allows] for my involvement and my presence. That region is starved of top-quality golf," Lahiri said. "All of us have watched our idols [in person] growing up. I remember the first time I saw Tiger [Woods] playing in Asia and I was like, wow, he's actually human."
While LIV will take its 48 players to Thailand in October, it must be noted the PGA Tour has had a presence in Asia for some time. The closest event to India for Lahiri was the CIMB Classic in Malaysia, which was disbanded in 2018 after being co-sanctioned between the PGA Tour and Asian Tour for eight years. The PGA Tour also has the Zozo Championship in Japan that is co-sanctioned by the Japan Golf Tour.
"My time on the PGA Tour did an incredible amount of work to grow the game … but it's not the only way to do it," Lahiri said.
The solution, Lahiri contends, is ensuring some of the $300 million LIV has invested in the Asian Tour trickles down into grassroots golf in Asia.
"[With LIV Golf and the Asian Tour] everybody's interests are more aligned," he said. "When you put an influx of money into some of these regions, that money [feeds] down to the national associations, funds junior programs, funds junior teams, amateur teams and coaching programs. That grows the game."