Up In The Air
Bubba Watson still hopes he's welcome at the Masters. If not, 'I don't want to be there anyway'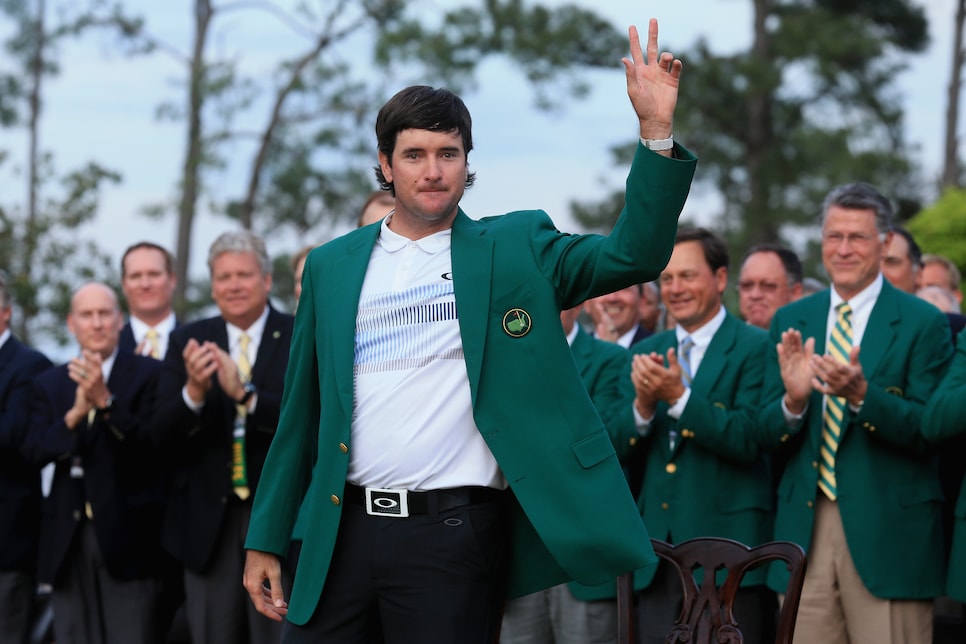 BOLTON, MASS. — LIV Golf recruit Bubba Watson says he has accepted the risk of a Masters ban by Augusta National despite being a two-time winner of the green jacket.
The left-handed Watson was unveiled more than a month ago as one of several major champions to have joined the Saudi-backed rival league, although he still hasn't competed while nursing an injury and is only a non-playing captain. In that time, Watson said he'd had a tough conversation with his children about the uncertainty of playing in golf's four majors. The likelihood is Watson will be free to play the Masters as a past champion (2012, 2014) but that isn't guaranteed.
"For me, it's a weird situation being a Masters champion; right now, we can play in it, and I'm hoping and praying they make the right decisions," Watson said ahead of this week's LIV Golf Invitational Boston. "I sat my kids down and told them there is a possibility we can't go to Augusta. If they [Augusta National] tell me I can't go, [even as a] past champion, then I don't want to be there anyway because that's just the wrong way to look at it."
LIV recruits know their participation triggers a concrete ban by the PGA Tour, but they don't know what stance will be taken by the organizations that run golf's four majors: the Masters (Augusta National), PGA Championship (PGA of America), U.S. Open (USGA) and the Open Championship (R&A).
Given this year's U.S. Open and Open Championship came after LIV Golf's first event in June, the USGA and R&A made public statements on the eligibility of LIV recruits in their championships—they were allowed to play. However, the Masters and PGA were staged before LIV kicked off its inaugural event. Augusta National and the PGA of America have not yet had to confirm whether LIV golfers will be allowed to tee it up going forward.
World No. 2 Cameron Smith was unveiled Tuesday as LIV's biggest recruit to date. The 29-year-old Australian has five years' worth of security when it comes to the majors having just won the 150th Open at St. Andrews, but said he hoped LIV events received Official World Golf Ranking points soon.
"I hope that these World Ranking points will sort themselves out before my exemption is up," Smith said Wednesday at his introductory press conference. "I think to the fans of major championship golf, it may be a little bit unfair on them. Majors are about having the best guys in the best field on the best golf courses."
LIV has an application before the board of OWGR for ranking points, but has not yet received a response. Many predict it will be denied based on several shortfalls in the criteria such as field sizes needing to be 75 on average, a 36-hole cut (even for 54-hole events) and an open qualifying school.
But World No. 19 Joaquin Niemann—who was announced Tuesday by LIV alongside Smith, Anirban Lahiri, Marc Leishman, Harold Varner III and Cameron Tringale—was blunt when asked if LIV golfers should be free to play the majors. He pointed to the fact 13 of the world's current top 50 golfers are now LIV players.
"We earn our place in the majors and if they want to see real competition, they have to have the top players," Niemann said. "That's why the majors are there."
Varner was more relaxed about golf's grandest stage. He said the financial stability gained through his guaranteed money offer was a trade-off he was willing to accept. "For me, [the majors] weighed a lot," Varner said. "This was my first year playing in every major, so it was cool. But like I think it's way cooler making sure my kid doesn't have to worry about anything."