News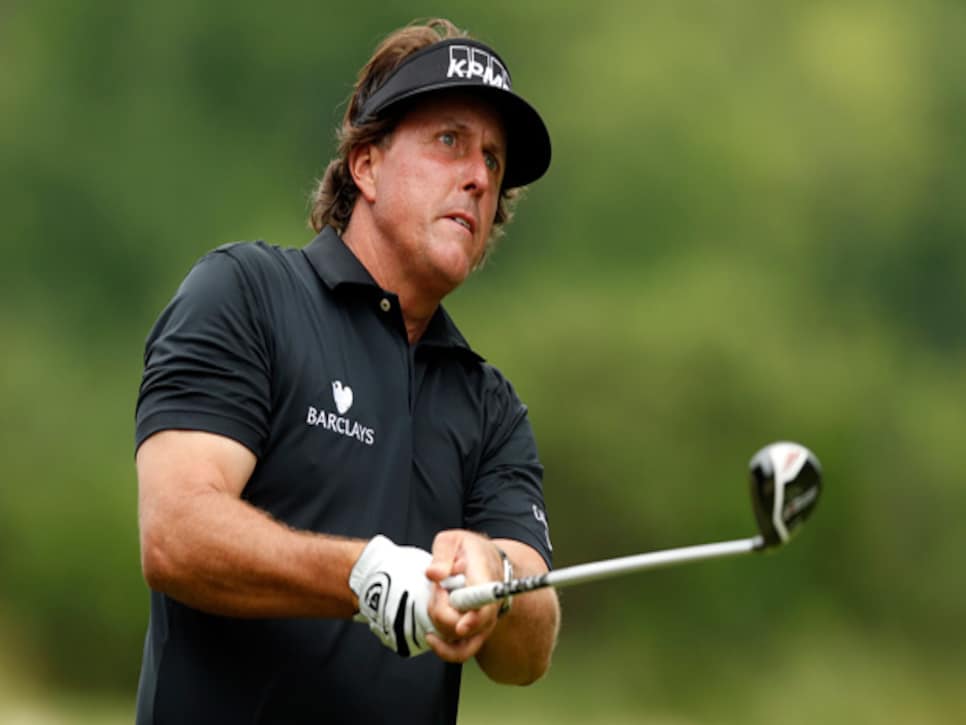 Mickelson's lone bogey of the day came on his first hole.
ARDMORE, Pa. -- At 5:38 a.m. Thursday, Phil Mickelson began the most unusual workday of anyone's golf career, excepting, perhaps, one of those Walter Hagen mornings after a long, liquid night when the bon vivant Haig arrived by limousine and changed into his golf shoes while disembarking at the first tee.
Mickelson had arrived by private jet after a transcontinental journey from his home in Rancho Sante Fe, California, to Merion Golf Club in the leafy suburbs of Philadelphia. As he walked onto Merion's practice range to warm up for his first round in this U.S. Open, Mickelson carried a bag of balls in his left hand. On his face, that perpetual boyish smile suggested a certain contentment.
The night before, he had attended his daughter Amanda's eighth-grade graduation ceremony.
Wait. What? Isn't this the guy who's borderline obsessive about the Open? Five times a second-place finisher, Mickelson is at age 42 on track to be the Sam Snead of his generation, a great player with multiple major championships who never wins an Open.
And yet he gets on a plane at 8 p.m. California time, flies almost five hours and 3,000 miles, sleeps a couple hours en route, catches another hour on the ground, maybe splashes wake-up water into his eyes, and tees it up in an Open at 7:11 a.m. Merion time -- which, on his bewildered body clock, is 4:11 a.m.
You may remember Amanda. More likely, you remember the 1999 U.S. Open. You remember Mickelson wearing a beeper. He insisted that the beeper would sound during play if his wife, Amy, went into labor with their first child. At that moment, he would leave the course. He carried the beeper with him every day, even in the Sunday heat of competition with Payne Stewart, who won that Open and, even in celebration, shouted into Mickelson's ear that he, too, would win by becoming a father. The beeper baby was born the next day. Amanda.
So, four days short of 14 years later, Amanda graduates from The Rhoades School, and the ceremony comes the night before Dad is to tee off in another Open. Oh, yes, Phil Mickelson wants an Open championship. His career would be fine without it; five seconds in the Open are good, along with the four majors he has won. But still. To come so close, to be good enough and yet not win the one he wants most -- "It would be a bit heartbreaking," he said in the hour after his Thursday round.
It wasn't that Amanda asked him to stay home; she said she'd be fine with him leaving. In making his decision to fly overnight, Mickelson found good golf reasons for delaying his departure: 1) He didn't need any more work at Merion; two weeks earlier, he'd put in two long days here and he knew how he wanted to play the course. 2) At every major, he tries to play off-site on Wednesday for a break from the pressure and anxiety. 3) He could review his notes in the solitude of a plane ride and, as he put it, "re-live the course." And 4) he could do his final prep work in the California sun rather than the East Coast gloom.
But the best reason for staying was the father's reason: "I wanted to be there." Amanda is not a golfer. She's a paleontologist. As a child, she picked at dirt in the cliffsides alongside the Pacific Ocean shore near San Diego. She found fossils that attracted the attention of San Diego's famous Museum of Natural History. The museum folks said she'd found stuff their own people hadn't; they invited her to a summer paleontology camp usually accepting only 16-to-18-year olds -- she had just turned 13.
Before that, on a plane ride, she had fallen into conversation with T.R. Reinman, once a San Diego Union-Tribune golf writer who had become her father's publicist. "I'm no physicist," the old sportswriter told me today (unnecessarily). "So when I asked Amanda how all these exploding pieces of rock came to be planets, she said, 'Well, you know they all have molten cores." (Reinman said he nodded, as if he knew this all along.) "Those cores give the pieces a force of gravity. That force pulls everything together. The bigger an object is, the stronger its gravitational pull is, and everything is pulled toward the center. Eventually, that gravitational force results in a perfect sphere.'" Reinman says she was 11 years old then.
At The Rhoades graduation, Amanda was one of four speakers.
"I was really proud of her," Mickelson said. "She even quoted Ron Burgundy." We all have quoted Ron Burgundy, the feckless, hapless, clueless San Diego anchorman/buffoon played in the movies by Will Ferrell. But Amanda, the paleontologist, turned the anchorman's catchphrase to her own good use in talking about her classmates. One buddy had found a measure of relief for people suffering carpal tunnel syndrome. Another had achieved a patent on a machine.
"In the words of Ron Burgundy," she said, laughing, '''We're kind of a big deal.'"