News
Concerned about COVID, Phil Mickelson balks at playing Houston Open with fans in week before Masters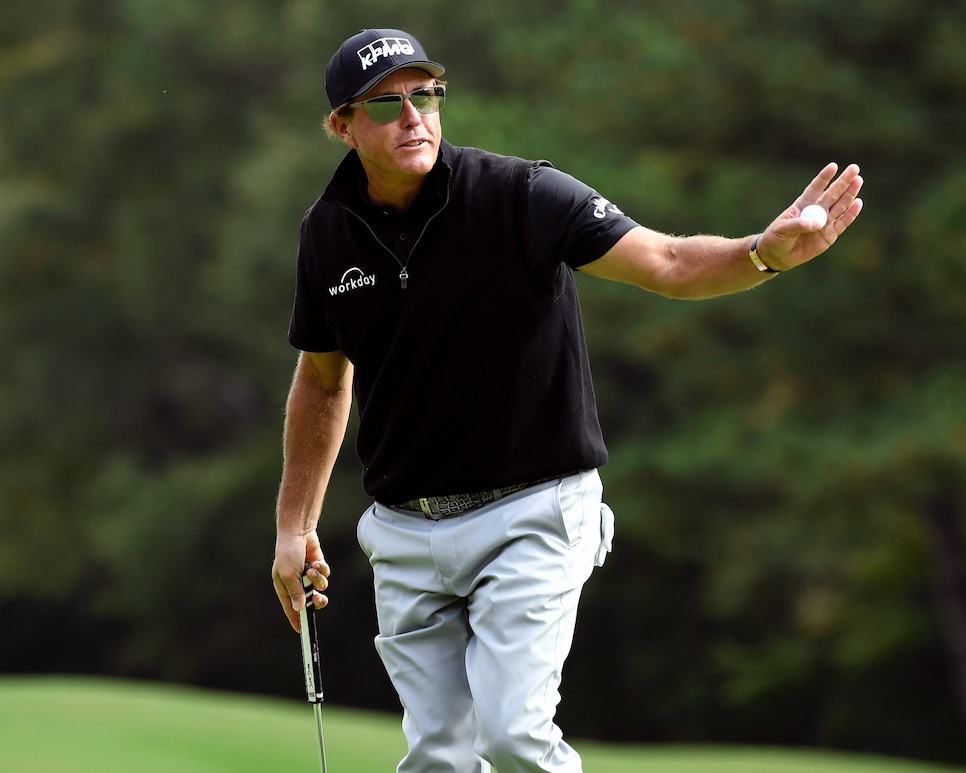 Phil Mickelson says he may switch to competing on Champions Tour in two weeks because the Houston Open is allowing fans.
Tracy Wilcox
The PGA Tour announced on Monday it will allow the most number of fans, by far—2,000—since the COVID-19 outbreak at the Vivint Houston Open in two weeks. That decision got the attention of Phil Mickelson. So much so that he is considering not playing the PGA Tour event as his final tune-up for the Masters, which is set for the following week.
Mickelson said on a Zoom call with reporters on the eve of this week's Zozo Championship that he believes the tour has done an "incredible" job of managing its coronavirus protocols. But he questioned why it would take the risk of allowing fans in the week before the major championship.
"I think that they will do a very good, safe job in having 2,000 people at the Houston Open," Mickelson said. "However, for me personally, I don't like the risk that having that happen the week before the Masters. I just feel like the week before the Masters, like that's a big tournament we have and I just don't want to have any risk heading in there. So it has made me question whether or not I'll play there."
Mickelson later added, "Because I haven't seen it before, because it's the first one out on the tour with some people, I'm unsure and I don't want to take any unnecessary risks. I don't go out to dinner, I don't go out and socialize because I want to make sure that I have an opportunity to compete in the Masters."
It has been Mickelson's routine to compete the week before a major, and he does have the option of playing on the PGA Tour Champions, the 50-and-older circuit on which he's won in his first two starts. The PGA Tour Champions' Charles Schwab Championship at Phoenix Country Club in Arizona is being played the same week as Houston. Mickelson previously said the Phoenix course would be too short for him in preparing for Augusta National, but he's apparently now open to competing there because of the fan issue.
"If Phoenix does not have people, I'll probably go there, to be honest," Mickelson said. "If they're both going to have galleries, I'll probably go to the Houston Open."
After Mickelson spoke, the tour said that spectators at the Charles Schwab would be limited to 350 club members per day. They would be screened with temperature checks, be required to wear masks at all times and there will be no hospitality.
Mickelson said one of his biggest fears is the potential for a false positive COVID-19 test leading into the Masters. In the tour's second week back from the hiatus, Cameron Champ tested positive before the event. Champ announced five days later that he had tested negative three times and asserted that his positive test was false.
"There were a few false positives earlier on and those are the things that worry me because that's the scare," Mickelson said. "Because I know that I've been able to stay safe, that my circle of [coach] Andrew Getson and [caddie and brother] Tim and [wife] Amy and everybody has been safe, so we've all made those precautions, but the false positive is the thing that scares me."
Mickelson praised the tour for what it has done in limiting the amount of coronavirus positives since play resumed in mid-June after a hiatus that started in early March. In all, 13 players have tested positive for COVID-19 on the PGA Tour, the latest being world No. 1 Dustin Johnson, who was forced to skip last week's CJ Cup and this week's Zozo, and Adam Scott, who withdrew from the Zozo on Wednesday.
"I think the PGA Tour's done an incredible job—I mean, an incredible job—of getting the players to play and compete in a safe environment," Mickelson said. "We've had a few people test positive. It has not spread from those people. They've kept everybody at a good social distance, so if somebody does have it, it hasn't affected and carried through the tour. I think they've done a phenomenal job of having us feel safe."