The Loop
Phil Mickelson gave Larry Fitzgerald a chipping lesson during their pro-am at the Greenbrier and it was captured on video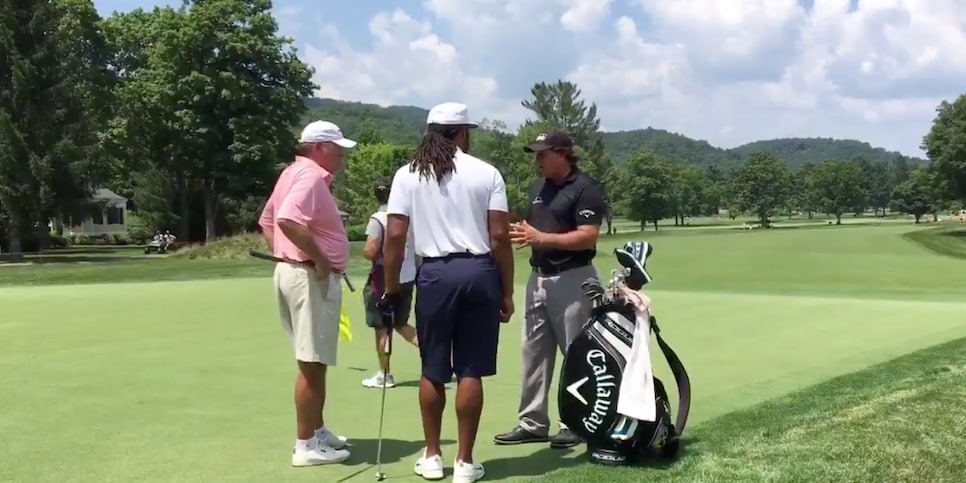 We all know Phil Mickelson is a short-game legend. One of the best, if not the best, around the greens. So if you get the chance to listen to Phil discuss the short game and offer his tips on chipping, you listen. Even if you're 11-time NFL Pro Bowler Larry Fitzgerald.
Fitzgerald—who partnered with Kevin Streelman to take down the AT&T Pebble Beach Pro-Am by seven strokes—is a golf obsessed. He also a lot of golf plays out of Whisper Rock Golf Club, where Phil Mickelson designed one of the club's two courses. So Phil and Fitzgerald were paired up for the pro-am before the Military Tribute at the Greenbrier on Wednesday. Thankfully for us, the Golf Channel's Chantel McCabe was within ear shot of Phil to capture this video lesson he gave to his pro-am partners.
That's a lot to digest from Phil. So we'd suggest sleeping on this and thinking about it a little before heading out to try Phil's tips.
One thing's for sure: Fitzgerald might be a tough out next year at Pebble Beach now that he's armed with Phil's wisdom. By the way, the Arizona Cardinals wide receiver is now down to a 5 Handicap Index—down from a 10.6 as of February. That's an impressive improvement. Maybe he'll be down to a scratch after getting this quick short-game clinic from Lefty.