Mickelson watch
Phil Mickelson continues to discuss his PGA Championship options with game's leadership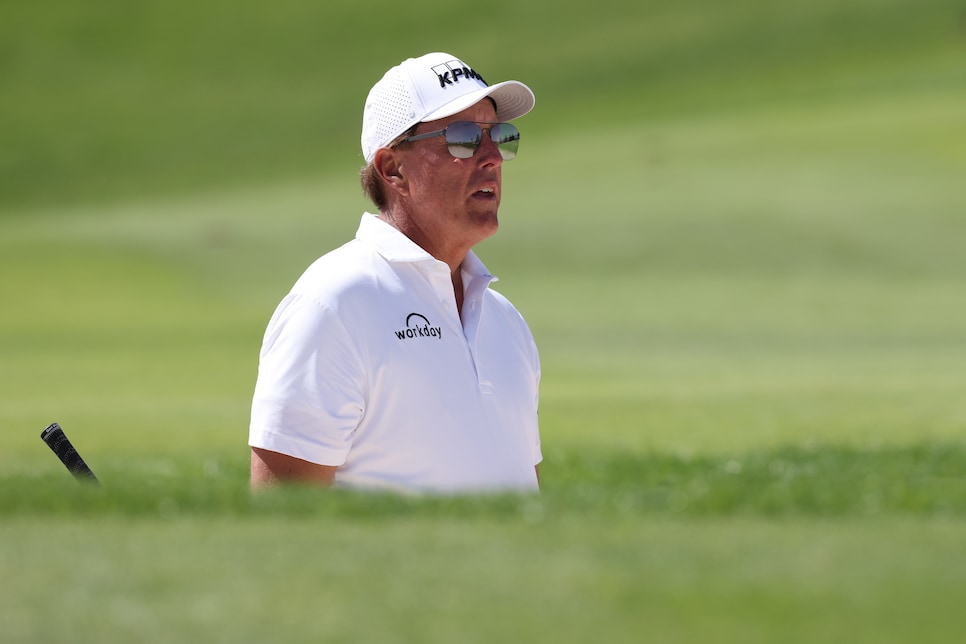 Seth Waugh, the CEO of the PGA of America, said on the "5 Clubs Conversation" podcast this week that he's had a "number" of talks with Mickelson over the last several weeks and that they will continue to do so as Mickelson's possible defense of the PGA Championship title approaches in less than two weeks at Southern Hills in Tulsa. Mickelson is registered to play in the PGA, but has not yet said if he's going to compete.
"I think he's trying to figure out when the right time for him is," Waugh told podcast host Gary Williams. "I think the game is trying to figure out the right time for him, too. How long is long enough? And is he ready mentally and physically to do it?"
It's been often speculated of late about what Mickelson's return to golf might look like from a media standpoint. If he decides to play in the PGA, would he conduct an interview with a handpicked entity away from the tournament, or simply face what figures to be a charged atmosphere in a press conference early in the week? He and Waugh have clearly talked about that.
"I hope what we can do is have that before the flag goes up," Waugh said. "The idea is, if he does play, and if he's able to and allowed to … he would certainly have to face the media. But I hope it's Monday or Tuesday, and then once the flag goes up, it's about the golf. … What we're trying to do is deliver a major championship, not a circus. And so I would hope that he can avoid that, and everybody can avoid that. And we're talking about golf shots instead of verbal gaffes once we get going.
"But there's certainly, I think, part of his thinking is, 'Am I ready to face that glare and have that conversation and have all the answers that everybody is going to be looking for? And if I do it that week, am I then able to compete on a major championship venue under that kind of pressure with everything going on?' But we would do everything we could to make it happen either before our week or very early in the week.
"I've known Phil for 20-something years, and he's a complicated guy with complicated thoughts and in a complicated situation," Waugh said. "And so we're all trying to figure out what's best for him and frankly what's best for the game and we're going to keep having those conversations."
On a personal level, Waugh expressed his sadness at the situation. Mickelson has admitted to working with the Saudis and Greg Norman to get the LIV Golf Invitational Series off the ground as a competitor to the PGA Tour. But he then complicated the situation with his incendiary comments about the Saudi government's human rights history. Mickelson followed up with a statement that called the comments "reckless," while saying he would be stepping away from the game. "I offended people, and I am deeply sorry for my choice of words," Mickelson wrote. "I'm beyond disappointed and will make every effort to self-reflect and learn from this."
"He's been great for the game for a really long time and I do believe in redemption and I do believe that he can figure this out," Waugh said. "I think he's got to decide what he wants to be. Does he want to be part of the ecosystem or change the ecosystem? And I think he's kind of caught in between a little bit."