News
Phil Mickelson committed to Players Championship, but won't make decision to play until Tuesday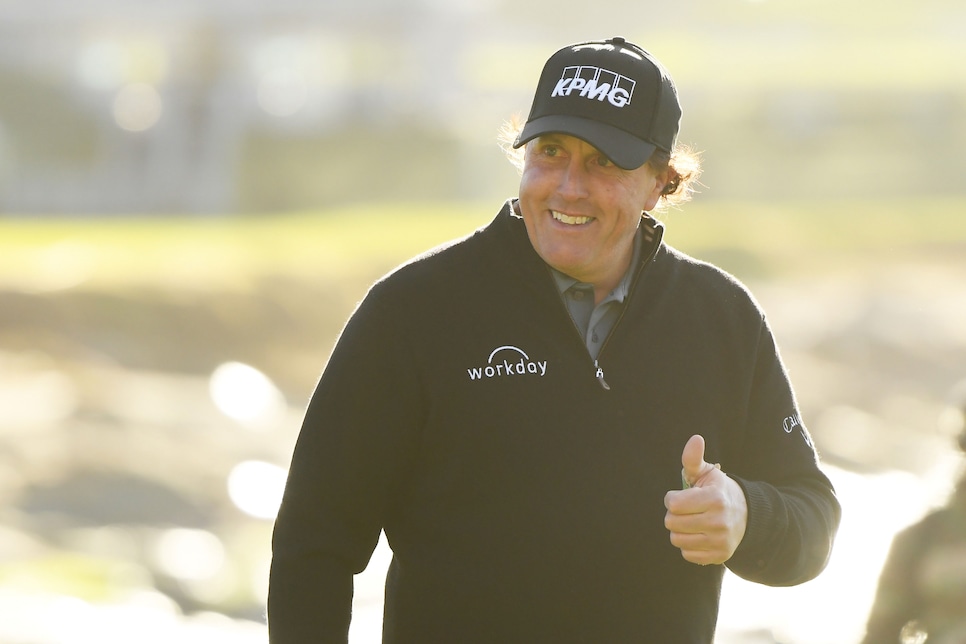 Phil Mickelson has a flair for the dramatic, as evidenced on Thursday by his attempt to hit through an out-of-bounds net with a right-handed swing. Those theatrics include his playing commitments as well.
Following a poor performance at the 2018 Ryder Cup—Le Golf National's tight confines did a number on the 48-year-old accuracy, or lack thereof—Mickelson told reporters at the Safeway Open that he was finished playing tracks with brutal rough. "I'm going to play courses that are playable, and I can play aggressive, attacking, make lots of birdies type of golf I like to play."
Though Mickelson continues to be a formidable player in 2019, already notching a win and second this season, he is sticking to his statement. He passed on his hometown event at Torrey Pines, and made waves in February when mentioning he might pass on the Players Championship.
"It's not one I feel like I have to play," Mickelson told GolfChannel.com at Riviera. "It's not a must-play for me because I'm 48 and I've played it 25 times and I've already won it. If I were young and early in my career, I would say yes because I think it's as close to a major as it can get. But it's not the best course for me."
Friday afternoon is the tour's deadline for commitments, and when 5 p.m. comes this evening, Mickelson's name will be in the field for the tour's flagship event next week. That doesn't mean he'll tee it up at TPC Sawgrass.
Following his Friday round at the Arnold Palmer Invitational, he said he remains "up in the air" about playing next week.
"It just depends on the set-up and what I see," said Mickelson, noting that he would be at TPC Sawgrass on Tuesday and play nine holes, then would assess whether he will stay for the tournament. "I'm definitely 50-50. But if I don't play, then I will add something else."
At two-over 146 at Bay Hill, Mickelson was on the cutline when he wrapped up his round but looked like he was going to miss the cut by a stroke as the afternoon unfolded. "I couldn't get out of my own way today," he told Golf Digest's Dave Shedloski. "I just am trying to steer the shots too much, and I don't like to play that way."
If it should rain at TPC Sawgrass, softening the Stadium Course, that might sway the five-time major champion to remain in the field. Then he wouldn't have to be as precise off the tee. Mickelson currently ranks 49th on the PGA Tour in strokes gained/off the tee despite hitting just 50.49 percent of his fairways–which ranks 216th on the tour.
Mickelson said he returned to Bay Hill for the first time since 2013 out of respect for Palmer, who died in 2016. He wasn't expecting Bay Hill's rough to be so lush, based on the pre-tournament agronomy report.
The Players might be equally frustrating for him as opposed to next month's Masters, where he has won three times.
"When you go to Augusta, I feel like I don't have to be perfect, and so I end up making better swings, I hit a lot more good shots and my misses are playable," Mickelson said. "And then you get out here, and the fairways are tight, the rough is thicker, and then I start to steer it and I start to make some horrific swings. I haven't hit some of the shots I hit today in a long time, but when I get a little steery and don't swing, I try to guide it, I hit some terrible shots. The Players is a place you can make some steery swings."
After hitting balls following his second round, in which he converted just one birdie, Mickelson, dressed in black t-shirt, shorts and black baseball cap, said he couldn't remember hitting more poor shots than he did on Friday.
It is both his form and the condition of the course that will determine his next move—one the tour likely will watch with some unease given that Tiger Woods' status for the Players also is uncertain after he withdrew from the Arnold Palmer Invitational with a neck injury.
That may seem like an 11th-hour call. Conversely, compared to his decision at the 2017 U.S. Open, when Phil wrestled with flying from his daughter's graduation to Milwaukee on the day of the first round, this barely registers as drama.
—Additionally reporting by Dave Shedloski from Bay Hill