News
In victory at Pebble Beach, Phil Mickelson shows just how talented—and stubborn—he remains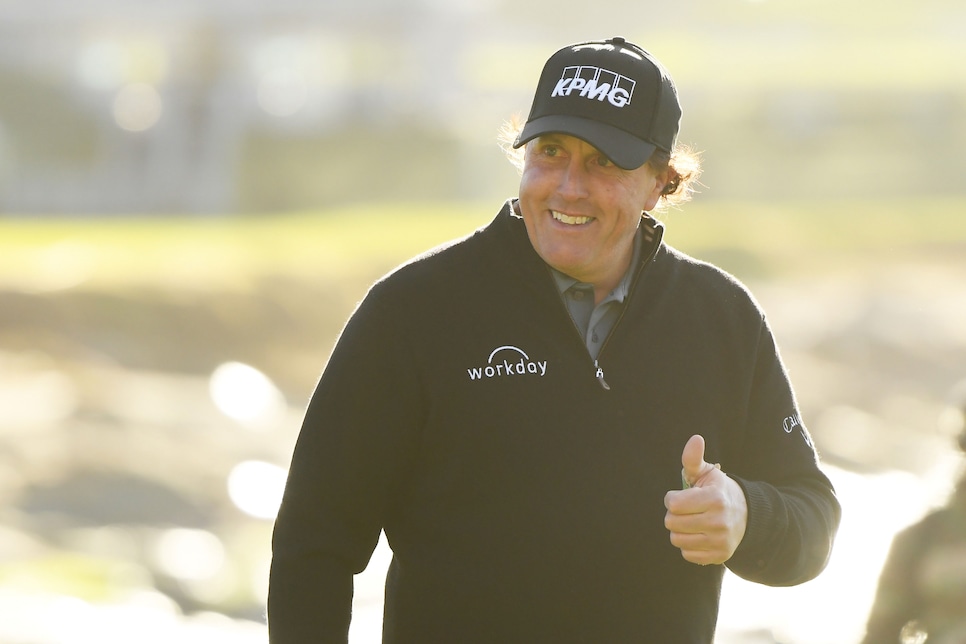 Photo By: Harry How/Getty Images
Phil Mickelson won another golf tournament on Monday—the 44th of his remarkable PGA Tour career, a little more than four months before his 49th birthday. That birthday falls on June 16—the same day the U.S. Open is scheduled to conclude at Pebble Beach, the same golf course where he won the AT&T Pebble Beach Pro-Am on Monday, giving him five victories on America's most famed links golf course.
One can imagine the entire golf world swooning if Mickelson puts a fairy-tale-like cherry on top of his career in June by wrapping up the career Grand Slam he's been chasing since his Open Championship victory at Muirfield in 2013.
I think I'd be happy—it would certainly be a great story. But there have been many times during Mickelson's long and storied career when his behavior has made me shake my head and think, "What is wrong with him?"
Even Sunday, in the midst of what would wind up being a brilliant 65 he shot to catch Paul Casey to win by three shots, there was Phil being Phil, insisting he could keep playing in the dark when long-time rules official Mark Russell walked onto the 16th green to tell the players it was getting too dark to play.
Casey agreed. Mickelson didn't. "I can see fine," Mickelson said, perhaps revealing that he is part cat.
Mickelson wanting to finish was understandable. He'd played virtually perfect golf—six birdies, no bogeys—and had turned a three-shot deficit into a three-shot lead. Rory McIlroy insisted on finishing in the dark at the PGA Championship in 2014 because he didn't want to sleep on a two-shot lead with one hole to play. But there were still two holes to play Sunday, and there was absolutely no way to finish.
Mickelson apparently realized all that in the aftermath. After birdieing 18 on Monday morning for a remarkable seven-under-par 65 that gave him a two-shot win over Casey, he didn't apologize for what happened on Sunday. Instead he "thanked" Casey for agreeing with Russell that waiting until morning to finish was the right thing to do.
"Sometimes," he said, "I get in my own little bubble."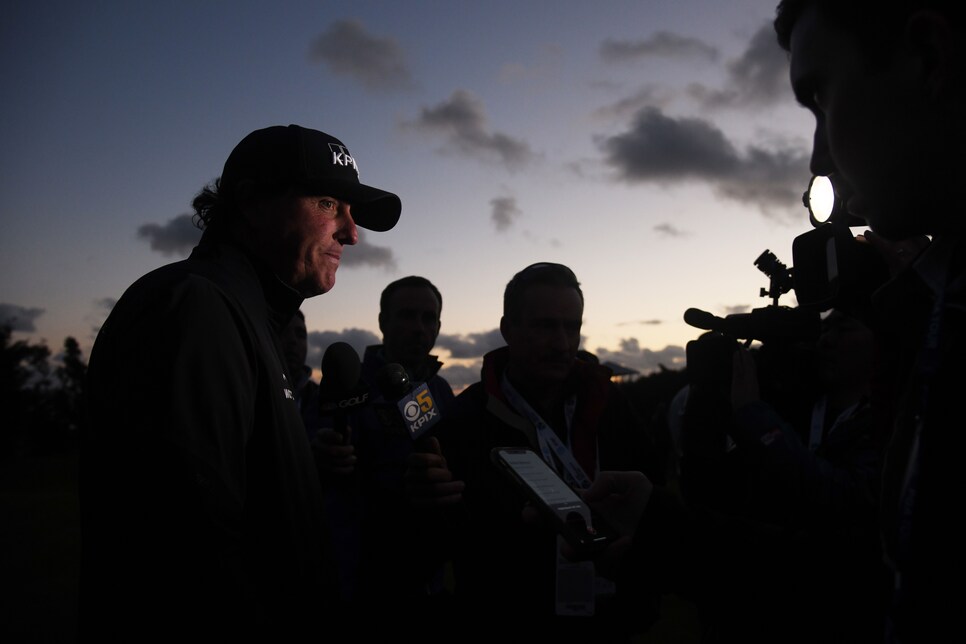 He insisted he could see in the dark, just as he insisted he could get out of a Dustin Johnson headlock at the Sunday-night post-Ryder Cup victory party at Hazeltine in 2016. So certain he could do it, he tried five times before he was told by everyone watching to please stop before he got hurt.
"What can I say?" Mickelson said later. "I really thought I could do it. Still do."
Mickelson arrived on tour in 1992—a year before I began covering golf regularly. He has almost always been more-than-cooperative with me, especially on book projects that he has been an important part of—notably, The Majors back in 1998 when he hadn't yet won one and The First Major in 2016 when he was clearly one of the focal points of any attempt to write about that year's Ryder Cup.
I like Mickelson's give-everyone-a-hard time sense of humor. The first time I experienced it was way back in 1994 when I was talking to Davis Love III and Jeff Sluman on the driving range at Turnberry during that year's Open Championship. The three of us were talking basketball, and Love asked me how much longer I thought Dean Smith would coach. My answer was I really didn't know, that he'd won the national championship a year earlier but had just gone through one of his most frustrating seasons.
Mickelson was hitting balls nearby. He stopped, turned to me and said, "Aren't you supposed to be some kind of basketball expert?"
I said I wrote a lot about college basketball.
"Which implies, doesn't it, you have some sort of expertise in the area, right?" Mickelson continued. "So, if you're an expert how can you not know something like that? I mean, if you ask one of us a golf question and we say we don't know would you buy that answer?"
He was grinning by now. "If the honest answer was you didn't know, I'd be fine with it," I said.
"Pretty lame," Mickelson said, now fighting a laugh as he returned to hitting balls.
He was right. It was pretty lame. I'd been Mickelson-zinged.
But there have also been times when I didn't find Mickelson at all funny. His takedown of Tom Watson at the closing press conference following the Americans Ryder Cup loss at Gleneagles in 2014 was embarrassing.
Mickelson had told Ted Bishop, then the president of the PGA of America, months earlier that he thought Watson was the wrong choice to captain that team. Then, when Watson sat him (and Keegan Bradley) out all day Saturday, Mickelson had a temper tantrum. He decided Watson was responsible for the Americans decisive loss and, for all intents and purposes, said so.
For the record, I have a bias here: Watson and I have worked closely on a charity golf tournament named for Bruce Edwards, his longtime caddie and close friend, since 2005.
That said, I certainly wasn't the only one who thought Mickelson was out of line. Two years later, when I talked to Mickelson about what had happened, he was un-apologetic, although he did say that his meltdown was the result of years of frustration with how the PGA of America approached the Ryder Cup.
"In a sense, Tom was a victim of past mistakes made by the PGA," he said. "It all kind of reached a boiling point that night."
In his early years on tour, Mickelson's locker room nickname was "Eddie Haskell," the old TV character who always smiled and was polite to Beaver Cleaver's parents and then led Beaver's older brother, Wally, into all sorts of trouble.
Mickelson was the guy who always signed autographs after a round—the anti-Tiger Woods in that sense—always said the right things to the media, always had a smile and a wave for his adoring fans. If I had a dollar for every player who said to me, "Phil signs those autographs to market himself," I wouldn't be as rich as Mickelson, but I might be in the ballpark.
My answer was always the same: The kids with the autographs don't care why he signed, they just know that he signed.
He is also the best tipper in the history of golf—again, another anti-Tiger image. And, it's hard not to like an athlete who calls himself "an idiot." (Winged Foot, 2006)
But there's no doubt about the fact that he works at burnishing his image. In 1999, a golf reporter working in Greensboro, N.C., and I were talking to Mickelson after a round at the Players Championship. The reporter wanted to know if Mickelson was planning to play at the PGA Tour stop in Greensboro that year. Mickelson wasn't, but wanted to be sure everyone in Greensboro knew how much he loved the event and longed to return in the future.
"The sponsors down there do such a wonderful job every year," he said at one point.
Mickelson paused and then said to the reporter, "Do they still have the same sponsor?" Assured that they did, Mickelson continued on about how terrific they were.
As he's gotten older, Mickelson has become a little less image-conscious, in part, I suspect, because he's so beloved it is almost impossible for him to make a mistake in the eyes of the public. Last year's debacle during the third round of the U.S. Open at Shinnecock is a perfect example. En route to a third-round 81, Mickelson missed a putt on the 13th hole and, thinking it was going to roll off the green, ran it down and smacked at it while it was still moving.
The USGA chose not to disqualify him—even though it had grounds under the rules to do so. Many in the media and most of the public defended Mickelson because the USGA had miscalculated the wind and blown the golf course setup on Saturday.
That was true. It was also true that 66 other players that day played all 18 holes without blatantly violating a rule they knew they were violating. Mickelson even said after the round that he knew it was a two-stroke penalty but thought he might be saving himself a stroke or two by hitting the moving ball rather than let it roll of the green.
Heroes don't get DQ'd—see Woods at the 2013 Masters—even when they aren't in contention.
And Mickelson is a hero in the golf world. Not just to fans, but to most in the media and most players. He has grown from Eddie Haskell to "Papa Bear" as Zach Johnson has noted.
Personally, I've always liked Mickelson and appreciate the time he's given me through the years. I am amazed by his ability to continue to play as he likes to put it, "some really good golf," less than 18 months from being eligible for the 50-and-older tour.
But I have trouble putting him on the pedestal many put him on.