News
Phil Mickelson closing in on the elusive victory that he says is imminent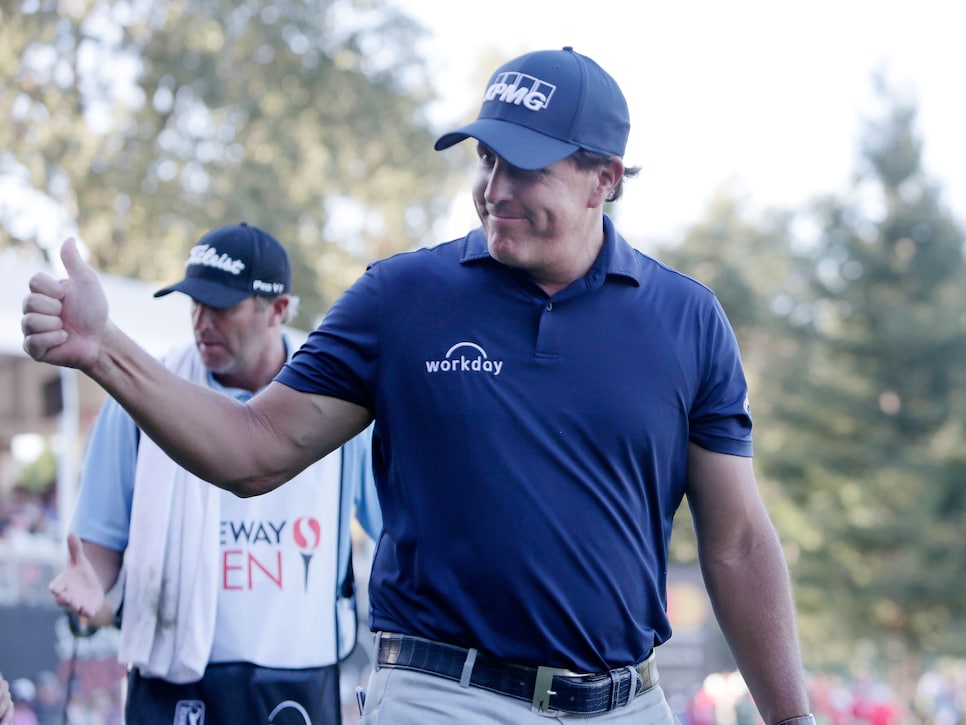 Phil Mickelson, even at 47, remains a high-wire act oblivious to the risk while still enthusiastically chasing the reward, meanwhile holding our attention when it ought to have been diverted elsewhere.
A football Sunday was vying for attention with baseball playoff games, yet Mickelson virtually alone saved the Safeway Open from itself, injecting interest in a PGA Tour season-opener that otherwise would have unfolded in a sports vacuum.
That was our takeaway, anyway. His no doubt was this: His bid to win for the first time since the 2013 British Open, though falling short, reinforced his contention that victory is imminent.
"Well, I'm going to win. It's a matter of time," he said on Saturday evening. "I don't know if it's tomorrow. I don't know if it's in China. But it's going to happen. It's going to happen soon because I'm starting to play well enough to do it."
On a breezy Sunday on the North Course at the Silverado Resort in Napa, Calif., he chased down victory nearly to the end. His birdie on the 16th hole put him within a shot of the lead, but he bogeyed the 17th and eventually tied for third, three strokes back of winner Brendan Steele.
Still, it was his best finish since taking second in the British Open in 2016, and that it came in the wake of the Presidents Cup, when a letdown is expected, gave him reason to look ahead to more golf at a time of year when he usually opts for less golf.
"It's just easy to see the ball starting on the right line," he said. "Iron play's back, distance control, putting. The game has just come back. My focus is much better. I'm staying in the present and hitting the shots. I'll get a few things ironed out. I'm going to China on a course I've won at twice, and hopefully see if I can get a win there."
That would be the WGC-HSBC Champions in Shanghai, China, on Oct. 26. He won it in 2007, when it was a European Tour event and again in 2009, when it had become a WGC event. Only good vibes seemed likely to send him on an oversees mission that would delay his annual hiatus.
He was his old self in California's renowned wine country, which is to say he was alternately at his virtual best and worst. He hit only three of 14 fairways on a narrow course squeezed tighter by the wind, yet still put together a two-under par 70 that had him in contention for 16 holes.
The entertainer still enjoys entertaining, even at his own expense, an indication that his enthusiasm has not waned, remarkably for a 47-year-old with 42 career victories, but none in more than three years.
"I had a good time today," Mickelson said. "It was fun to be in the mix. It was fun to have a chance. It was very difficult conditions. I enjoy that challenge. This course played totally different with the firm greens and the wind and some of the high pin placements."
It was fun, too, to watch, and especially enjoyable seeing a graybeard still determined to stand out, and capable of doing so, in a game that has been taking its youth movement to an extreme.