PGA Championship 2021
PGA Championship 2021: Once dominant, DJ and Koepka face lingering questions about their health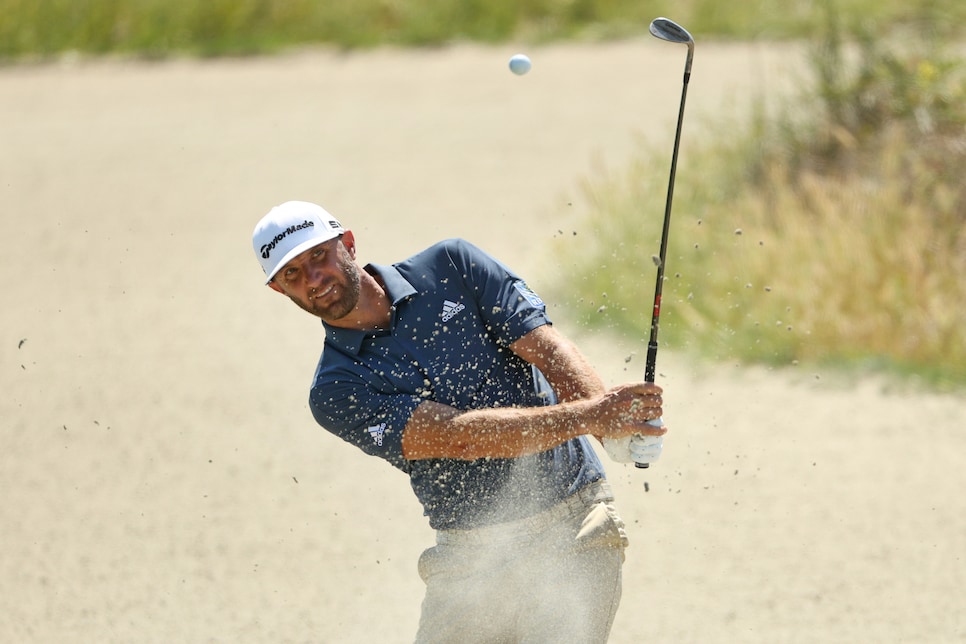 Dustin Johnson plays a bunker shot during a practice round for the 2021 PGA Championship.
Patrick Smith
There's a physicality to Dustin Johnson and Brooks Koepka. Their builds, their walks, their workouts, the way they play golf, of course. Other players can redline their swing speeds just the same, but the way each inflicts punishment on a golf ball looks and feels a little different than most. Put another away, Johnson is like a Ferrari, Koepka a tank and then there's everyone else.
But as the current World No. 1 and former World No. 1 arrive at this week's PGA Championship at Kiawah Island, each does so with the wheels having been off of late and, consequently, questions abound.
Last week, Johnson pulled out of the AT&T Byron Nelson with recurring discomfort in his surgically repaired left knee, a lingering effect of arthroscopic surgery in the fall of 2019 to repair cartilage damage in the 36-year-old. "After consultation with my team and trainers, I feel it is best that I remain at home and focus on my rehabilitation work," he said in part in a statement. (He was supposed to hold a news conference on Tuesday at the PGA, but it was pushed back to Wednesday.)
Koepka, meanwhile, was able to tee it up at TPC Craig Ranch, but missed the cut. It was his first action in a month after also missing the cut at the Masters, where had it been any other tournament he likely would not have played after having undergone surgery to repair his medial patellofemoral ligament after dislocating his kneecap in early March.
How does each feel on the precipice of the year's second major?
"I feel like I can hit every shot," Koepka said on Tuesday. "It's not like Augusta where I'm trying to figure out what's the best line to walk—now I can actually hit golf shots and understand what's going on.
"Last week was a good test, just to see where I was at for two days. I thought if I got four, it would be nice, but two days of rest didn't hurt me."
More concerning, perhaps, is how Johnson and Koepka will manage through the injuries.
Johnson, who is still No. 1 in the world and won in Saudi Arabia in early February, has just one finish in the top 25 in five of his last six starts. In his last start two weeks ago at the Valspar Championship, he tied for 48th. He also had two other withdrawals prior to tournament weeks, at the AT&T Pebble Beach National Pro-Am and the Valero Texas Open.
Koepka, meanwhile, is coming off back-to-back missed cuts after beginning the year with two straight missed cuts, followed by a win at the Waste Management Phoenix Open, a T-38 at the Genesis Invitational and a runner-up at the WGC-Workday Championship before he went under the knife. He also didn't pick up a club following the Masters until last week, still has trouble pushing off his right leg on some shots and doctors have told him it would be another six months before he is 100 percent healthy.
"For two straight years it's been left knee, right knee, herniated disc in my neck," Koepka said. "I can deal with the pain. That's not an issue. It's just a matter of being able to hit shots that I want to hit and do things I want to do, and I'm starting to be able to do that. Even though I'm not 100 percent, I can still hit the shots."
It wasn't long ago that he and Johnson had all the shots and were the best in the game.
From 2016 through 2018, Johnson won 10 times around the world, including his first major championship at the 2016 U.S. Open at Oakmont. He also ascended to No. 1 in the world in February of 2017 and stayed there for 64 weeks. Three years later he won another major, setting a slew of scoring records on his way to a blowout victory at the Masters in November of 2020. In all, he has been atop the OWGR for more than 120 weeks.
But Johnson has also endured his share of injuries along the way. Prior to the 2017 Masters and coming off wins in three straight starts, he hurt his back after fall down a staircase in the home he was renting in Augusta, withdrew from the tournament and missed the next month. Then in September of 2019, Johnson announced that he'd undergone knee surgery.
Koepka won seven times between 2017 and 2019, including back-to-back U.S. Opens (2017-18) and back-to-back PGA Championships (2018-19). He also reached World No. 1, doing so in the fall of 2018.
Injuries started popping up for Koepka, though, too. In January of 2018, he missed four months, including the Masters, because of a partially torn tendon in his left wrist. Then in September 2019, he underwent a procedure to repair a partially torn patella tendon. The following month, he re-aggravated the knee after slipping on wet concrete at the CJ Cup at Nine Bridges and was forced to withdraw. The following fall, knee and hip injuries resulted in him missing the U.S. Open at Winged Foot.
Now comes a major week at Kiawah Island on one of the hardest golf courses in the country, if not the world.
The good news, at least, is that unlike Augusta National, Kiawah Island's 7,800-yard Ocean Course is flat. That should help ease the strain for both Johnson and Koepka with far fewer awkward stances. Still, Koepka said that he'll have to do more than two hours of rehab each day this week. It's just part of the process now.
"Yeah, I still have days where it sucks, when my knee just doesn't feel good waking up and it's not going to feel good all day, but those are getting less and less," Koepka said. "That would be the only instance where I see it being kind of an issue, if I just woke up one day and it's in a bad spot or just feels terrible. I've had one of those in the last month, so I'll take it.
"Every day it's getting better and better, and we'll see where it's at."
Whenever Johnson and Koepka are healthy again, the same could be said of their chances of once again being the best in the game.