PGA Tour
Maverick McNealy returns from injury to PGA Tour with renewed enthusiasm—and his pilot's license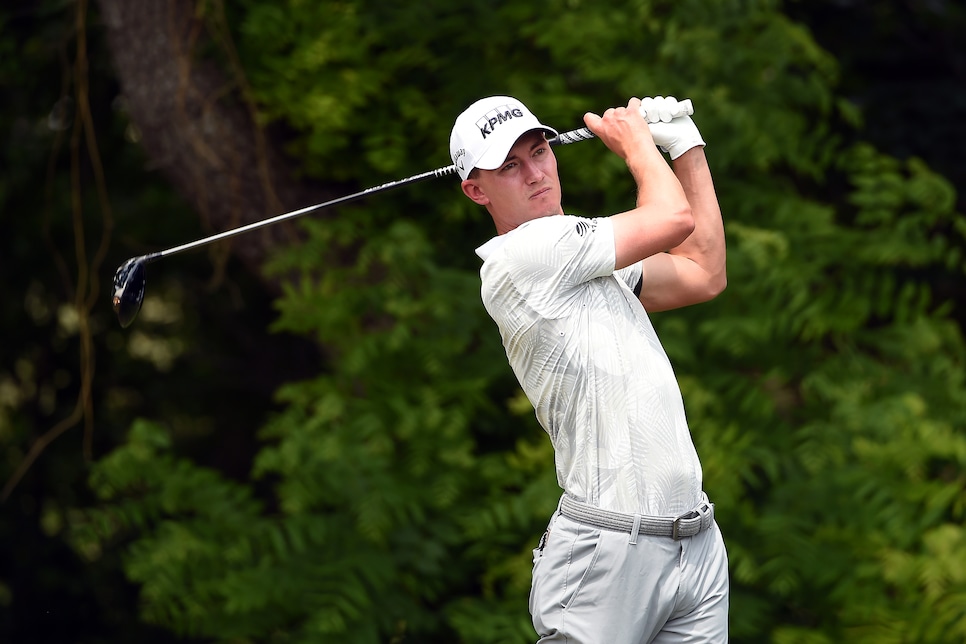 Maverick McNealy hits a shot durinf the 2023 Charles Schwab Challenge, where he was continuing to play despite a serious shoulder injury.
Steve Dykes
There are few places more special on the planet to Maverick McNealy than Pebble Beach. He's a Northern California native who grew up in Portola Valley, 100 miles north of the famed links, and in 2021 the Stanford alum nearly pulled off the stuff of dreams when he shot 66 in the final round of the AT&T National Pro-Am to lose by two to Daniel Berger.
That's what makes McNealy's struggle through a shoulder injury this season so cruel, because he was derailed with one swing at Pebble Beach on arguably the most recognizable hole in American golf.
Returning to PGA Tour competition this week at the World Wide Technology Championship in Cabo San Lucas, Mexico, after a four and half months off, McNealy said on Tuesday that his group had a long wait at Pebble's par-3 seventh hole during the second round of the AT&T in February. He took a "funny" swing and felt a jolt, and though he was able to finish the round, McNealy withdrew the next day.
The sixth-year pro had been off to a strong start in the season, with five top-15 finishes in his first seven starts. But though McNealy tried to play 10 more times through the pain, he finally shut himself down after the RBC Canadian Open in mid-June. The diagnosis was that on the swing at Pebble he tore the ligament that connects the collarbone to the sternum. What followed was months of physical therapy coupled with platelet rich plasma (PRP) injections.
"Then, otherwise, it was just mostly changing some golf swing mechanics to try and take pressure off the area, because it was the golf swing in the first place that hurt it," McNealy said.
McNealy hoped to come back earlier to two fall events that mean a lot to him—the Fortinet Championship in Napa, Calif., and the Shriners Children's Open in Las Vegas, which is played 10 minutes from his house. But if he competed too early, he said he would receive only a Minor Medical Extension from the tour. Starting this week, McNealy said he moves into the Major Medical Extension category, and he said he'll probably have 11 events to earn enough points to retain his card.
As it is, McNealy is 121st in the FedEx Cup standings, with the top 125 players getting their cards for 2024 when the FedEx Cup Fall concludes after events in Bermuda and Sea Island, Ga., over the next two weeks. Strong results could keep him inside the bubble.
"I don't know if my number's good enough to hold up, and I don't want to leave it up to chance to maybe not be able to get all the events to start 2024," McNealy said.
"I always play well in Mexico," he added. "And I'm really excited to get back out there."
Indeed, McNealy posted top-15 finishes in each of his starts when the WWT was played at Mayakoba in Mexico's Riviera Maya. The tournament makes its debut this year on the tip of the Baja California peninsula at the Tiger Woods-designed El Cardonal at the Diamante Resort.
"I think I've had a good track record in international events partly because of my attitude," McNealy said. "Starting back on the Korn Ferry Tour, things are just different, but you have to be adaptable to a different routine. I can speak Spanish so that's always fun. I look at that as a bonus that I can practice my Spanish these couple weeks. Love the food. I joke that I eat Chipotle half the time when I'm on the road back home, so this is just a more authentic version."
The Chipotle runs aside, McNealy didn't fritter away his time off. He got engaged to Maya Daniels and earned both his pilot's license and instrument rating. He told PGATour.com that, while on a flight last year, he watched the movie "Rush," in which Formula 1 legend Niki Lauda (played by Daniel Bruhl) pilots a plane and encourages his rival James Hunt (Chris Hemsworth) to experience the thrill. McNealy was hooked on the idea.
"That's just been a lot of fun," McNealy said on Tuesday. "I'm looking at it as something I don't want to add stress to my life. It's something that I enjoy and love doing, so I would never put undue pressure on making a trip for weather reasons, flying into a new, uncomfortable, complicated air space, whatever it is."
His plane of choice is a Cirrus SR20, and though he's probably not going to jet off to Hawaii or Florida anytime soon, McNealy said he would enjoy making the trip to a couple of the West Coast events in the new season. During the offseason, he said he might "chase some better weather" to practice. "But that's really all it is right now. It's a hobby, it's not really a means to an end."
Having made 112 PGA Tour starts without a win, the former Haskins Award winner at Stanford and Walker Cup player admits that before his injury, he lost touch with some of his joy of being a professional golfer, and he wants to keep that in mind during this return.
"This is the greatest job on the planet," McNealy said. "Sitting out for four months made me realize I missed the travel. … I love seeing different parts of the world, the country, eating different foods, meeting different people, hanging out with 50 of the best golfers on the plant and playing practice rounds and $5 birdie games with those guys, testing myself, pushing myself.
"I love being outside for six to eight hours a day. I love the fact that we get to walk 50 miles. This is what people do for recreation and we get to do it for a job. And then I'm really excited to hit golf shots that matter; like, really matter and really count, and test myself and play that way. It just puts things in perspective for me."