News
PGA Tour winner Seung-yul Noh prepares for two-year military stint in South Korea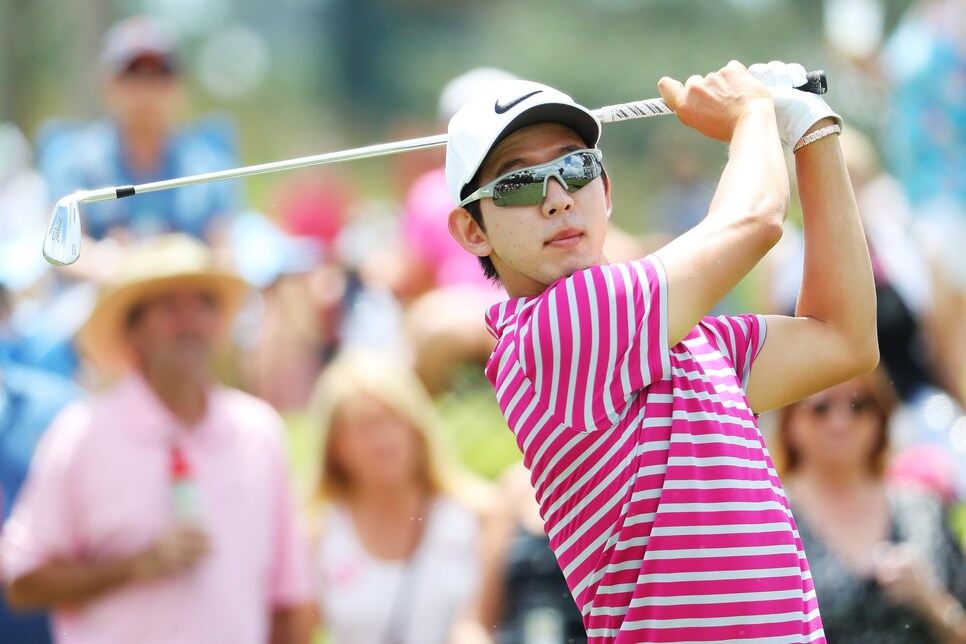 Warren Little/Getty Images
After opening with a seven-over 79 at the CJ Cup @ Nine Bridges, Seung-yul Noh bounced back with a bogey-free seven-under 65, the low round on Friday at Nine Bridges Golf Club on Jeju Island. The 26-year-old South Korean will proudly play on the weekend in the first official PGA Tour event held in his home country while joined by his father, who is working as his caddie this week. The family connection has added meaning since it appears this will be Noh's last PGA Tour start in the foreseeable future, the 2014 Zurich Classic of New Orleans winner having announced he'll soon be starting his two-year military commitment.
Noh said he plans to begin his service, mandatory for all Korean males ages 18 to 35, in November. While he has a PGA Tour card for the 2017-'18 season, Noh is not in the field at next week's WGC-HSBC Champions event, meaning this is likely to be his final tour start.
Recently, Sangmoon Bae, another former tour winner, completed his two-year stint in the Korean military and returned to competition at the Safeway Open. K.J. Choi, a eight-time tour winner including the 2011 Players Championship, also served in the early 1990s when he was 22.
Noh will be able to play on tour when he is finished with his service through the major mandatory obligation extension, the same way in which Bae can play on the tour this season.
The spot in the CJ Cup was unexpected for Noh, who got into the field only after Ernie Els withdrew due to the flu. Noh had not played or practiced in the previous three weeks, preparing instead for his service, which he says explains the poor first-round showing.
Because he hadn't expected to play, he didn't have a caddie for the tournament, which is where his father comes in. "When I first became a pro, my dad used to caddie for me for a couple of years and we traveled a lot together," Noh said. "After that, I was traveling alone or my sister was by my side. As you know, since I will be joining the army, I currently do not have a caddie. My dad caddied for me in the last tournament and thought he was still good enough, and that's why he joined me for the CJ Cup."
It would have been an emotional finish on Sunday regardless. But with Noh's dad by his side, it will likely be even more so.