News
PGA Tour set to allow more people at tournaments beginning next week in Memphis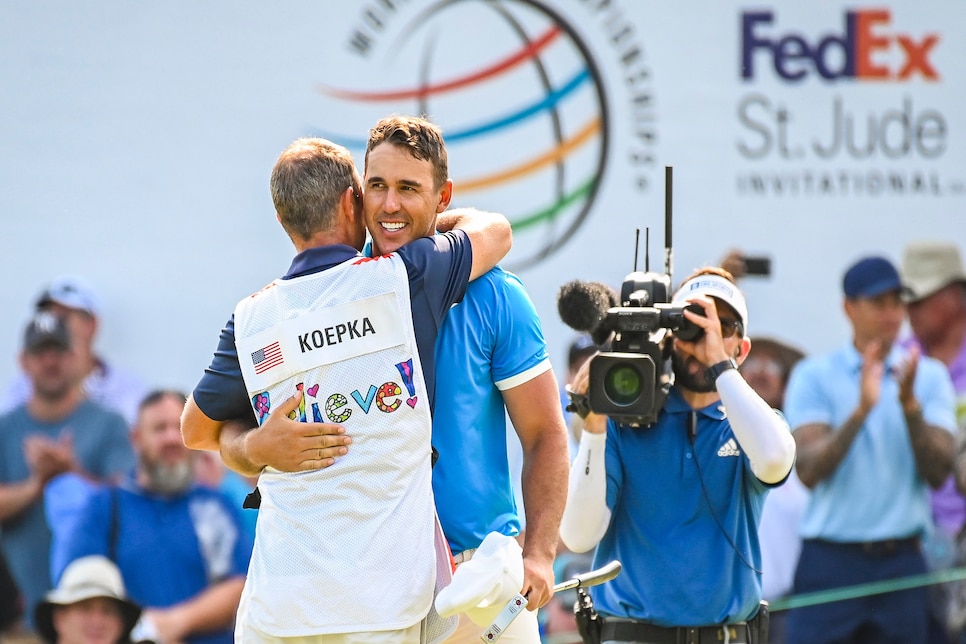 Brooks Koepka won the 2019 WGC-FedEx St. Jude Invitational.
Keyur Khamar
While the PGA Tour has said that it will not allow fans at its tournaments for the remainder of the current season and in its opening event of the 2020-'21 campaign, Golf Digest has learned that the organization will start allowing more people on-site, beginning with next week's WGC-FedEx St. Jude Invitational in Memphis.
In an email sent to players on Wednesday evening and obtained by Golf Digest, the tour said that tournaments and title sponsors will be allowed to have up to 50 guests per day Thursday through Sunday, and that spouses and significant others also would be allowed on-site during competition days.
Guests of sponsors and spouses/significant others will not be subject to testing for COVID-19 but will be required to undergo a temperature check and fill out a questionnaire each day upon arrival. There also will be limitations on where they can go once on the grounds.
"These programs will be applied on a tournament-by-tournament basis, in accordance with state and local guidelines in place and at the discretion of the tournament," Tyler Dennis, the tour's chief of operations, said in the email.
There also will be honorary observers—16 two-person groups per day—and what the tour is calling virtual player engagement, which will replace traditional Wednesday pro-ams that have been canceled for the remainder of the season. Up to 30 players would be required to participate in duties such as a 30- to 45-minute Q&A, while 10 players would be available for similar activities on Tuesday or Wednesday of tournament week.
All told, these programs would add up to roughly 500 or more bodies on site any given week in addition to the already approximately 1,100 currently at tournaments between players, caddies, volunteers, media and officials.
Similarly, beginning at next week's Pinnacle Bank Championship on the Korn Ferry Tour, there will be on-site access for what the email calls select tournament sponsor representatives and other VIPs as well as a limited number of honorary observers. On a week-to-week basis, players' spouses or significant others also will be permitted to attend during competition days.
Below is a full breakdown of which tournaments will allow what element:
WGC-Fed Ex St. Jude Invitational
Virtual Player Engagement: Yes
Hosted Experiences: No
Honorary Observers: Yes
Spouses/Significant others spectating: Yes
Spouses/Significant others access to facilities: Yes
Barracuda Championship
Virtual Player Engagement: Yes
Hosted Experiences: No
Honorary Observers: No
Spouses/Significant others spectating: No
Spouses/Significant others access to facilities: No
PGA Championship
Virtual Player Engagement: No
Hosted Experiences: No
Honorary Observers: No
Spouses/Significant others spectating: No
Spouses/Significant others access to facilities: No
Wyndham Championship
Virtual Player Engagement: Yes
Hosted Experiences: Yes
Honorary Observers: Yes
Spouses/Significant others spectating: Yes
Spouses/Significant others access to facilities: Yes
The Northern Trust
Virtual Player Engagement: Yes
Hosted Experiences: TBD
Honorary Observers: TBD
Spouses/Significant others spectating: TBD
Spouses/Significant others access to facilities: No

BMW Championship
Virtual Player Engagement: Yes
Hosted Experiences: Yes
Honorary Observers: Yes
Spouses/Significant others spectating: Yes
Spouses/Significant others access to facilities: Yes
Tour Championship
Virtual Player Engagement: Yes
Hosted Experiences: Yes
Honorary Observers: Yes
Spouses/Significant others spectating: Yes
Spouses/Significant others access to facilities: Yes