News
PGA Tour has its hands full with decisions about Asia swing, pro-ams and corporate hospitality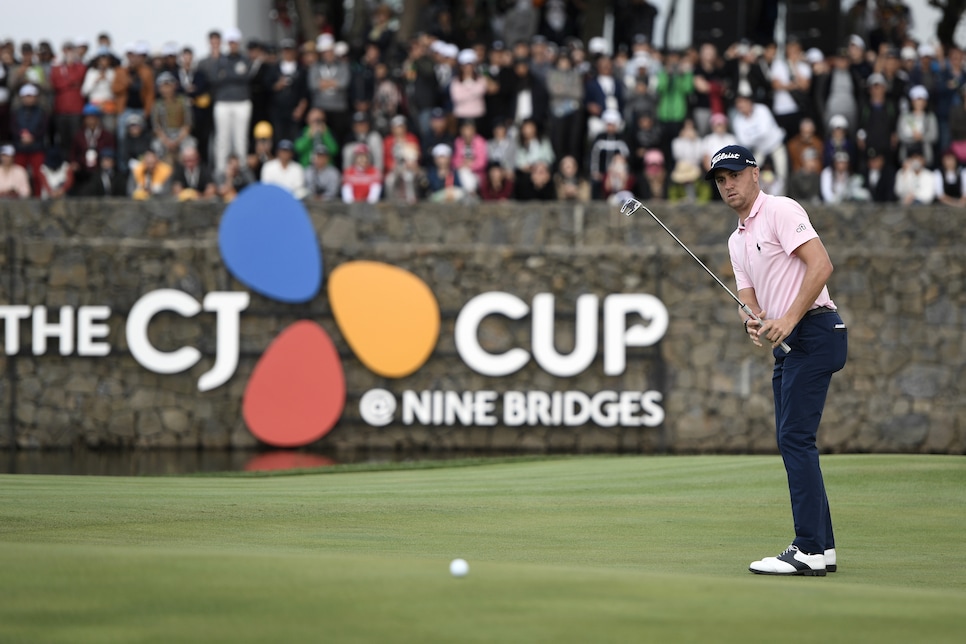 Justin Thomas won the 2019 CJ Cup.
JUNG YEON-JE
Although the PGA Tour has been able to pull off a restart to its 2020 schedule during the past six weeks, the rest of the year remains in flux.
Last week's Memorial Tournament was supposed to be the first event to allow fans to return. This week's 3M Open outside Minneapolis, at one point, was going to be allowed to take the step of staging pro-ams and having some corporate hospitality. The spike in the COVID-19 pandemic forced the tour to call off the fans and the pro-ams. And earlier last week, the remaining events on the tour schedule through Labor Day weekend's Tour Championship also announced they will be held without either.
There is also the issue of the three events that had been scheduled to be played in Asia in October: the CJ Cup @ Nine Bridges in South Korea, the Zozo Championship in Japan and the WGC-HSBC Champions in China. According to sources at the tour, it is virtually certain that none of those events will be played in Asia, although the first two are likely to be moved to sites in the United States.
Given the restrictions in international travel, few players were going to risk traveling to or from Asia in October. "It isn't just about getting there, it's the possibility of being quarantined and being stuck there for a period of time," one source said. "With the way the pandemic has been trending here, the chances that we could make the events happen even if players were willing to go isn't great right now."
The tour's initial plan, according to sources, was to play the CJ Cup and the Zozo in Las Vegas because those events come immediately after the Shriners Hospitals for Children Open already scheduled for TPC Summerlin. That could create a three-week bubble in the same city—perhaps at the same golf course. But with Las Vegas being one of the areas hard hit by the recent COVID-19 spike, moving both of the Asia events to other cities is now an increased possibility.
The event in China almost certainly won't be played for a number of reasons. China has announced it is canceling all sporting events for the rest of the year except for trials leading to the 2022 Winter Olympics in Beijing. And HSBC wouldn't want to play the event anywhere without its defending champion, Rory McIlroy. It was highly unlikely that McIlroy would chance taking a trip to China two weeks before the rescheduled Masters in November. Even if the HSBC were to be moved to the United States, it's unclear whether McIlroy or other big names would enter that close to the Masters, which now comes near the end of what will be an active summer and fall for most players.
Zozo's defending champion is Tiger Woods. The tournament is scheduled for three weeks out from the Masters and, if it is played in the U.S., the chances of Woods playing are much greater. "They might just call Tiger and say, 'Tell us where you want to play,' and go there," one player said. "As long as he enters, they'll be happy."
With the Asia events still three months away, sources say the tour is holding off on any final decisions on where to play until it has secured courses and consulted with the players. The latter hasn't happened yet. "I've been on a lot of conference calls about all sort of issues the last couple of months, but Asia hasn't come up yet," said Charley Hoffman, chairman of the Players Advisory Council [PAC]. "I'm sure they want to get their ducks in a row before they bring it up to us."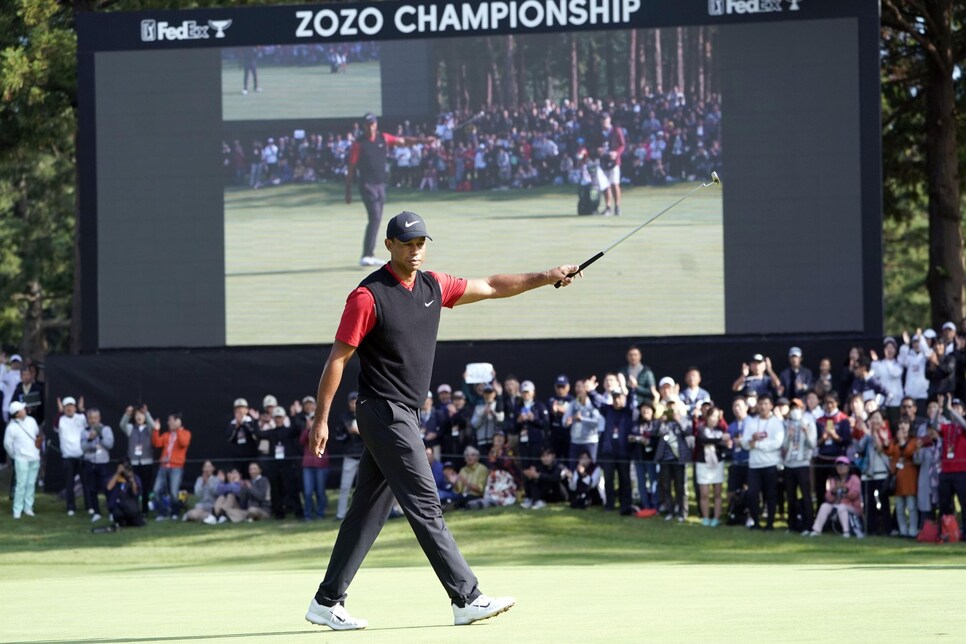 Tiger Woods celebrates after winning the 2019 Zozo Championship.
Kyodo News
"We have three great partners in Asia in Zozo, CJ and HSBC, and we're well aware of some of the challenges that we have in every market that we're playing, and we're working through those challenges with our partners," Monahan said during a Wednesday press conference at the Memorial. "At this point I don't have anything to offer other than that, but as soon as we've been able to determine what our answers are going to be, you guys will be the first to know."
More pressing than Asia is the tour's decision to continue to not allow fans, play pro-ams or have corporate hospitality at any tournaments. Sponsors put up millions to get TV exposure first and foremost, but also to entertain corporate clients. One sponsor, John Deere, pulled out for this year, but the tour had Workday willing to jump in on short notice. Workday will apparently be rewarded next year with a fall event, according to reports, most likely to be played in the San Francisco Bay Area.
Monahan was asked about the fall and when fans might be allowed back to tournaments, and was cautious in his response.
"We're spending a lot of time in each of the subsequent tournaments, or each of the tournaments in the fall, working on a number of different ways to stage the event, which includes full capacity, partial capacity and obviously the way that we're operating now, which is no spectators," Monahan said. "And that will be largely dependent on what we hear from the communities where we play."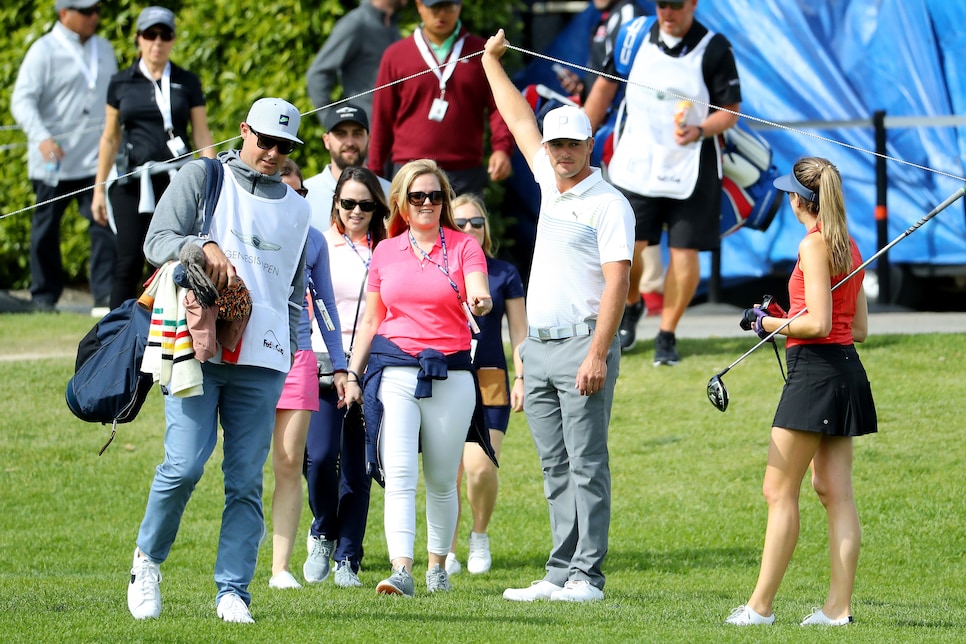 Bryson DeChambeau walks with his pro-am group in the Genesis Invitational at Riviera Country Club.
Warren Little
Other sponsors are accepting their fate of fanless events in the near term for several reasons: They know that the tour's carefulness is understandable, the tour has picked up the entire tab for purses since play started again, and the tour is apparently in a position to cover full purses at least until the end of the calendar year, if need be. Normally the tour pays for half of each week's purse.
"You have to understand, they went 10 weeks without paying out purses, so they're a little more flush than usual," one source said. "Plus, they have an emergency fund that they can use, and their new TV deal [starting in 2022] will give them a 70 percent boost overall. You add that all up, and they're in pretty good shape, even if this lasts a while longer."
Equally important to the local tournament organizations, the tour has also pitched in to make sure the charities that normally receive money from the events are still getting their normal donations, or close to those numbers.
There's no plan, at least for the moment, to alter purses for players. "If you get into next year and things haven't changed, then they'd have to look at cutting purses," said one source. "For now, though, the players are loving life. Full purses, no pro-ams, no corporate appearances, no autographs and almost no media. What could be more perfect for them?"
The players know that this isn't a format that can survive long-term, however. "We understand the importance of pro-ams and corporate hospitality for the sponsors," Hoffman said. "And we certainly understand the importance of the sponsors. When we can play pro-ams, we'll be ready to play them. But I don't blame the tour for being cautious."
For now, the new norm will be the norm. Players and their corporate sponsors go to Asia every fall because there is lots of product to sell there. For this year, though, those trips won't be happening.
Never in the history of sports has the old Brooklyn Dodgers rallying cry, "Wait 'til next year," had more meaning.