PGA Tour
West Coast Swing has been weather wonderland and records keep getting smashed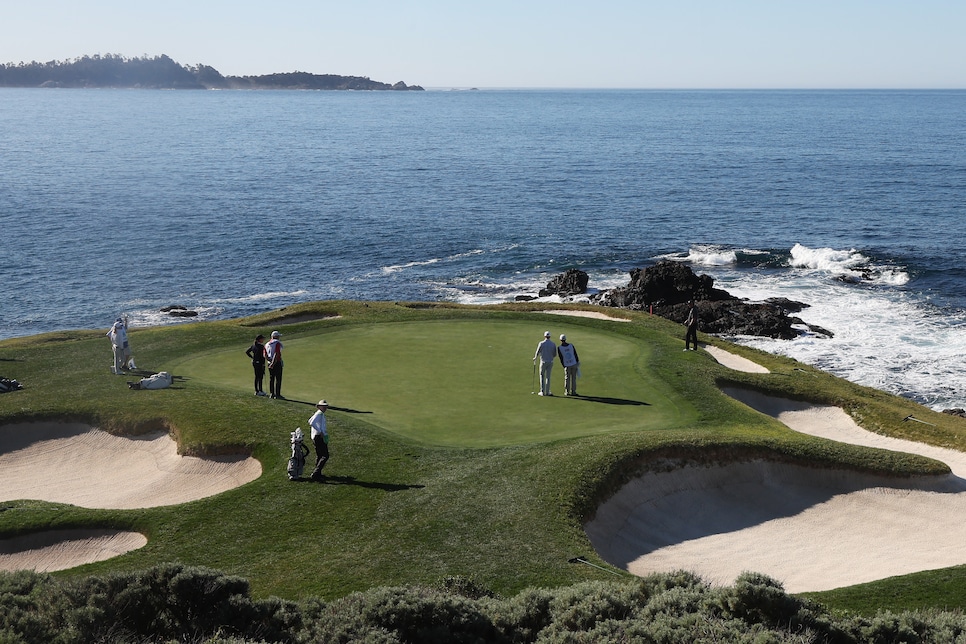 PEBBLE BEACH, Calif.—You know what people from various parts of the country say about the weather here: If you don't like it, wait five minutes and it will change. Mark Twain is believed to be the first person to say something to that effect, and an Alaska climatologist actually researched whether or not the adage had any merit. His conclusion was, yes, it does.
But since the start of the year, no one playing on the PGA Tour wants the weather to change. Their adage is, "Wait five minutes and another scoring record will fall."
Heck, in the time it took to write that last sentence half the field at the AT&T Pebble Beach Pro-Am was notching another red number somewhere on one of the three courses.
Seamus Power put on a shameless display of scoring Friday at Pebble Beach Golf Links, adding an eight-under 64 to the one he posted Thursday at Spyglass Hill. His 128 aggregate total broke by one stroke the previous 36-hole record set by Phil Mickelson in 2005 and equaled in 2019 by Nick Taylor. His five-stroke lead over Andrew Putnam, Tom Hoge and Adam Svensson equaled the record for the largest margin through two rounds owned by Bob Rosburg (1958) and Charlie Wi (2012).
Going low always is the goal, but when the weather has cooperated as it has through the first five weeks of the year, going low is mandatory.
Just look at how superbly Matt Jones played at the Sentry Tournament of Champions under unusually calm conditions, breaking the previous record (since 1950) for most strokes under par in a 72-hole tour event with his 32-under 260 total at the Plantation Course at Kapalua Resort in Maui. Ernie Els held the previous record of 31 under en route to his 2003 victory at Kapalua. World No. 1 Jon Rahm posted 33 under, fueled by 32 birdies, which tied a tour record, and yet he didn't win either, coming up one short of Cameron Smith.
Wind always is a great defense. The late Bruce Lietzke, a Texan who knew how to handle stiff breezes, once said that "wind is the only thing that really bothers a golfer."
And there has been very little of the stuff on the West Coast swing.
"Yeah, I mean, the wind didn't blow; it was bizarre in Kapalua it didn't blow, at Sony, and it hasn't blown here for two days," Power said. "And obviously it rarely blows in Palm Springs. And everyone is good enough that it's just, you can't tuck pins enough. If you have players out here on a fairway from 130, 140, 150 yards, you can't hide the pin. So, if the standard of golf is high and the conditions are perfect, this is what happens."
And this is also what happens: records fall, personal, tournament and tour variety.
Masters champion Hideki Matsuyama set personal bests with a 54-hole score of 194 and 72-hole score of 257 in winning the Sony Open in Hawaii by defeating Russell Henley in a playoff. Henley set personal records at Waialae Country Club for opening 36-hole score (125) and 54-hole score (192). Adam Schenk made eight birdies in a row in the second round of the Farmers Insurance Open at the North Course at Torrey Pines—one shy of the tour record—and went on to post a career-low 62.
"It's been unbelievable all year," Stewart Cink said. "And this week has been about the best I can remember here. So, yeah, none of this is surprising."
Hoge, who was 12th here last year, was looking ahead to Saturday's third round at Spyglass Hill, usually the toughest test in the rotation, and didn't seem at all concerned that he could lose ground. "The weather's perfect out here, so I know that if you hit good shots, you can score out there as well," he said.
Meanwhile, Patrick Cantlay, the reigning FedEx Cup champion who shot 68 at Spyglass HIll on Friday and is six back, couldn't wait to sink his swing into the friendly turf at Pebble Beach, which has been toothless without a breeze to defend it.
"We should get another couple days of great weather, some of the best I've seen at this tournament, so Pebble will probably be ripe for scoring," he mused.
"Just give us these conditions every week, and you are going to see a lot more of this kind of scoring," Jason Day, a perennial contender at Pebble Beach who shot 66 at Monterey Peninsula in the second round, added. "You know how someone always finds a way to shoot a good number, whatever the weather? When it's like this, you'll see a lot of guys do it. There's just no way to stop it."