PGA Tour
In comeback from injury, Sean O'Hair sees a glimmer of his old self at Pebble Beach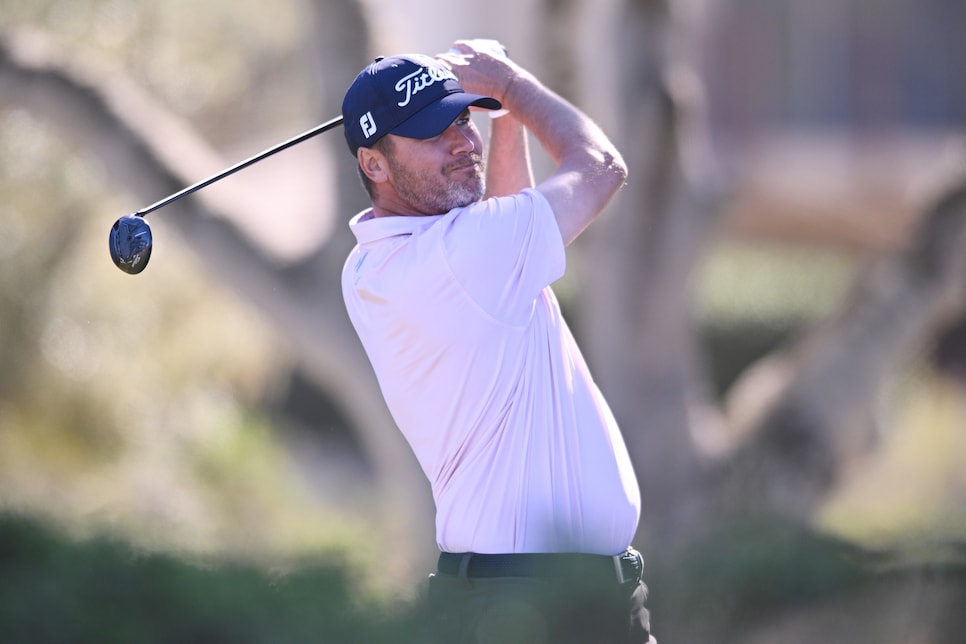 Sean O'Hair plays his shot from the fifth tee during the second round of the AT&T Pebble Beach Pro-Am.
Orlando Ramirez
PEBBLE BEACH — It was three years ago here on the practice range at the AT&T Pebble Beach Pro-Am that Sean O'Hair hit one more 6-iron, the last ball in the bag, and stopped being the golfer he had always been.
He heard a "weird" sound and immediately felt a burning pain in his side, not to mention a sense of dread in his heart.
Two years later, he still isn't quite right, is still recovering from an injury that could have ended his career. But through two rounds this week on the Monterey Peninsula, the Texas native is doing enough things right to believe that he has perhaps turned a corner and stopped running into walls.
Playing this week out of the past champion category on the PGA Tour, O'Hair is on the leader board thanks to consecutive 67s at Pebble Beach and Monterey Peninsula Country Club. His nine-under 134 is seven strokes adrift of leader Seamus Power, but he senses measurable progress in his game and the goal is simply to sustain that.
"Consistency has been my biggest hurdle," O'Hair said Thursday after tying his third-best score since the start of the last season. "It's not just that the game is hard, but the process. The process of trying to be the player I once was, it's been incredibly frustrating because my body has changed, and I can't do the things with my swing that I once did. My body doesn't remember what I once asked it to do."
What happened to O'Hair on the range that day in 2019 was that he tore his right oblique, an injury familiar to major league pitchers. He thought he had simply strained his ribs, tried to play, but had to withdraw after nine holes. Six weeks of rest did little good, and he had to undergo surgery. "My doctor said it was totally detached. It basically just kind of exploded," he said.
One swing didn't cause that. A lifetime of beating balls did. O'Hair turned pro when he was 17, and he was a grinder, a range rat who really did follow the Ben Hogan mantra that answers to the game are in the dirt. It paid off with exceptional ball-striking ability for a stretch of time that resulted in four tour titles.
"That is what really carried me, especially in my twenties, was that I was a great ball-striker. That is what I was known for, if anything, as far as playing ability," said O'Hair, whose last win came at the 2011 RBC Canadian Open. "Finding a way to where I can make my body work, day-in and day-out, it's hard. I can't rely on that like I used to."
O'Hair, 39, essentially lost two seasons to the injury, and his exemption status doesn't afford him many opportunities to compete. His return to Pebble constitutes just his third tournament of the year after missing the cut in the first Korn Ferry Tour event in the Bahamas and withdrawing from the second, but he is determined to work his way back if it means playing predominantly Korn Ferry tournaments.
A top-10 finish—he's had just one at Pebble in 16 previous appearances—would go a long way in that he would earn a spot in next week's WM Phoenix Open. He'd take it, saying simply, "That would be awesome."
After Friday's solid round that featured six birdies against two bogeys, O'Hair was feeling a little better about his prospects.
"I'm not worried about my ability to compete. I'm just worried about my ball striking," said the player once ranked 12th in the world, but now sits 477th. "Everything that I struggled with I've improved. It's just what I had back then I don't have anymore, and so I'm just trying to find that. And the last couple days I've seen bits and pieces of it. When I see that I get confident and then when I'm confident I play well."
Countless players have lost their swing, their game, their confidence, their optimism that they will ever rediscover the ability to compete at golf's highest level. O'Hair is no different. And, sure, thoughts of leaving the game, spending more time at home with his wife Jaclyn and their four children not only were constant but mighty appealing as he rehabbed and returned to the practice tee to find more answers. That would have been easy. Too easy, he figured.
He has earned nearly $25 million in his career, but not yet full satisfaction.
"I worked my butt off to get healthy and to get healthy enough to play out here," he said last summer during the Nationwide Children's Hospital Championship when he was attempting to earn his card via the Korn Ferry Tour Finals. "I could have sat on the couch, taken the insurance money and go and live a great life. But at the end of the day, I mean, this is like half of who I am, if not more, and I'm just not ready for it to be gone. There will come a time. And I'll have to accept that. We all know there will come a time. But now is not the time."
Reminded of that determined stance he expressed six months ago at that Finals event in Columbus, Ohio, O'Hair smiled. "You don't know what you are capable of doing if you quit. And I really believe all the hard work is going to pay off."
The highlight of O'Hair's round on Thursday was an eagle at the par-5 second hole. He lasered his approach to 10 feet and rolled in the left-to-right putt. "It never left the flag," he said of his second shot. "It was a perfect 6-iron."
Yes, and the best news was that one didn't hurt one bit.