News
Cameron Percy is dreaming of Augusta and four other takeaways from Day 3 of Safeway Open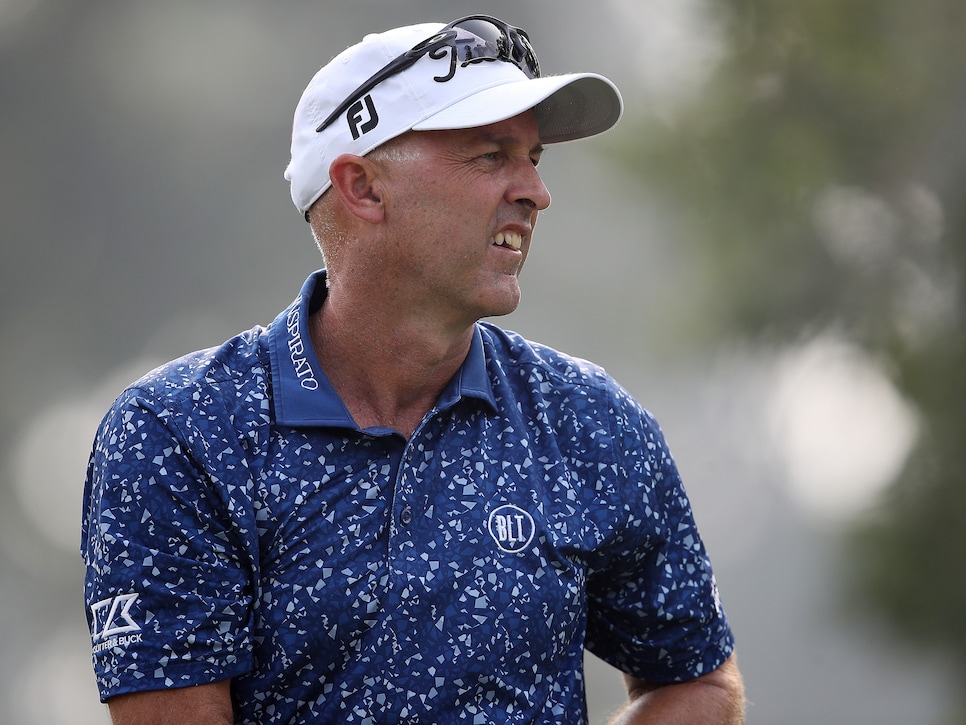 Cameron Percy watches his tee shot on the 14th hole during round three of the Safeway Open.
Sean M. Haffey
The conclusion of the first tournament of the 2020-'21 PGA Tour season—what, you thought there was an offseason?—won't lack for drama. Not with three players (James Hahn, Cameron Percy and Brian Stuard) tied atop the leader board and another 14 lurking within three strokes with one round to go at the Safeway Open in Napa, Calif.
How did we get here? Here are our five takeaways from Saturday's play at Silverado.
At 46 years old and with 153 events under his belt, Cameron Percy is still looking for his first career win on the PGA Tour. That could change on Sunday after a second-straight 68 that leaves the Aussie with a share of the lead.
How big a deal would that be to Percy?
"It would mean the world to me," he said. "It would mean I get to go to Augusta, which is a goal. I've never been to Augusta, which is the biggest goal you have when you come over here. I just thought I'd get there, I haven't got there yet, so it's a big deal."
One reason he's in that position: putting.
At last month's Wyndham Championship, Percy saw Justin Rose practicing with a laser that he used to line up his putter. The concept was intriguing, so Percy used Rose's and then bought one of his own. He also switched to a SIK putter.
This week, Percy has been one of the best in the field with the flat stick, including on Saturday when he made a half dozen birdies, with three of those coming from outside 15 feet.
"That's half the battle, lining up where you're looking," he said. "I hit a lot of putts on line this week."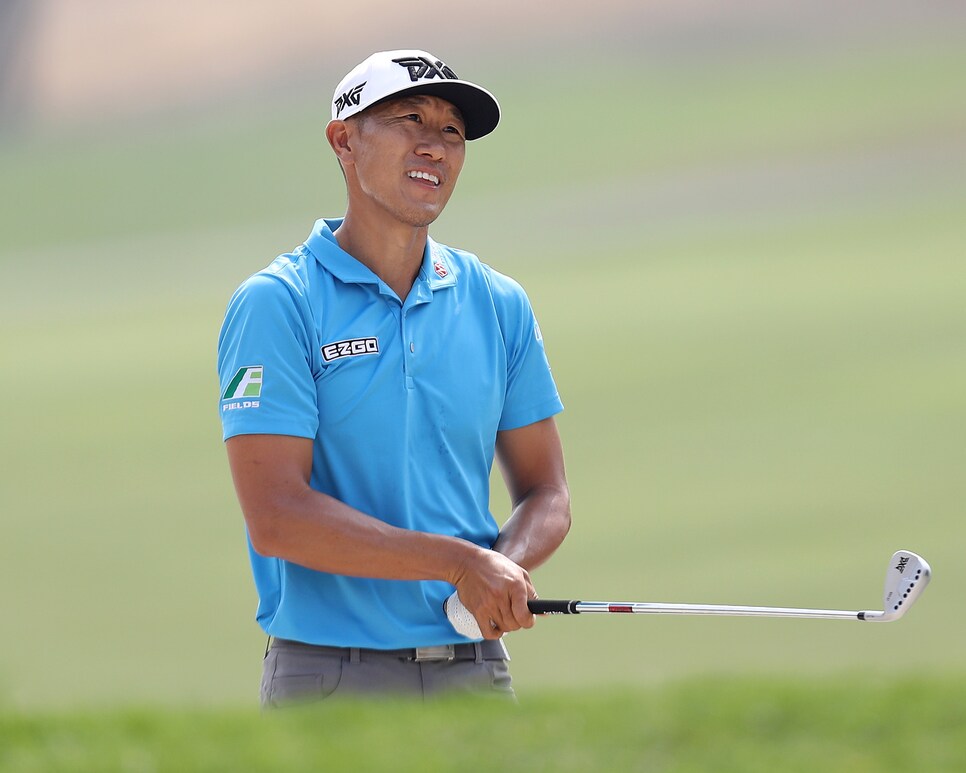 James Hahn reacts to a shot from the bunker on the fourth hole during round three of the Safeway Open.
Jed Jacobsohn
Hahn's recipe for success: Watching Peppa the Pig
Though most everyone's status on the tour for this season was already secure because of the COVID-19 pandemic, that's not true for James Hahn.
He's on a major medical, so he has only 14 events this season to earn enough points to keep full playing privileges. Three rounds into that journey, he's off to a good start. After a 67 on Saturday, he's in position for his first victory since the 2016 Wells Fargo Championship.
"[The pressure] is the same as trying to win a golf tournament, because you've heard it before, winning takes care of itself," Hahn said. "The medical is just something in the back of my mind."
At least he shouldn't have a hard time clearing his mind between now and Sunday afternoon. Hahn is staying with family in the same house that he grew up in in Alameda, an hour south of Napa.
"The last thing I want to do is be alone in a hotel room having a million thoughts go through my mind and try to play out all the scenarios," he said. "It's easier just to watch some Peppa Pig with my daughter. Most guys don't have that luxury of watching Peppa Pig, but I do."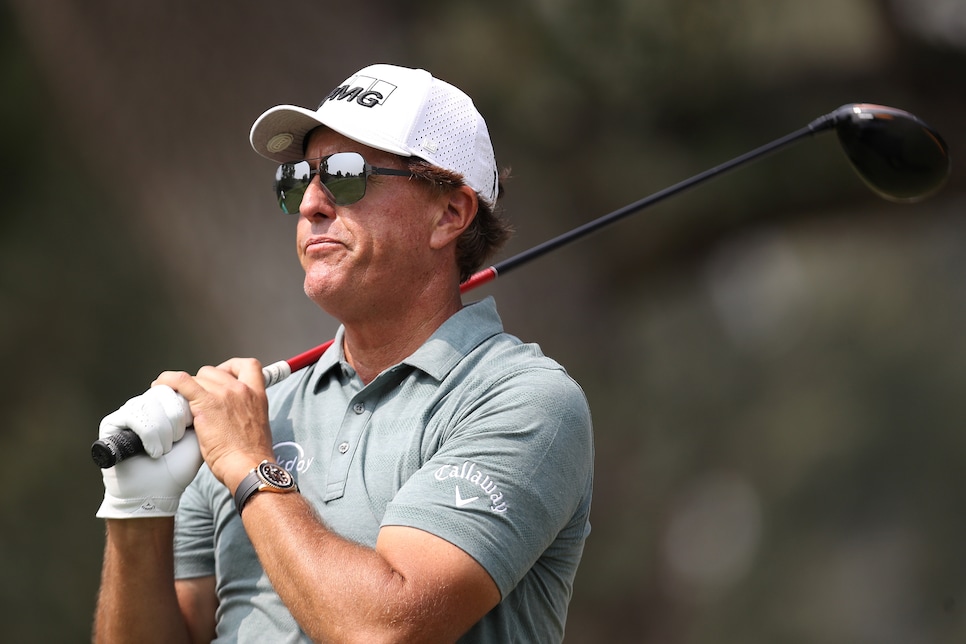 Phil Mickelson watches his tee shot on the 16th hole during round three of the Safeway Open.
Jed Jacobsohn
Mickelson: Worst he has played in 'three months'
How's Phil Mickelson doing on the eve of next week's U.S. Open at Winged Foot, where (as you might have heard) he infamously double bogeyed the 72nd hole to lose by one?
"This is the worst I've played in the last three months," he said Saturday. "It's deceptive 'because I didn't make a bogey, but I didn't drive it well, I didn't chip it well and I didn't putt well. I turned a 64 into a 70 and I've got some work to do."
To his point, the 50-year-old Mickelson, who two weeks ago won in his PGA Champions debut, had more birdies (two) than fairways hit (one). Classic.
If there was an upside, as mentioned, Mickelson didn't make a bogey, extending his blemish-free streak to 42 straight holes this week. It also marked the first time since the 2016 CareerBuilder Challenge (now the American Express) that he posted back-to-back bogey-free rounds.
Now he'll have one more round to straighten things out before heading to Winged Foot.
"Heading into this week or the last three, four weeks, I was playing really well," he said. "So hopefully it's not far away."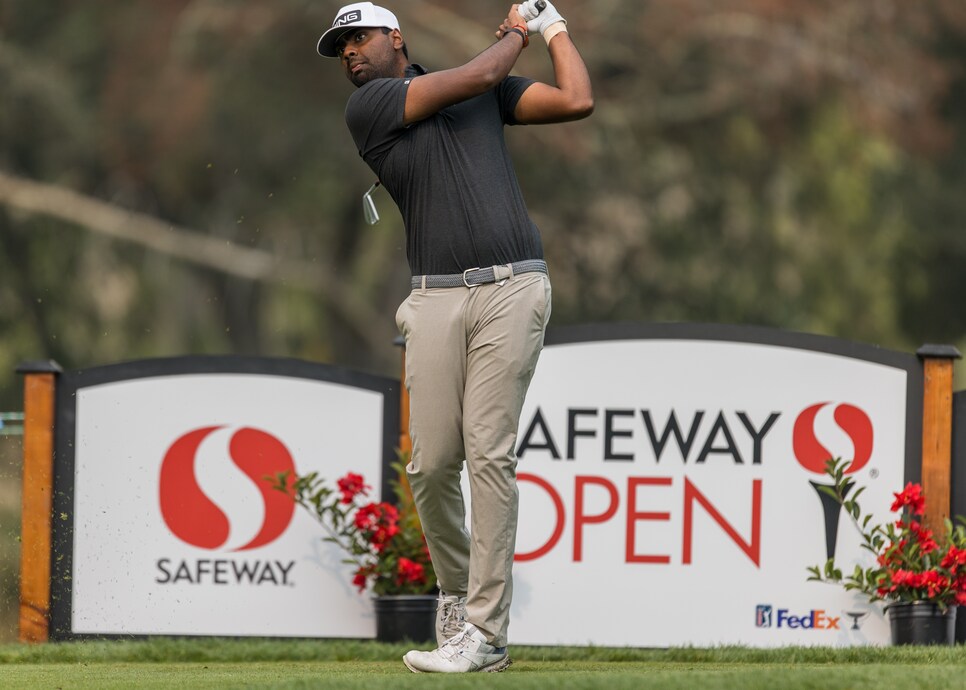 Sahith Theegala tees off during the second round of the Safeway Open.
Bob Kupbens/Icon Sportswire
Theegala finding his rhythm
To say Sahith Theegala's career has gotten off to a rough start would be an understatement. Since the Haskins Award winner out of Pepperdine turned pro, he'd missed three cuts in four starts coming into this week.
Still, even though he could have returned to school for another season after the NCAA granted eligibility relief because of the COVID-19 pandemic, he didn't regret the choice.
Saturday perhaps showed why.
Playing the weekend on tour for just the second time his young career, the 23-year-old shot a sizzling 64 to race up the leader board and into a tie for 12th at 13 under.
Driving it straight helped. Hitting 15 greens did, too. And so did making 115 feet of putts, including one from 38 feet on the par-3 16th. Theegala, in case you haven't noticed, also has a unique putting style, using a cross-handed grip for short putts and a conventional one for longer putts.
And now he seems to be finding his rhythm with the rest of his game, too.
"I was just really excited and a little bit nervous the first couple [of starts]," he said. "I was just so excited I'm out here with guys that I grew up watching, all of a sudden I'm competing against them. The last couple weeks, Barracuda and here, I've felt so comfortable. I'm just out there playing golf as I know it and I think just having that mindset's definitely helped a lot."
Another young pro who seems to be finding his footing this week? Akshay Bhatia.
Unlike Theegala, Bhatia turned pro out of high school. And like Theegala, he has, not surprisingly, struggled early on. After turning pro last fall, he promptly missed the cut in each of his first four starts. This year hasn't gone much better with two more missed cuts on the PGA Tour and another on the European Tour.
But last week he tied for 13th at the Invitational at Auburn University Club in the LocaliQ series. Then came Saturday and his second 66 of the week.
Like Theegala, he rolled the ball well, taking 106 feet of putts. But the best highlight of the day? An eagle at the par-5 fifth where he "shanked" a 5-iron into a tree and off a road, got relief, and chipped in.
"It's probably the craziest eagle I've ever made," Bhatia said. "I told my caddie, 'I'm just trying to give myself a putt,' and I mean, I hit a good chip but it landed like pretty firm and just railed the flag and went in.
"That hole went from basically like a 7 to a 3, which is crazy how golf works like that."