RSM Classic
Zach Johnson carries the flag for the locals at the RSM Classic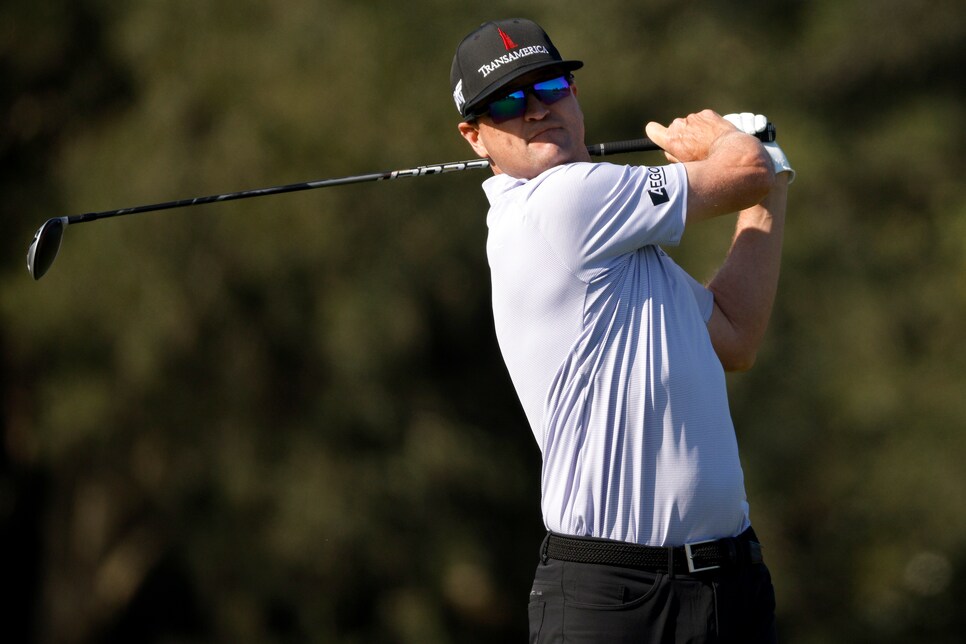 Zach Johnson plays a shot on the 13th tee during the second round of The RSM Classic.
Cliff Hawkins
ST. SIMONS ISLAND, Ga. — Zach Johnson called it on Thursday, which was impressive since he had just shot a first-round 61 in the RSM Classic on a windless day at his home tournament.
"When it's windy," he said, "which it usually is windy, you've got to pucker up."
On Friday, it was windy, and the good news for Johnson was that he did some admirable puckering on the Plantation Course at Sea Island. He was 10 shots worse, but a 71 in the conditions he faced gave him plenty of reason to feel proud of his effort.
"I can think of three shots right off the top of my head where my caddie said 'great shot,' and two times where my playing partners said 'great shot,' and I'm trying to make a par," he said. "That's hard, but it's the nature of the beast right now ... the only commonality between yesterday and today was that we played 18 holes."
Johnson is unofficially the second-in-command of the thriving professional golf community that calls St. Simons Island home—tournament host Davis Love III, of course, being the five-star general. And Johnson is the clubhouse leader among the 12 local residents in this week's field. Overall, he's sitting in a tie for sixth, three shots behind Talor Gooch.
Save for 2013, the 45-year-old Johnson has played in this event every year since its inception in 2010, and he's finished in the top 10 three of the last four years. In fact, of his seven top-10 finishes since the start of the 2017-18 season, three of them have come at the RSM. He'll go for even more this weekend, and he said on Friday that along with the Players Championship and the John Deere Classic (Johnson is from Iowa) this is one of the most important tournaments he plays. That's partly because it's his home event, and partly because of the close relationship he shared with the tournament sponsor, RSM, and with Love himself.
A major oddity of the RSM Classic is that despite fielding plenty of hometown players each year—there are 12 in the field in 2021, or 13 if you count Matt Kuchar, who recently sold his house on the island—none of them has ever won. This so-called "curse" is mostly manufactured by writers looking for something to write about at the last event of the calendar year (note: guilty as charged), and Johnson said he's never once heard it mentioned among the player group on St. Simons.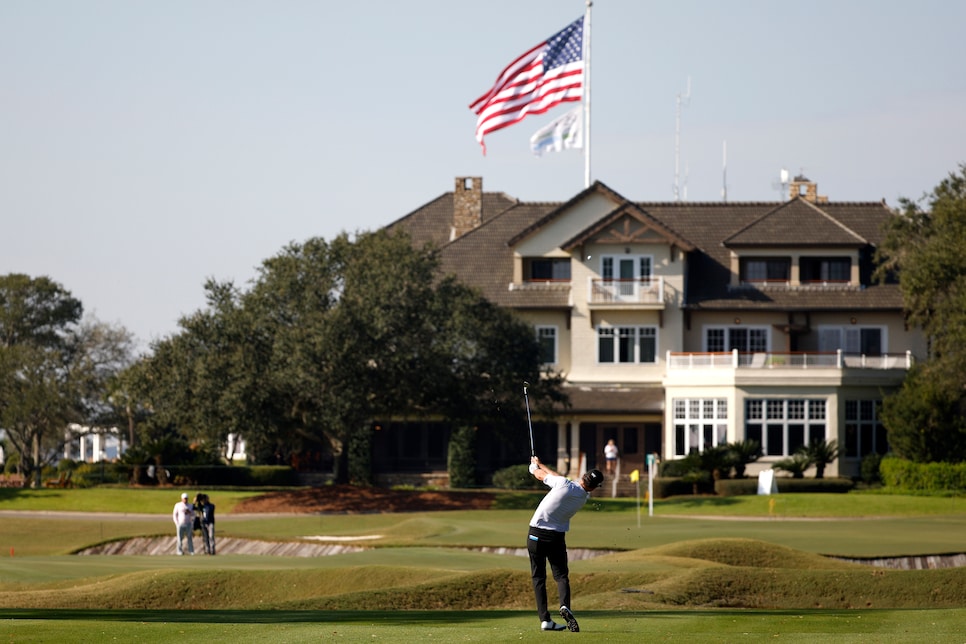 Zach Johnson plays a shot on the 12th hole during the second round of The RSM Classic.
Cliff Hawkins
Still, it is a little strange that with so many players who know the course intimately, none has captured the title in more than a decade of play. This year, Johnson is nearly alone near the top among his local peers. Keith Mitchell is three shots back, Jonathan Byrd and Andrew Novak are lurking, but beyond them, others like Harris English, Patton Kizzire and Hudson Swafford seem likely to miss the cut.
The highlight of Johnson's round came at the par-5 18th hole—his ninth of the day—when he hit a 4-hybrid that carried around 220 yards and came to rest less than three feet from the hole. He called the ensuing putt "the longest two-and-a-half footer I've ever had" because of the stiff wind, but he holed it for eagle to get within a shot of the lead. His back nine was more modest, ending with a 38—he called his three-putt bogey on 7 his "only true brain fart"—but the rest of the field struggled accordingly to keep him on the first page of the leaderboard.
It's been a challenging year for Johnson, who got COVID-19 at the John Deere, preventing him from making the trip to the Open Championship. He joked with Collin Morikawa, the winner of that maor, that the young American was lucky Johnson couldn't make the trip, but when the laughter dies down, the story of his season borders on dismal: nine missed cuts in his last 16 events, and no top-10s since the Honda Classic in March. As his struggles continued, he watched his world ranking slip to 150 and below.
Johnson wasn't sure what his schedule would look like for the fall, and he thought seriously about taking an extended break before the RSM. Ultimately, he opted to play at the Mayakoba and the Houston Open, and in the process made a breakthrough with his driver.
"If I'm going to get really specific, it has everything to do with the driver," he said. "I have a driver that matches my iron swing, and I haven't had that in a while. That's my own stubbornness, to some degree."
He overcame his stubbornness to travel to Mexico and Texas, and the extra work paid dividends. On Friday morning, fresh off his 61, he saw Dr. Mo Pickens, his sports psychologist.
"This is why you played the last two," he said, and Johnson knew he was exactly right.
As for the curse, Johnson doesn't pretend to have a deep explanation as to why his neighbors don't seem to benefit as much as he does from home course knowledge.
"Well, it's hard, it's hard to win," he said. "Maybe there's a little bit of added pressure because of who you're playing in front of and that kind of thing. I think I'm seasoned enough to understand that they don't care if I shoot 85 or 65. I know they don't because I've done both. I just kind of go out there and try to have fun. I know that the support is unconditional. Maybe that's part of it."
Nevertheless, he's sure they're going to break the streak, and he pointed to the rising number of mini-tour players on St. Simon's, many of whom will be on the PGA Tour before long. If there were a dozen locals in this year's field, that number could double within five years. But if anyone's going to break the curse here at the tail end of the 2021 schedule, it will probably have to be Johnson himself.
His extended family was set to fly in on Friday night, his wife is making spaghetti, and Johnson is relishing the time at home with his children. But tomorrow, the battle starts anew, and the forecast is already calling for wind gusts up to 25 mph. Pucker up.