News
Camilo Villegas plays on, just as his brave daughter did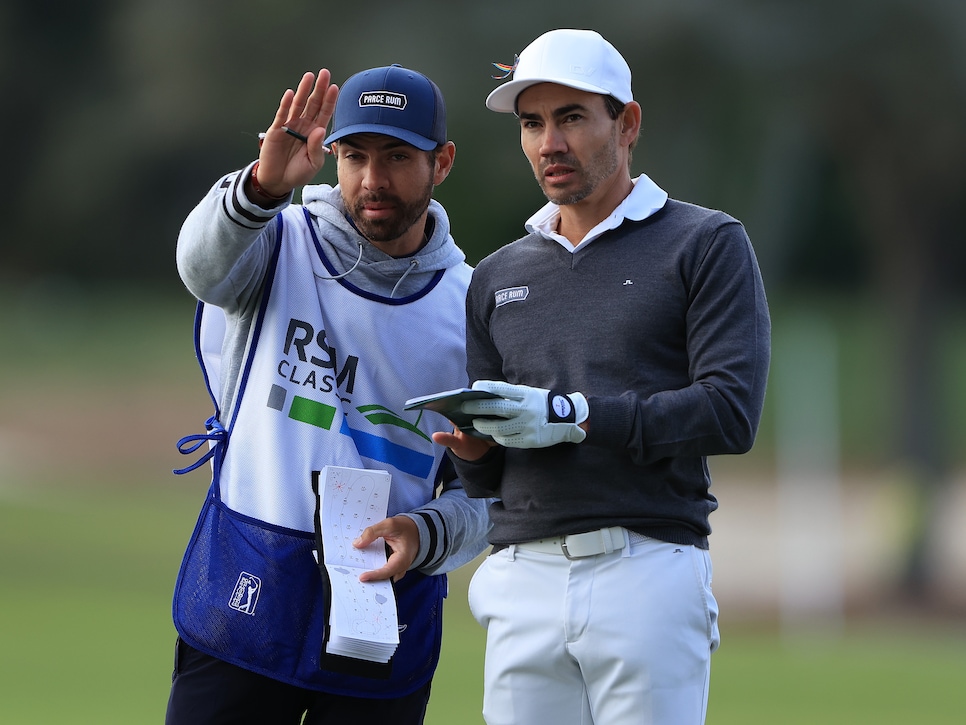 Camilo Villegas is getting support on the golf course this week from his brother and caddie, Miguel Villegas.
Sam Greenwood
Camilo Villegas posted the lowest 36-hole score of his career over the first two days at the RSM Classic, and his story this week is inseparable from the death of his 22-month-old daughter Mia, who passed away in July from cancer. On Thursday, the PGA Tour's Helen Ross posted a wonderful, heartbreaking story about Camilo and his wife Maria, who have shown tremendous courage in the aftermath of Mia's death while attempting to bear the unbearable.
Their burden, like the burden faced by so many after a personal tragedy, amounts to a difficult choice that Villegas summed up to Ross when he related a conversation he had with Jack Nicklaus, who lost a 17-month-old grandson in a drowning accident in 2005:
"And it's what I told him. I've got two options. I mean, I either have a good attitude or become the victim, and if I become the victim it's going to go into a dark place. That's definitely not where I want to be. That's definitely not where Mia wants us to be."
It's one thing to say this, and another to live the reality, because the fact is that he and Maria are victims, and they are being asked by the universe to tolerate something that can break you—that, indeed, any parent can imagine breaking them. Maria in particular comes off as a person of astounding strength in Ross' story, both in how she managed Mia's illness while she was alive, and in how she has resolved to make something positive of her situation. They have done so spiritually in their example of resilience, and materially in raising money through their new foundation, Mia's Miracles, while embracing the mystery of why it happened in the first place.
Many written perspectives on death tend to seek a resolution, a final redemptive word, when in fact life stretches on at its usual pace while pain takes its own hidden forms that are unknowable from the outside and are undoubtedly different for each person.
There was something a little remote about Villegas as he appeared before the media after his second-round 66 on Friday that left him two shots off Robert Streb. He stood in the flash area, dressed in bright white head-to-toe, and fielded a handful of questions tinged with hesitation. All of us gathered behind the barrier were likely thinking of questions surrounding his daughter, but none were asked. In particular, I was considering the strangeness of his situation as a public figure, in which he would likely have to field questions about Mia every time he had success on the course, and how this incredibly painful circumstance could be something he had to plan for, something that came up again and again from people who can't understand, and who expect pat redemption quotes, and that might eventually require rote answers.
But how do you ask a question like that? And if it's asked, isn't there an ugly irony in perpetuating the very dynamic you're trying to address? Isn't there the same irony even in writing this piece?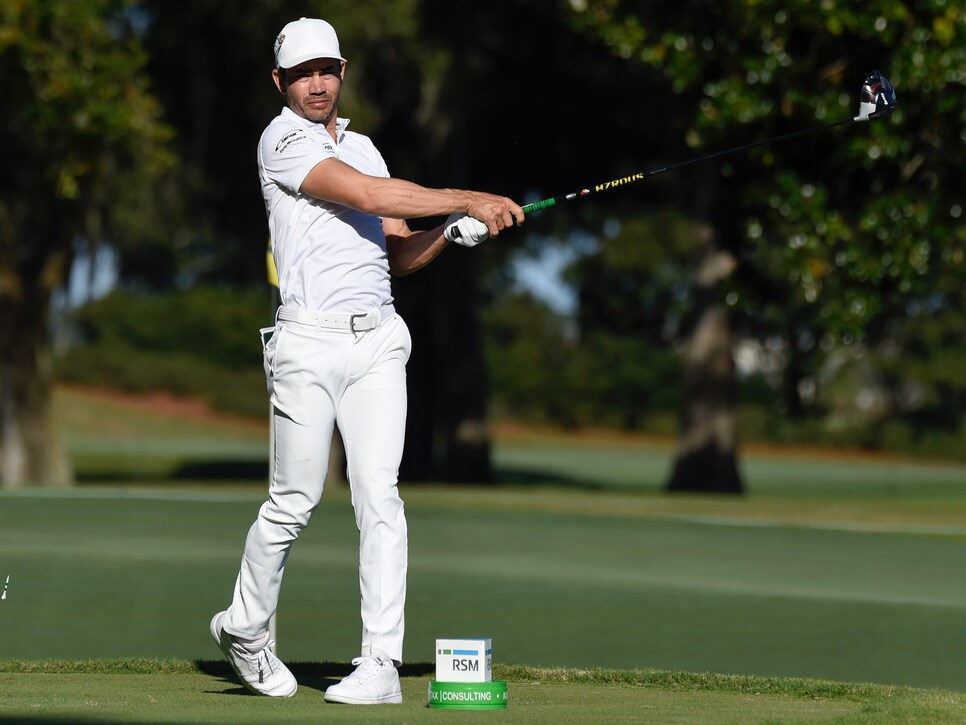 Camilo Villegas hits his tee shot on the 18th hole during the second round of the RSM Classic.
Jennifer Perez
And so we asked about his round instead, and Villegas in his remoteness seemed to be his usual self, which is to say a little bit intense, a little bit prickly. When he ventured to the Golf Channel for his TV interview, they did ask him about Mia, and his response seemed to make it clear that he wanted to focus on golf.
"I'm going to be very honest with you," he said, "there's so much happening on the golf course, you're so focused, and that's what I've been doing all our life. Having my brother on the bag has helped, too. He keeps me in check, and we try to play golf when we're out there. I said it yesterday, at the beginning of the day when I was on the range, there was a big rainbow. It was awesome. So once you get on that first tee, you try to focus on golf."
As Golf Digest's Christopher Powers wrote on Thursday, the entire golf world will be rooting for him this weekend, but the deeper truth is that his example in resilience, shared by Maria, is far more important than a win or loss. A win won't redeem anything that's already happened, and a loss won't diminish the power of their choice.
When Villegas played a Korn Ferry Tour event this summer while Mia was ill, he said the words, "we have no option but to be strong." In fact, there are other options, and it's to his eternal credit that he chose what might be the hardest one. But I also thought on Friday of his description of his daughter while she was in the hospital undergoing chemotherapy, and how, months later, the words describe his journey this weekend, and the choice he and his wife keep making so well.
"She keeps inspiring me," he said. "It's unbelievable, what they go through … they can take a lot. I've seen it over the last two and a half months. Is she feeling pain? Yeah, she is. She keeps waking up the next day and looking at the TV, she wants me to put some cartoons or something there. She's feeling pain, she's playing with her toys. I remember at the beginning, she kept crying and playing. I didn't really get that. I was like, 'How can you cry and play?' Hey, she wanted to play."