News
A lucky weather draw and stellar putting have Robert Streb eyeing an end to victory drought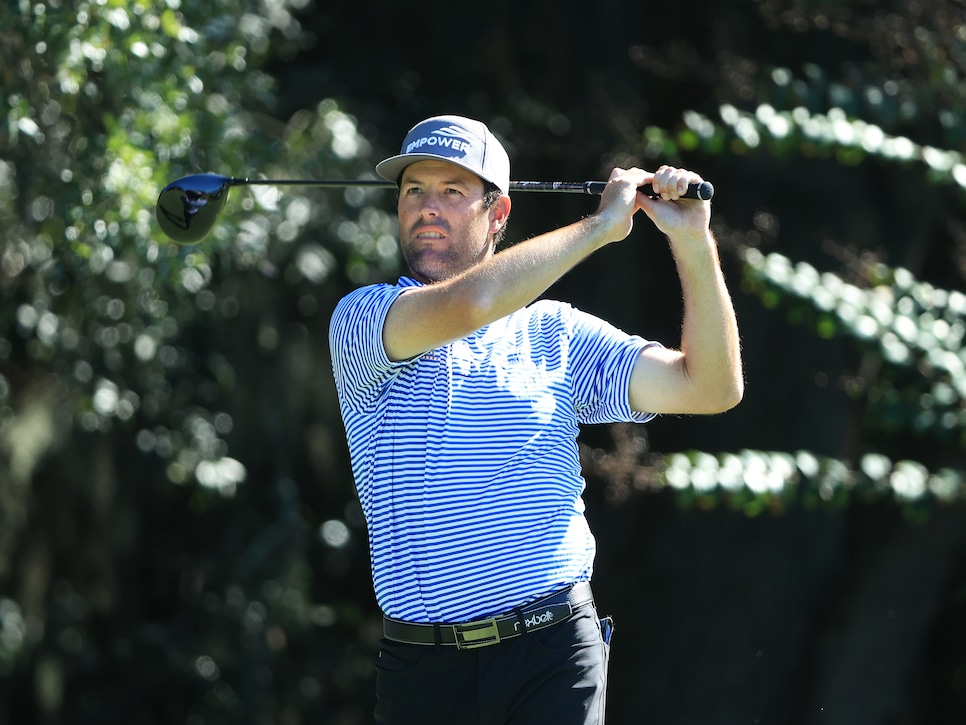 Robert Streb plays his shot from the 14th tee during the second round of the RSM Classic.
Sam Greenwood
ST. SIMONS ISLAND, Ga. — In changeable weather, there's a luck-of-the-draw element to every golf tournament—did you tee off in the placid morning or the torrential afternoon?—and that's particularly true at those events staged at multiple courses over the first two or three days.
In the RSM Classic at Sea Island, each player spends one of his first two rounds at the Plantation Course. Traditionally, it's easier than the Seaside Course that hosts all of the weekend rounds. All things being equal, there would be no special advantage to playing it on Thursday rather than Friday, or vice versa.
But all things are never equal, and the raging wind helped to mitigate Plantation's vulnerability on Thursday, such that the scores between the two courses were relatively balanced. Come Friday morning, though, the wind had all but vanished, the dark clouds dissolved and calm, sunny conditions smiled on the barrier islands. Half of the players smiled, too, because the Plantation Course lay unguarded for the morning wave, abandoned by its natural defenses.
The result? The top seven players and nine of the top 10 after two rounds were beneficiaries of playing at Plantation on Friday. Rarely is the evidence of imbalance this clean. The 2014 Open Championship comes to mind, when 17 of the top 20 players before Saturday came from the Thursday morning/Friday afternoon rain-and-wind-dodging wave.
Playing in the first group off the first tee on Friday at Plantation, Robert Streb, whose lone PGA Tour win came at this event in 2014, birdied exactly half of his holes with hot putting, bogeyed none, and posted a career-low 63 to take a two-shot lead at 14 under over Camilo Villegas, who notched the lowest 36-hole total of his career. If it weren't for Joel Dahmen shooting an anomalous 61 at the Seaside Course on Friday, it would be tempting to write off half the field without a second thought.
"That one's a little nicer over there, you get a little shelter," Streb said afterward of Plantation. "Obviously, when it gets really windy you're at the mercy of a gust, but yeah, it was nice to get over there [on Friday]."
Streb's body language and manner is emphatically unruffled, and he greets most questions with an American version of the Gallic shrug, as if to say, "Who's to say?" or "It's not such a big deal." His natural inclination is to downplay anything dramatic, and while it doesn't make for the most compelling quotes, he does seem ideally suited to his current situation—contemplating his first PGA Tour win in six years. When asked if he expected to enter a less casual mental zone as the tension mounted, he stayed true to form.
"It will be a little different," he conceded. "I probably haven't been quite in a lead like this for a while, but obviously there's a lot of golf left out there. I'm sure it will be pretty compressed starting tomorrow and there's a lot of golf left."
Pushed a little bit, Streb was asked if he was truly unperturbed or if this was a convenient act to help stay calm. The half-accusation produced a brief smile, but it disappeared quickly as he returned to his mantra.
"It's what you try to do," he said. "Obviously your mind wanders sometimes, but you try to do it. It's only half the tournament, so there's a lot left."
The story of Streb's career centers on one extremely good year—starting with a win and ending with an appearance in the 2015 Tour Championship—followed by an increasingly fallow period for which he hasn't found a great explanation. Aside from perhaps a few regrets about his scheduling, the 33-year-old chalks up the lull in characteristic fashion to taking "too many shots to get the ball in the hole." He secured his five-year pension with his one great season, but there's an awareness that he'll need something a little more inspiring to jumpstart the latter half of his career. By that metric, even Streb understands how important the next two days could be.
On lighter topics, he talked about bringing his family to St. Simons Island for the week. His kids enjoy the beach, digging for crabs, but when asked if he enjoyed the beach, it was back to the shrug.
"I don't mind the beach," he said. "My problem is when I hit the beach, I want to plop down with a cooler of beer."
He is correct that there's "a lot of golf left," and even with a bit of wind and the possibility of rain in the weekend forecast, there are low scores to be had and plenty of fluctuation left. But if Streb is in the mix on Sunday afternoon, it's difficult to imagine that he'll be overcome by nerves. The stakes are high, particularly with the end of a long victory drought in sight, but in this sleepy island town, you can't perturb the unperturbable.