Barbasol Championship
Tour rookie Vincent Norrman survives 72nd-hole mess to win Barbasol Championship in a playoff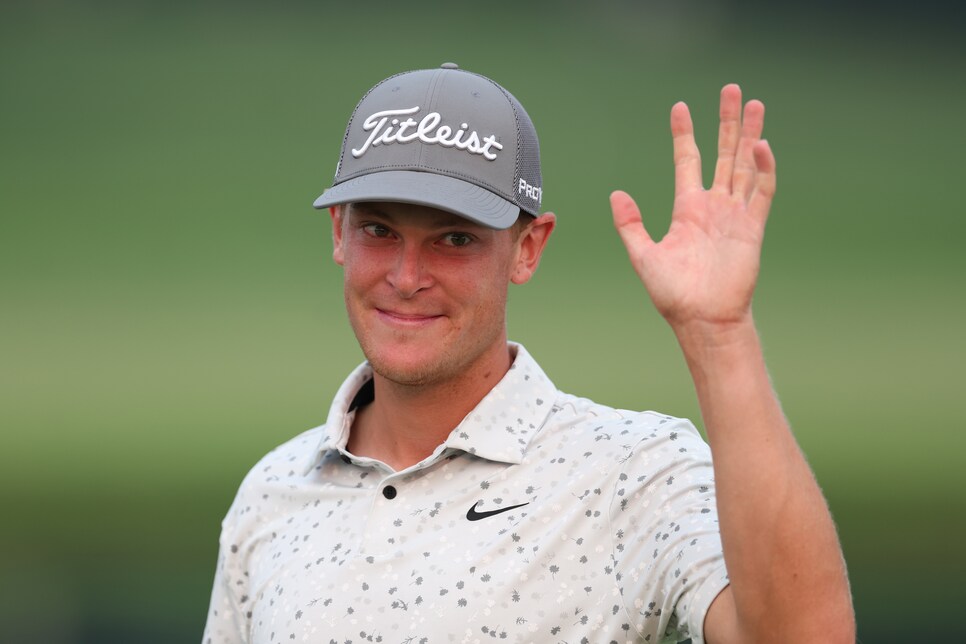 On the 72nd hole Sunday at the Barbasol Championship, it was PGA Tour rookie Vincent Norrman's tournament to lose. And he did everything possible to do so before salvaging a bogey from the mess he created and winning on the first extra hole.
Normann, a 25-year-old Swede who played college golf at Florida State, made an up-and-down par on the first extra hole at Keene Trace Golf Club in Nicholasville, Ky., to defeat England's Nathan Kimsey, who was on the verge of becoming the first player to win in his PGA Tour debut since Jim Benepe won the Western Open in 1988.
"I don't think I've dreamt this big, honestly," Normann said moments later. "I don't think I can process this for a while. I'm at a loss for words. It's amazing."
Norrman shot a final-round six-under par 66 for a 72-hole total of 22-under-par 266. He took a two-shot lead onto the back nine and needed only a par on the par-4 18th to secure the win. All he likely needed to do was to hit the fairway with his tee shot, virtually a foregone conclusion given that he had hit all 13 fairways to that point.
Instead, he made an overly quick swing, pulled the ball wildly left, leaving him a horrific lie in deep rough, the ball well below his feet. He pulled his second left of the green, pitched over the green, chipped eight feet past the hole, then made his bogey putt to stay alive.
On the playoff hole, Kimsey swung the advantage to his opponent with an errant tee shot right that led to a bogey-5. Though Norrman missed the green right with his second shot, he expertly pitched to two feet of the hole, leaving him a tap-in par for the victory and the $684,000 first-place prize.
"It's been a crazy week, and obviously today, the first nine was almost flawless," he said of the six-under 30 he shot going out. "Yeah, how I finished the front nine I'm really proud of, then hung in there on the back. I'm happy to be sitting here.
"That's where I started back home in Sweden, to be on the putting green and dreaming of having the putt to win a PGA Tour event. Now I'm here at 25 and it's amazing."