Payday in Kentucky
Here's the prize money payout for each golfer at the 2023 Barbasol Championship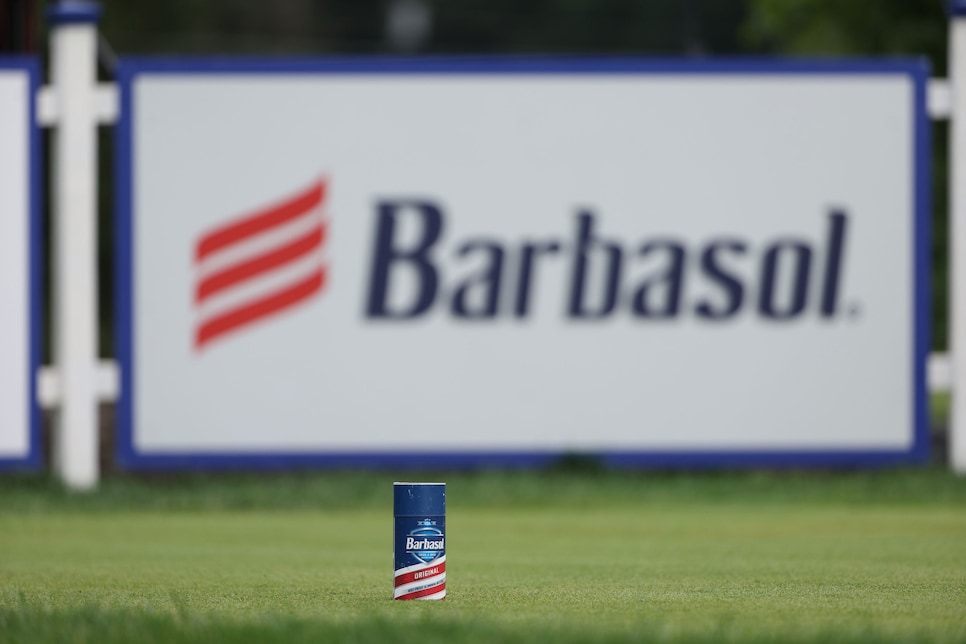 Vincent Norrman. Nathan Kimsey. Adrien Saddier. Trevor Cone. Those four golfers topped the Barbasol Championship leaderboard late Sunday at Keene Trace Golf Club, one man's life about to change after becoming a first-time winner on the PGA Tour.
Rookie Cone had shot a career-low 63 in the third round to take the overnight lead but made double bogey on the 16th hole during the final round to end a shot back. France's Saddier did the opposite, coming from a few shots back to make five birdies over the last nine holes to have a chance. Ultimately, he ended one shot back too.
It was Sweden's Norrman and England's Kimsey who ended in a playoff to determine the title, Kimsey shooting a sensational 64 and Norrman shooting 66 with a bogey on the very last hole to back into the playoff. Both were at 22-under-par total. On the first hole Norrman, a tour rookie playing in his 23rd PGA Tour event, won with par. His previous best finish was an eighth-place tie at the AT&T Byron Nelson. He took home $684,000 from a purse of $3.8 million in Nicholasville, Ky.
"I don't think I've dreamt this big yet honestly," Norrman said. "It's amazing."
Former U.S. Open winner Lucas Glover, the 18- and 36-hole leader, only mustered four birdies on the day and ended alone in fifth place, two shots behind. He did, however, continue his streak of shooting 12 consecutive rounds in the 60s and now has three consecutive top-six finishes.
Here's the prize money payouts for every player who made the cut.
Win: Vincent Norrman, 266/-22, $684,000
P-2: Nathan Kimsey, 266/-22, $414,200
T-3: Adrien Saddier, 267/-21, $224,200
T-3: Trevor Cone, 267/-21, $224,200
5: Lucas Glover, 268/-20, $155,800
6: Taylor Pendrith, 269/-19, $137,750
T-7: Daniel Brown, 270/-18, $123,500
T-7: Grayson Murray, 270/-18, $123,500
T-9: Akshay Bhatia, 271/-17, $95,950
T-9: Masahiro Kawamura, 271/-17, $95,950
T-9: Doc Redman, 271/-17, $95,950
T-9: David Ravetto, 271/-17, $95,950
T-9: Alexander Levy, 271/-17, $95,950
T-14: Ryan Moore, 272/-16, $71,250
T-14: Marcus Kinhult, 272/-16, $71,250
T-16: Tommy Gainey, 273/-15, $52,345
T-16: MJ Daffue, 273/-15, $52,345
T-16: Christoffer Bring, 273/-15, $52,345
T-16: Adam Long, 273/-15, $52,345
T-16: Ryan Armour, 273/-15, $52,345
T-16: Cameron Percy, 273/-15, $52,345
T-16: Louis de Jager, 273/-15, $52,345
T-16: Jayden Schaper, 273/-15, $52,345
T-24: JC Ritchie, 274/-14, $32,585
T-24: Ryan Brehm, 274/-14, $32,585
T-24: Wesley Bryan, 274/-14, $32,585
T-24: Jason Dufner, 274/-14, $32,585
T-28: Kramer Hickok, 275/-13, $27,740
T-28: Henrik Norlander, 275/-13, $27,740
T-30: Angel Hidalgo Portillo, 276/-12, $24,890
T-30: William McGirt, 276/-12, $24,890
T-30: Chris Nido, 276/-12, $24,890
T-33: John Axelsen, 277/-11, $19,841.43
T-33: Brice Garnett, 277/-11, $19,841.43
T-33: Niklas Norgaard, 277/-11, $19,841.43
T-33: Brian Stuard, 277/-11, $19,841.43
T-33: Andrew Novak, 277/-11, $19,841.43
T-33: Russell Knox, 277/-11, $19,841.43
T-33: Tyson Alexander, 277/-11, $19,841.43
T-40: Jason Scrivener, 278/-10, $15,390
T-40: Bo Hoag, 278/-10, $15,390
T-40: Kelly Kraft, 278/-10, $15,390
T-40: Tano Goya, 278/-10, $15,290
T-44: Zecheng Dou, 279/-9, $11,172
T-44: Scott Harrington, 279/-9, $11,172
T-44: Bo Van Pelt, 279/-9, $11,172
T-44: Chad Ramey, 279/-9, $11,172
T-44: Alejandro Del Rey, 279/-9, $11,172
T-44: Matti Schmid, 279/-9, $11,172
T-44: Justin Lower, 279/-9, $11,172
T-44: Kevin Tway, 279/-9, $11,172
T-52: Clement Sordet, 280/-8, $9,006
T-52: Cody Gribble, 280/-8, $9,006
T-52: Peter Malnati, 280/-8, $9,006
T-52: Mikael Lindberg, 280/-8, $9,006
T-52: Ted Potter, Jr., 280/-8, $9,006
T-52: Max McGreevy, 280/-8, $9,006
T-58: Richy Werenski, 281/-7, $8,626
T-58: Aaron Cockerill, 281/-7, $8,626
T-58: Ryo Hisatsune, 281/-7, $8,626
T-58: (a) David Ford, 281/-7, $0
T-62: Patton Kizzire, 282/-6, $8,360
T-62: Martin Trainer, 282/-6, $8,360
T-62: Johannes Veerman, 282/-6, $8,360
T-62: Michael Gligic, 282/-6, $8,360
66: Greg Chalmers, 283/-5, $8,170
67: Sung Kang, 286/-2, $8,094