News
DJ backs up one great round with another in building big Northern Trust lead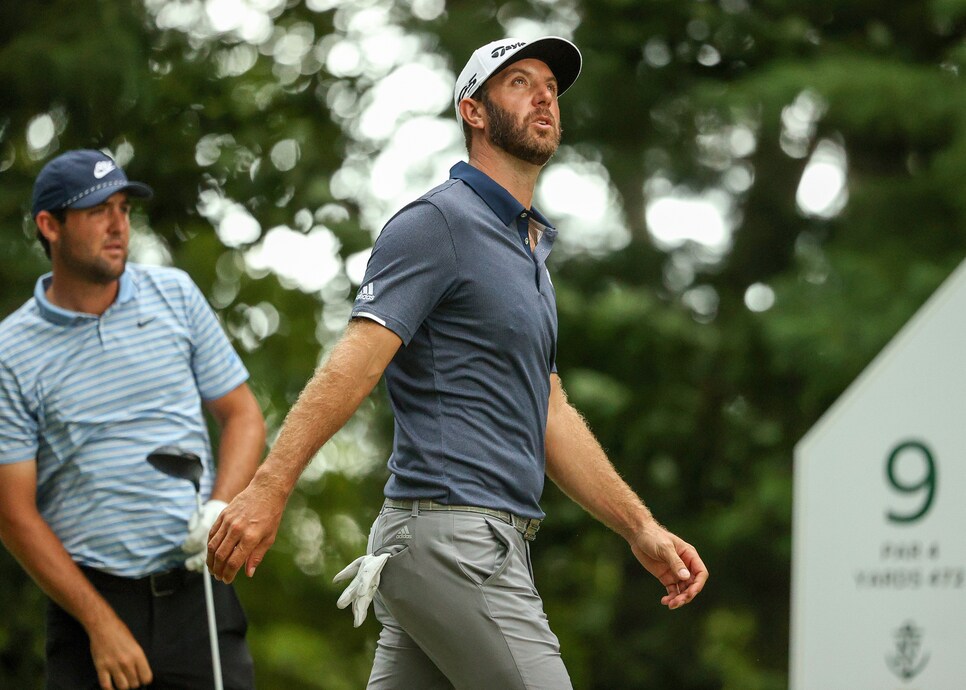 Dustin Johnson looks to the sky as Scottie Scheffler watches his tee shot on the ninth hole during the third round of the Northern Trust.
Maddie Meyer
NORTON, Mass. — Conventional wisdom says you're not supposed to follow up a super-low round with another one. But Dustin Johnson couldn't care less about staid things like golf axioms. He saw no reason why he shouldn't follow up his 60—disappointing as it may have been, after being 11 under through 11—with something else deep in the red. After all, he's "hitting it good," as he put it.
Johnson hit it good again on Saturday at TPC Boston, and he putted well, too. A 40-footer for eagle at 18 gave him a third-round 64, good for a five-shot lead over Mr. 59 Scottie Scheffler and Harris English heading into the final round of the Northern Trust.
"Obviously I'm in a great position and like where I'm at, but I'm still going to have to go out and shoot a good score," Johnson said. "You can go low out here, and guys are going low every day, especially with the conditions we have: perfect greens, golf course is in great shape and not a lot of wind. Obviously, guys are going to shoot pretty low. So I still need to go out and play a good round."
At 22 under for three days, Johnson's got one hand on what would be his 22nd PGA Tour title. That would tie Raymond Floyd, Johnny Farrell and Jim Barnes for 27th all time. It would also put him in pole position to do one of the very few things he hasn't done in this sport.
"The FedEx Cup is something I have not won, and I would like to win," he said. "It's definitely something on my list of goals to accomplish."
This is the second straight tournament that Johnson has carried a multiple-shot lead after 54 holes. The last one, of course, was two weeks ago at the PGA Championship, where he led by two heading into the final day only to have his (former?) buddy Brooks Koepka take a shot at him and his major championship tally. He shot 68 on Sunday to Koepka's 74, but the only number that really mattered was Collin Morikawa's 64, which leaped DJ and robbed him of that ultra-elusive second major championship.
A near-miss like that would've been tough to swallow for most players. But Johnson has an otherworldly ability to not give a crap about seemingly anything. Was he bothered by Brooks' comments? Nah. "He can think whatever he wants," he said earlier this week. Uncomfortable being 11 under through 11? "No, it's not nerve-wracking." Frustrated by parring eight holes in a row on Friday to miss out on golf's magic number? "No. Anytime you shoot a number like [60], you're never going to be disappointed."
So it cannot be a surprise that in his next start after that draining week in San Francisco, Johnson has put daylight between he and a field of virtually all the best players in the world. He was unable to close the deal at Harding Park, so he'll be keen to take care of business tomorrow. But if he doesn't, if he blows a five-shot lead on Sunday, don't be the least bit shocked if he puts himself in this position again next week in Chicago. DJ simply does not respond to things like a normal human would.