No rest for the weary
Tour pro set an Iron Man record this season that will probably never be broken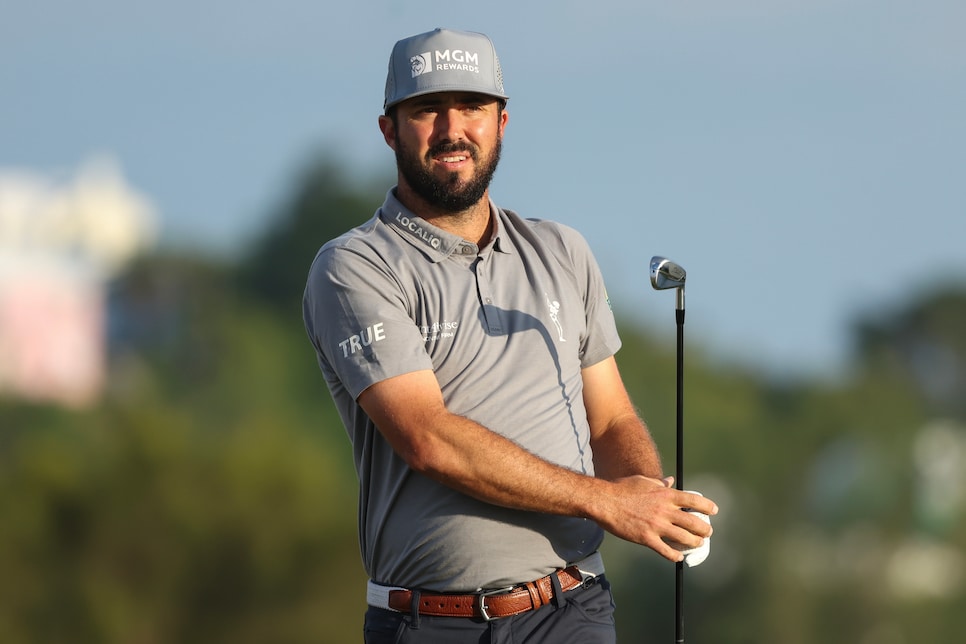 Mark Hubbard watches a shot during the 2023 Butterfield Bermua Championship.
Gregory Shamus
As strange as it is to consider, the PGA Tour campaign that ended on Sunday at the RSM Classic stretched all the way back to the first round of the Fortinet Championship on Sept. 15, 2022. Over that entire period, there were 51 weeks in which tour events were staged, sometimes with two being held per week.
That is an incredibly long "season," one that was necessitated by the tour tweaking its schedule in ways big and small, and ultimately going back to a calendar-year schedule that begins in 2024.
The result was that events on the fall portion of the schedule, such as the Fortinet in California and Shriners Children's Hospital in Las Vegas, were played twice in the 2022-23 season.
That all fed straight into the insatiable desire to play and travel for tour veteran Mark Hubbard. So much so, that the 34-year-old set a PGA Tour record for the most events played in one season as Hubbard racked up a whopping 39 starts over 15 months.
It is a mark that figures never to be broken with a calendar-year schedule.
An 11-year pro who had played in 201 PGA Tour events, Hubbard crossed the $2 million barrier for season earnings (and nearly reached $3 million) for the first time, thanks to 22 cuts made and six top-10 finishes. Indicative of the season, two his best results came in both starts at the Sanderson Farms, where he finished T-5 in 2022 and T-6 in '23.
In an interview with Golfweek, Hubbard, whose X handle, fittingly, is @HomelessHubbs, said he wouldn't have chosen to play as much as he did, but early in the season he was chasing being in the top 50 in the FedEx Cup to try to go deep into the playoffs and guarantee entry in the 2024 Signature events. When that didn't happen (he was 67th), Hubbard, whose previous high for starts was 32 in 2020-21, played in all seven tournaments in the FedEx Cup Fall to get into the "Next 10" (51-60) who also get signature status. He also missed out on that with a finish at No. 65.
Hubbard said he was particularly invested in trying to reach the West Coast Signature events at Pebble Beach, where the San Jose State alum proposed to his wife Meghan, and Riviera, one of the most beloved venues on tour.
"If it were San Diego and Waste Management that were the Signature events, I probably would've played four less times in the fall, but because those two events are so special to me I was motivated to keep playing," Hubbard said told Golfweek.
"Guys like myself outside that top 50 are going to end up having to play more than they normally do, if they're really trying to get into those [Signature] events," he added. "Because you got three weeks or so leading up to qualify for them and then if you do get into those events then you got to play those too, but then you're not necessarily in the next [Signature] event, so you got to keep playing… in a perfect world, I'll play less than 30 events next year."
Remarkably, Hubbard isn't some loner on the road. He and his wife have two girls under the age of 3, and the family was with him on many of the trips. He admitted that it's hardest when they're not there.
"Take away just the mental fatigue and, you know, the physical fatigue of playing 39 events, I would say that was probably the hardest part for me this year is those stretches where I had to go two weeks without seeing them," he said.
Why does Hubbard choose to play so much, beyond the obvious earning of paychecks? He said his childhood has a lot to do with it. His parents divorced when he was 5 and their shared custody agreement had him moving back and forth between homes.
"So I feel like, unknowingly, that kind of groomed me for this life and I've just always kind of felt like very comfortable being a gypsy," he said. "When I'm home or in one place for too long, I start to go a little stir crazy."