LIV Golf vs. PGA Tour
PGA Tour seeks to add Saudi wealth fund to lawsuit, while LIV Golf makes accusation at Augusta National and the Masters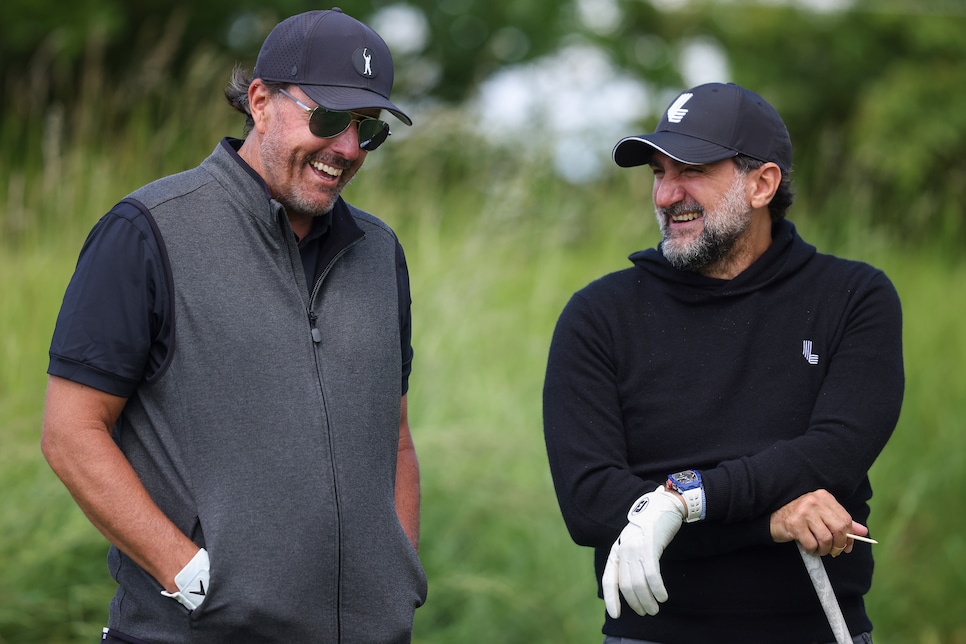 Charlie Crowhurst/LIV Golf
The PGA Tour asked a federal judge to add Saudi Arabia's sovereign wealth fund (PIF) and its governor, Yasir al-Rumayyan, as co-defendants to its countersuit against LIV Golf on Monday night, intensifying the legal battle between the tour and the Saudi-backed circuit.
The request was filed in the Federal District Court in San Jose, where LIV Golf initially filed its antitrust lawsuit against the tour last August. The court is already weighing whether Al-Rumayyan should be deposed, with Monday night's motion allowing the tour another avenue to bring him into the proceedings.
"As set forth in the existing counterclaim, LIV intentionally and knowingly caused these players to breach their contractual obligations to the tour by misrepresenting tour contracts; inducing these breaches by offering highly lucrative contracts that make it impossible for players to comply with their tour contracts; and providing extensive indemnification and hundreds of millions of dollars to compensate LIV players for these breaches," the motion reads. "Recently produced documents confirm that PIF and Mr. Al-Rumayyan played an active and central role in orchestrating these breaches for their own benefit and are equally liable for the harm caused to the tour."
The motion goes on to assert LIV is the end result of a "long-contrived plan" to take over professional golf as part of Saudi Arabia's Vision 2030, which Golf Digest has detailed here. The PIF (Public Investment Fund) is the primary backer of LIV, and documents the PGA Tour obtained in discovery in December allege that PIF and Al-Rumayyan were "instrumental in inducing players to breach their tour contracts." The tour argues Al-Rumayyan personally recruited players, "played an active role in contract negotiations, and expressly approved each of the player contracts—all while knowing that these deals would interfere with the players' tour contracts."

Al-Rumayyan, who is part of Crown Prince Mohammed bin Salman's inner circle, is considered the mastermind of the Golf Saudi and LIV Golf projects, believing the sport has importance in the kingdom's push for what it sees as a better tomorrow as it attempts to diminish Saudi Arabia's reliance on oil by diversifying the economy and modernizing its public services. Though Greg Norman has been the public-facing leader of LIV Golf, sources familiar with LIV tell Golf Digest Al-Rumayyan and Majed Al Sorour were the two people who had final say over LIV Golf/Golf Saudi matters. Earlier this week Al Sorour was transitioned out of managing director of LIV Golf.
LIV attorneys have argued Al-Rumayyan only provided oversight to the project and the tour is exaggerating his role.
For its part, LIV asked the court for copies of communication between members of Augusta National on Monday, believing it underlined the tour's influence in trying to keep LIV Golf out of the sport. "Discovery has shown that the tour delivered these threats not only through its own executives and employees, but by dispatching other influential persons on its behalf," LIV's motion read, which included "the threat of a change in relationship with Augusta's members was used as a stick to discourage one of the top golfers in the world from joining LIV."
Augusta National, along with the PGA Tour, USGA and PGA of America, are reportedly involved in a Department of Justice investigation into LIV's antitrust claims. In December the club announced it will not change its current qualifying criteria for the 2023 Masters, allowing LIV Golf players to compete in the tournament.
A tentative date for summary judgment in the antitrust case is set for July 23, where the tour will likely seek to dismiss the case. The trial date is expected to begin on Jan. 8, 2024. LIV Golf is expected to launch its second season this February.