Wyndham Championship
Russell Henley tries to go wire-to-wire, and others are plenty nervous heading to tour's Bubble Day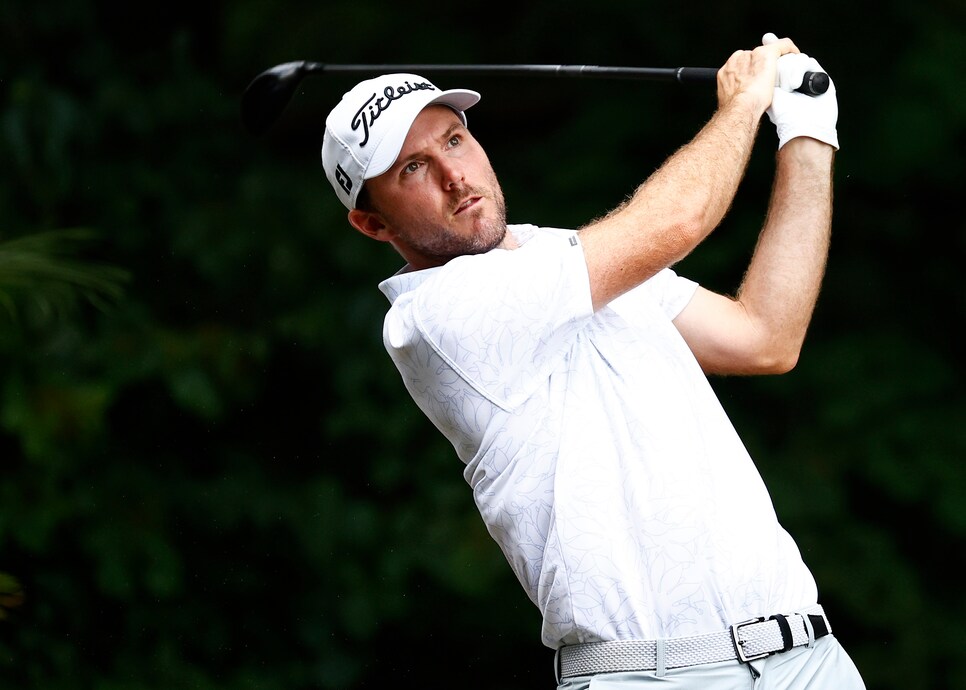 Russell Henley plays his shot from the second tee during the third round of the Wyndham Championship.
Jared Tilton
Here's a statistic nobody mentioned to Russell Henley after he finished his third round at the Wyndham Championship, carding a 69 to take a three-shot lead into Sunday's final round: On the PGA Tour in 2021, three players have led a tournament for each of the first three rounds, and none of them have won.
Harris English couldn't hold on last week in Memphis. Louis Oosthuizen fell to Collin Morikawa at the Open Championship. And Sam Burns faltered on Sunday at the Genesis Invitational. Henley can break that mini-streak (or mini-curse, if you're especially superstitious), and he'll take his chance on what is reliably one of the wildest final rounds on the PGA Tour each year, when the tournament winner is only a small part of the overall drama as the regular season ends and players fight for status and a playoff berth.
"I'm not always going to shoot 62 or 64," Henley said, referring to his torrid start on Thursday and Friday. "I feel thankful to be under par today. I feel like mentally I was pretty tough considering how I was feeling. I was really doing a good job of committing to all my shots, but you've just got to hit fairways out here."
Henley admitted to feeling tentative and nervous, and having to deal with "the thoughts that are not wanted in my head," and he knows that a few more slip-ups on Saturday could have sent him spiraling from the perch he earned over the first 36 holes. Instead, at 15 under, he's three shots ahead of Tyler McCumber, while a huge group at 11 under that includes Kevin Kisner, Kevin Na, and Rory Sabbatini will give chase. They'll do battle earlier than usual, and in groups of three, as weather concerns have pushed tee times up to 9:15 a.m. ET for the leaders. It's a trade-off of heat for humidity, and it's not at all clear which one is preferable.
Henley's scrambling has been magnificent all week—he leads the field in strokes gained/around the green–and he pointed to his par save on 13 Saturday as a key moment.
"I was kind of on the downslope," he said. "If I ground my club, I think my ball would have rolled in the bunker, so I couldn't really put my club down all the way ... [I] had it right above the ball and it was into the grain. I had a ton of green to work with and I just judged it with the correct wedge and the right flight and got that up and down."
Outside Henley, the field has jockeyed for position for 54 holes, and various fates hang in the balance on Sunday. Among the players who are currently projected to end in the top 125 (and thus make the FedExCup Playoffs and receive full status for the 2021-22 season) but started outside the bubble are Roger Sloan, Scott Piercy, and Sabbatini. All three will need to keep their momentum going on a day when fortunes can change swiftly with a bad hole. Justin Rose, who also shot a 69 on Saturday, is projected to finish 126th after starting in the 138th position and could fight his way into the playoffs with a solid Sunday.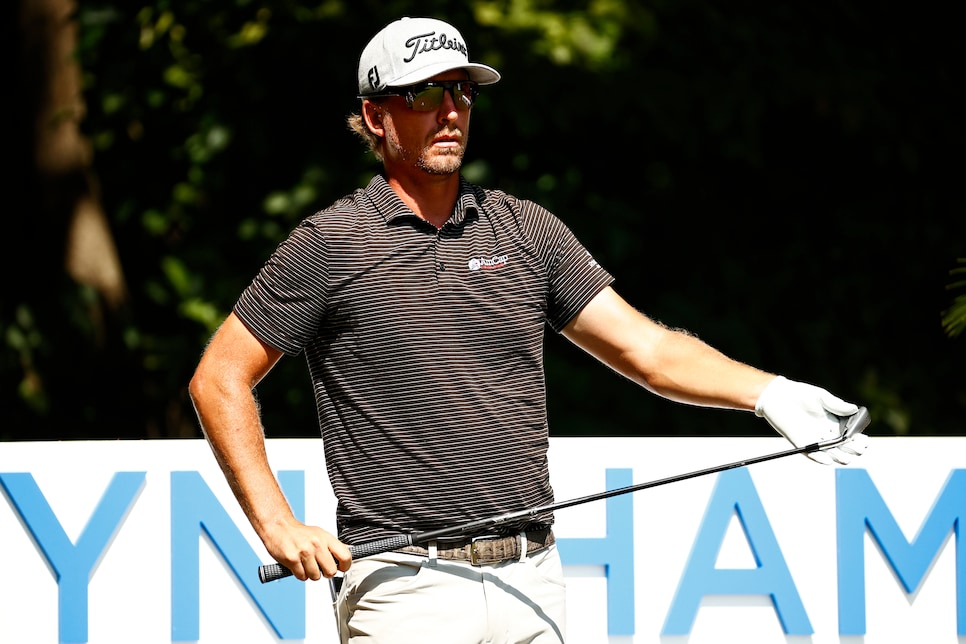 Roger Sloan prepares to play his tee shot on the second hole during the third round of the Wyndham Championship.
Jared Tilton
"I'd like to have been closer to the lead so I can go ahead and focus on winning the golf tournament, but that will still be a pretty good goal tomorrow," Rose said of making the playoffs. "It's an awkward situation to be in, but it's one that's going to be fun to go out there and try and practice all the good habits that you have to do when you win golf tournaments. No matter what the situation is, each shot is pressurized."
Tommy Fleetwood, in a similar position, shot 72 on Saturday to make life very difficult for himself. He's projected to finish 136th and will need a superlative final round to have a prayer of making the playoffs.
Meanwhile, Adam Scott gave his playoff chances a huge boost with a 64, moving from 121 to 106 in the projected rankings. Incredibly, he achieved that number while carding three bogeys. He admitted afterward that the pressure of the moment revived something in him that allowed him to birdie half of the holes he played Saturday.
"Sometimes it just has to come down to do or die to actually find it," he said. "I don't know why it's so hard other weeks of the year, you can't fake that mindset, but this is what it is. It's like qualifying this week for me, so I've got to get it done."
On the flip side of the equation, a handful of players who came in on the good side of the cut line have now fallen out of the top 125 and must hope for good luck. Ryan Armour, who missed the cut, has fallen from 122 to a projected 127; Patrick Rodgers slipped from 123 to a projected 128; Bo Hoag dropped from 125 to a projected 129; and though Dylan Frittelli is still hanging on at 123 after starting the week at 115, he'll have a nervous Sunday as he watches on TV, as will Scott Stallings, who has slipped from 117 to 125, exactly on the bubble.
Any number of other players could experience massive reversals on Sunday, but one of the most fascinating may be Matt Kuchar, who entered the week at 124 in the playoff race and has remained in that exact position. For Kuchar and those like him, every shot is critical, and many of them will likely see their playoff lives come down to the 18th hole at Sedgefield Country Club.
Finally, underlying all of the FedExCup drama, there's a Ryder Cup looming. Players like Henley, Kisner, Rose, Webb Simpson, and more will be relying on captain's picks to make the team, and all of them know that they need to start impressing Steve Stricker and Padraig Harrington quickly.
"It's a weird question because I haven't gotten picked yet and I've played nicely going in," said Kisner, "so I haven't played too nicely this year and people are still talking about it. I figured I had to win this week or next week to really have a chance and I'm in a position, but I've got to shoot something silly tomorrow to have a chance."
The same holds true for the others—it's late in the game, and we're likely past the point where a top-ten 10 has the same eye-opening power as a win.
From the playoffs to status considerations to the Ryder Cup, there will be plenty of dramatic narratives to track on Sunday, and whether you like happy stories or sad ones, you'll have your fill. At the top of the heap is Henley, trying to prove that you can go wire-to-wire in 2021, and to hold a trophy of his own for the first time since 2017.