News
Fans return to PGA Tour this week in Bermuda while questions about safety persist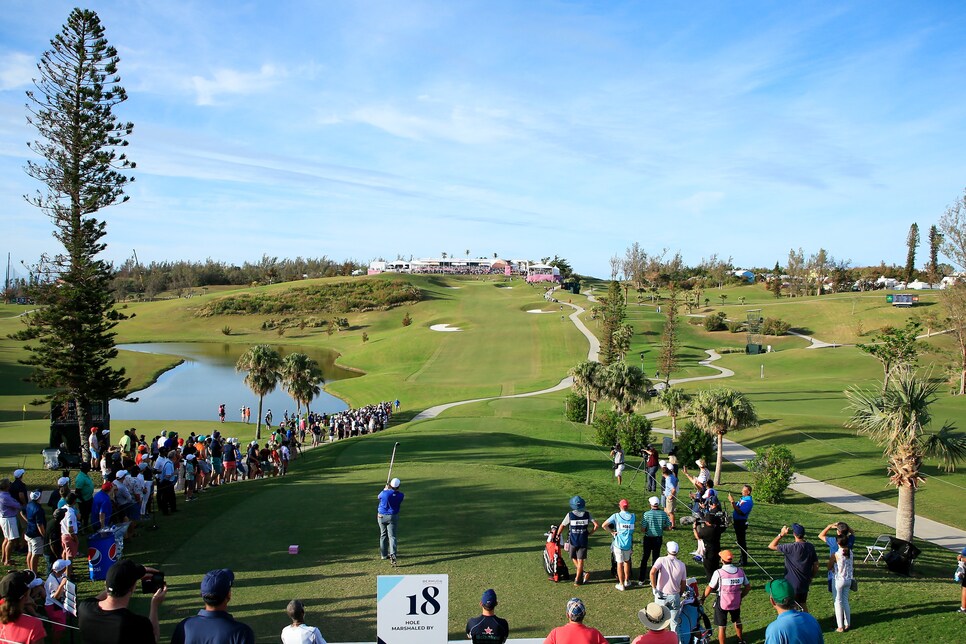 Fans watch on the 18th tee during the final round of the 2019 Bermuda Championship.
Cliff Hawkins
This week's Bermuda Championship will be the first PGA Tour event to allow general admission fans on site since the opening round of the Players Championship in mid-March because of the ongoing COVID-19 pandemic. Although the island paradise has had just 188 total cases of coronavirus and has only three current known cases, strict guidelines will be in place at the tournament—most notably a maximum of 500 spectators will be permitted on the grounds at Port Royal Golf Course each tournament day.
There are other stringent protocols as well, including the requirement of anyone at the event getting tested seven days before arriving, then tested again upon arrival on the island while staying in their hotel room until receiving a negative test result. Masks will also be required for anyone in attendance.
"We were lucky the Bermudian government and the health team here have kept the island safe," said tournament director Sean Sovacool. "We were able to get the tour comfortable [with the idea of having fans] and their protocols matched with Bermuda's."
There are plenty of other safeguards, too: Temperature checks, socially distant viewing areas and pre-packaged food and beverages among them, along with all the regular guidelines that the tour has in place for its players.
Given that, the relatively isolated location and (lack of) scale of the second-year tournament, Sovacool said he was always confident the tournament would be able to take place with fans, particularly as the number of coronavirus cases remained consistently low on the island.
There's also a certain level of comfort for those competing, and spectators will be a welcome sight.
"I think it's a step forward," Anirban Lahiri said on Tuesday. "Bermuda as a country has done really well in managing and handling the virus.
"It will also be great for us to have the galleries again and have that atmosphere that obviously they bring. So it's really great to see that opening up. I think we will be opening up a little bit going forward in the U.S. as well."
That's where the real test will come.
The tour has not formally allowed fans at any U.S. tournament since its return from a three-month break due to the pandemic in June. The PGA Championship and U.S. Open were played without spectators, and the Masters won't have them when it's played next month. But next week's Vivint Houston Open will also allow fans on site, capping its capacity at 2,000 spectators per day.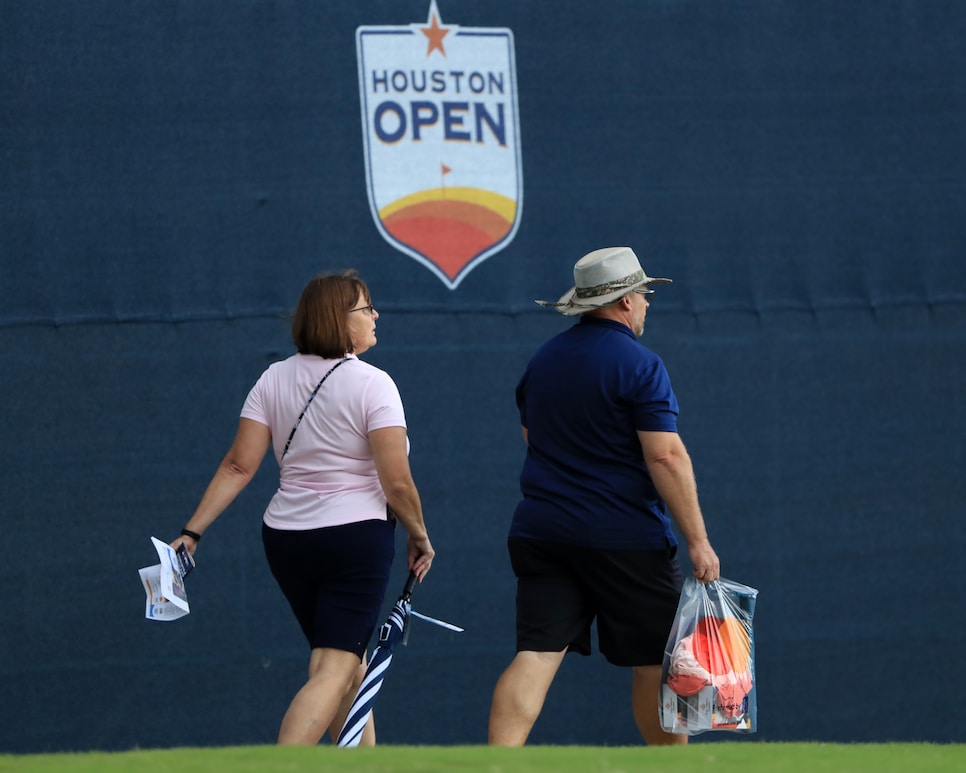 Fans leave last year's Houston Open during a weather delay. As many as 2,000 will be on the grounds for this year's event.
Sam Greenwood
Meanwhile, the number of coronavirus cases across the country are at an all-time high. After a drop in new cases in September, the U.S. is now averaging nearly 70,000 new cases per day. Hospitalizations are also up in many states, including Texas. And while Houston hasn't yet seen a big spike that other parts of the state have, the numbers are trending upward. On Monday, more than 6,500 new cases were reported, up from a little more than 4,600 the Monday prior and more than double the number from two weeks earlier.
Experts also say another surge may be coming to Houston.
"We're going through a phase that I call slow and steady," Dr. Luis Ostrosky, an infectious disease specialist with University of Texas Physicians and University of Texas Health, told television station KHOU. "[It] makes us feel comfortable because we're not exceeding our hospital capacity, we're not seeing people around us getting sick necessarily. But we should not get too comfortable with this phase."
For its part, the Houston Open will require spectators, volunteers and tournament workers to wear masks at all times while on site at Memorial Park Golf Course, which sits just outside downtown. What other measures the tournament will have in place, however, still aren't entirely clear, and tournament director Colby Callaway did not respond to emails from Golf Digest seeking more information.
Despite the rise in coronavirus cases, however, the tournament isn't short on top players. Brooks Koepka, Dustin Johnson, Rickie Fowler, Jason Day, Tony Finau and Brandt Snedeker are all scheduled to be in the field.
That's not to say everyone is entirely comfortable with the idea of having fans at the event, particularly with the Masters looming a week later and the possibility of testing positive and having to miss the year's final major.
"For me personally, I don't like the risk that having that happen the week before the Masters," Phil Mickelson said last week. "I just feel like the week before the Masters, like that's a big tournament we have and I just don't want to have any risk heading in there. "It has made me question whether or not I'll play there."
Though Mickelson clarified his comments a few days later, saying he thinks the tour will do a great job and that having fans wouldn't be a deciding factor on whether he plays the event or not, he has yet to commit to the tournament and is also considering the PGA Tour Champions event in Phoenix, which has said it will limit daily spectators to 350 members.
Whatever Mickelson does, he's not alone in his feelings.
Scott Stallings, who is in the field this week in Bermuda and will play in Houston next week, believes it's too soon to have fans in attendance. Privately, others also expressed similar concerns.
"It's not worth the risk with only three events left in the U.S.," Stallings said. "We've made it this far without issue, why rush back?"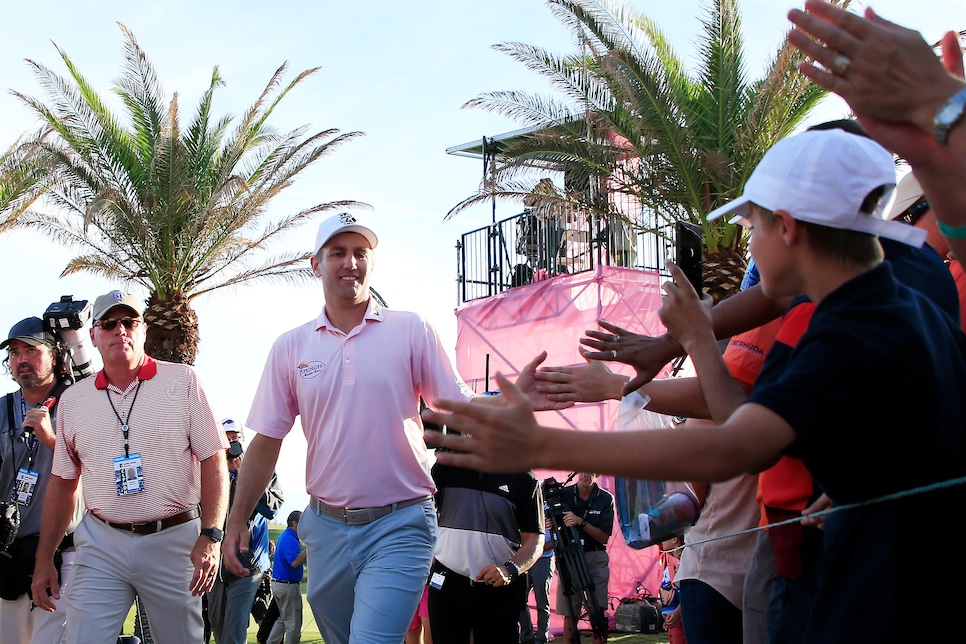 Brendon Todd greets fans after winning during the final round of the 2019 Bermuda Championship at Port Royal Golf Course.
Cliff Hawkins
Initially, the Memorial tournament in July was slated to have as many as 8,000 fans per day. But players voted against the idea and the plan was scrapped. More than three months later, the number of coronavirus cases in the U.S. is even higher, though the number of players on tour to have tested positive has remained low—13 in all after Dustin Johnson tested positive before the CJ Cup two weeks ago and Adam Scott was positive before last week's Zozo Championship.
Golf does, however, have the advantage of being able to spread out its fans, or at least a couple thousand of them, over a couple of hundred acres of open space. And there's something to be said for the Houston Open as being something of a test case.
Over the last few months, the tour has found a way forward. Allowing fans—a financially integral part of the ability for a sponsor to put on a tournament at all—would be the next step. However, such decisions also only go as far as state and local regulations allow. It seems possible, for example, that fans would be permitted at the four events in California during the tour's West Coast Swing in the first two months of 2021, according to sources. The state has yet to allow fans to attend sporting events of any kind.
Other players, meanwhile, fall somewhere in between on how they feel about the return of spectators. They welcome the energy and buzz they bring, but do so cautiously.
"I'm OK with it and want to see how plans are implemented," said James Hahn, who is one of four player directors on tour and will also play in Houston. "I'm hesitant to disagree with [the decision]. But it's not that I agree with it, either. I need to play. I need the points and I like the event.
"Is it worth my health to try to go play?"
The same could be asked of having a couple of thousand fans in Houston and what it will ultimately mean for the tour as it plays on, this time in front of an audience.