Local Knowledge
A PGA Tour player's entourage has never been bigger. Our latest podcast examines what everyone actually does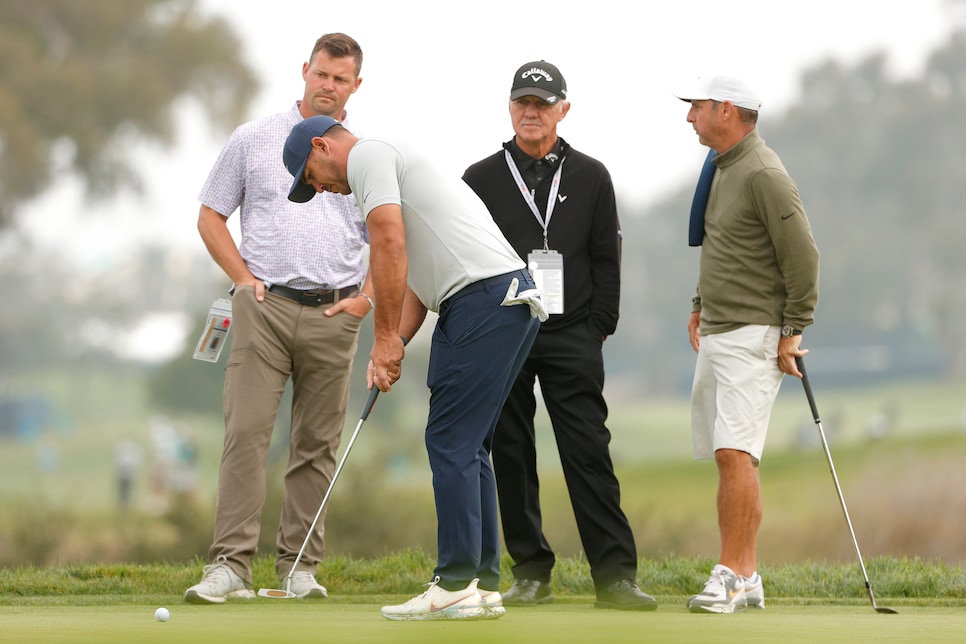 If you've attended a PGA Tour practice round recently, there's a decent chance you found yourself wondering: Who are all these people inside the ropes, and what do they do?
Whereas golf has historically been known as a game of rugged individualism, the modern game is more of a collaborative effort than ever before. The top players at this week's PGA Championship will be flanked by a full support team that could include, but is not limited to: a caddie, a swing coach, a short-game coach, a putting coach, a mental-game coach, a trainer (or multiple trainers), a club fitter, a statistician, an agent—even a biomechanist, though he's more likely to be off in his studio analyzing data than out on a driving range.
For this episode of Local Knowledge, we peeled back the curtain on the modern PGA Tour player's entourage by featuring all the team members who won't hit a single shot all season. We spoke with Collin Morikawa and his agent, J.J. Jakovac; with Mark Blackburn, swing coach for Max Homa, Charley Hoffman, Adam Hadwin and more; with Phil Kenyon, putting coach to Matt Fitzpatrick, Lee Westwood, Justin Rose, among others; with Dr. Bhrett McCabe, a clinical psychologist who counts Jon Rahm, Sam Burns and Billy Horschel as clients; with stats guru Hunter Stewart, who helps seven PGA Tour players; with Rian Chab and Leo Rooney, trainers for Morikawa; with Kenton Oates, a tour equipment rep for Ping; and with Dr. Sasho Mackenzie, a professor of sports kinetics whose STACK speed system is helping dozens of tour pros add distance.
It's a 38-minute journey into all the work that goes on behind the scenes to help these players gain even the slightest advantage over their peers.
"The player is the ultimate tip of the spear," is how Dr. McCabe explains the dynamic. "They are the nuclear weapon in the missile. The F1, NASCAR model, where we put teams around players, he's the owner of the team. It's the best model there is."