News & Tours
Jay Monahan expresses regret about the way PIF news was handled, but is bullish on PGA Tour's future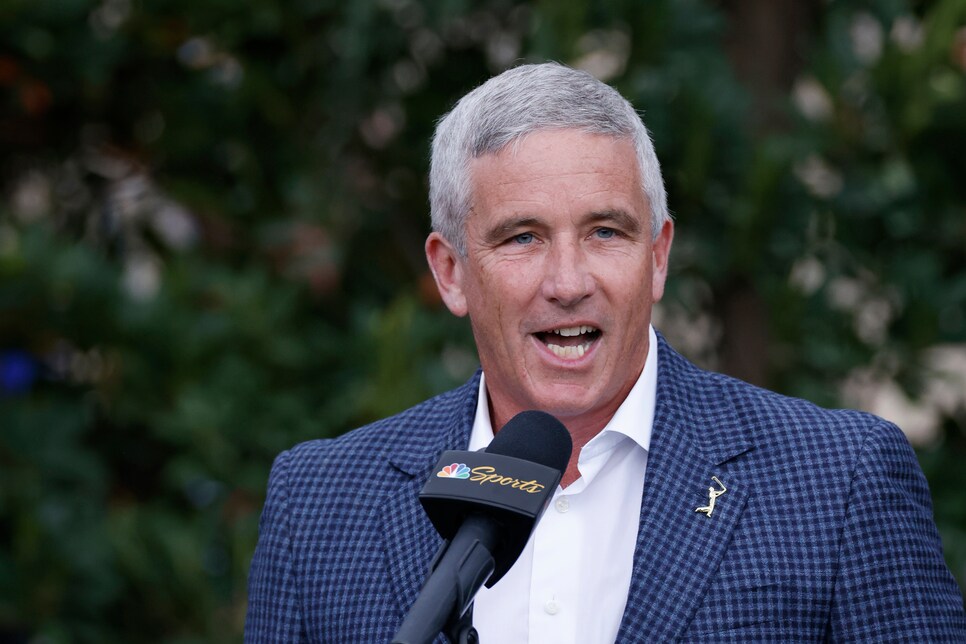 MEMPHIS — While admitting that the manner in which the PGA Tour announced its stunning framework agreement with Saudi Arabia's Public Investment Fund was poorly handled, commissioner Jay Monahan remains committed to seeing the deal through, saying, "This is the right path forward."
Meeting with the media on Wednesday for the first time since returning to work July 17 after taking a month off to deal with health issues caused by anxiety, Monahan couldn't provide many concrete details to the ongoing discussions with PIF's proposed investment in what is called the "NewCo"—eventually it will be called PGA Tour Enterprises—but is confident that an agreement can be reached by year's end.
The tour has been in active conversations with PIF representatives since Monahan joined with PIF governor Yasir Al-Rumayyan on June 6 to announce that it had reached an agreement to form an alliance that includes the DP World Tour. PIF is currently the financial backer of the rival LIV Golf League that was launched last year. The tour and PIF had meetings as recently as last weekend.
"That is the target and that is realistic," Monahan said of the Dec. 31 target date outlined in the framework agreement. "The expectation is that we'll complete an agreement, but there are always contingencies, and the PGA Tour, as I said earlier, part of the reason that you enter into the conversation is because you're in as strong a position as we are in.
"There is the short term and there is the long term. Looking out over the horizon, we feel like this is the right move for the PGA Tour, to create a new commercial model, a NewCo that allows PIF to invest in our business, which is what they want to do as a minority investor, and to be able to grow the PGA Tour, make it more rewarding for players and fans going forward. That's what we think is the right path forward."
That said, though the tour has "an agreement to explore and agreement," it is prepared to move on without PIF, and Monahan said it is financially healthy enough to do so. "I think in any business, you have to think about contingencies, and that's what we have done, and that's what we'll continue to do," he said. "If we're not successful, I guess we'll cross that bridge when we get there."
In addition to ongoing discussions with PIF, the tour also continues to cooperate with the U.S. Department of Justice, which has opened an inquiry into the potential deal.
Monahan said one of his biggest goals now that he has returned is regaining the trust of the players, who have said they felt blindsided by the June 6 announcement. He acknowledged that it was an ineffective rollout and that he has suffered "a setback" in his relations with the players. He said his biggest regret "was not being more patient on the night of June 5th." Instead, he would have first flown to Toronto to address the players directly at the RBC Canadian Open.
"It was ineffective. And as a result, there was a lot of misinformation," Monahan said. "I think anytime you have misinformation that can lead to mistrust, and that's my responsibility. It's nobody else's responsibility ... that's me and me alone. As I've said, I take full accountability for that. At the same time, I apologize for putting players on their back foot, but ultimately the move that we made is the right move for the PGA Tour. I firmly believe that. And as we go forward, time will bear that out.
"I think life is all about … things aren't always going to be perfect," he added. "They're not perfect out here, and they're not perfect in my seat. The question is can you be strong enough to learn from it and to actually gain strength from it and turn it into a positive. That's kind of where my mindset is."
It doesn't hurt to have acceded to a request by a large contingent of players to add Tiger Woods to the PGA Tour Policy Board. Woods and 40 other players wrote a letter to Monahan on Aug. 1 requesting more player involvement in tour decisions and that Woods be placed on the board as a sixth player director.
Monahan said of the request, "I couldn't say yes fast enough because he's essentially been, in a certain way, in that role behind the scenes. I think it's a tremendous statement, and it gives our players great confidence to know that he's in that spot.
"It's a question I was going to ask of him," Monahan added, "and for him to step up that way I think is tremendous."