News
Jon Rahm needed only one round to erase DJ's FedEx Cup lead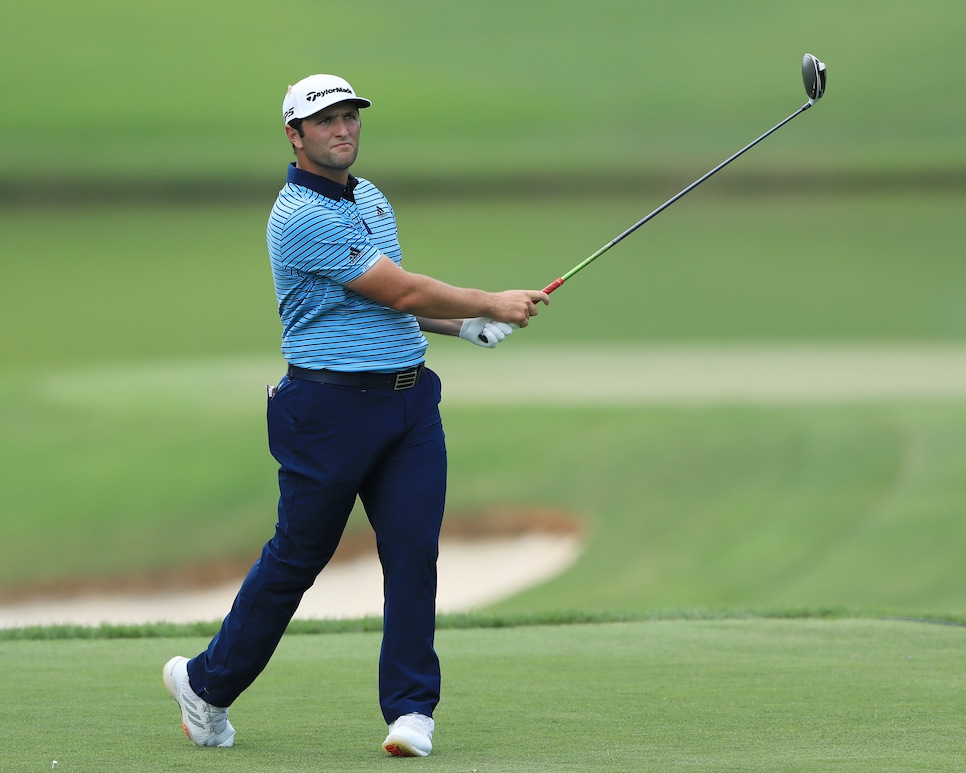 Jon Rahm plays his shot from the fourth tee during the first round of the Tour Championship at East Lake Golf Club.
Sam Greenwood
ATLANTA — Dustin Johnson and Jon Rahm, tied for the lead. Here we go again.
A week ago, the two slugged it out in an epic showdown at the BMW Championship, where Johnson holed a 45-footer on the final hole of regulation to force a playoff before Rahm answered with a 66-footer of his own to win on the first hole of sudden death.
What could they possibly do for an encore?
Friday at East Lake offered a pretty good glimpse. And this time they were paired together.
Johnson began the day at 10 under and with a two-stroke advantage over Rahm, a benefit of leading the FedEx Cup standings going into the staggered-start Tour Championship. Then Johnson shot a decent-but-not-great three-under 67, an effort made more impressive by the fact that he hit just five fairways.
Still, considering his struggles off the tee, Johnson was relatively pleased with the outcome.
"Game is in good shape," he said. "Got a lot of confidence in it and swinging well."
After finishing second last week and winning in a runaway the week before at The Northern Trust, Johnson has reason to feel good.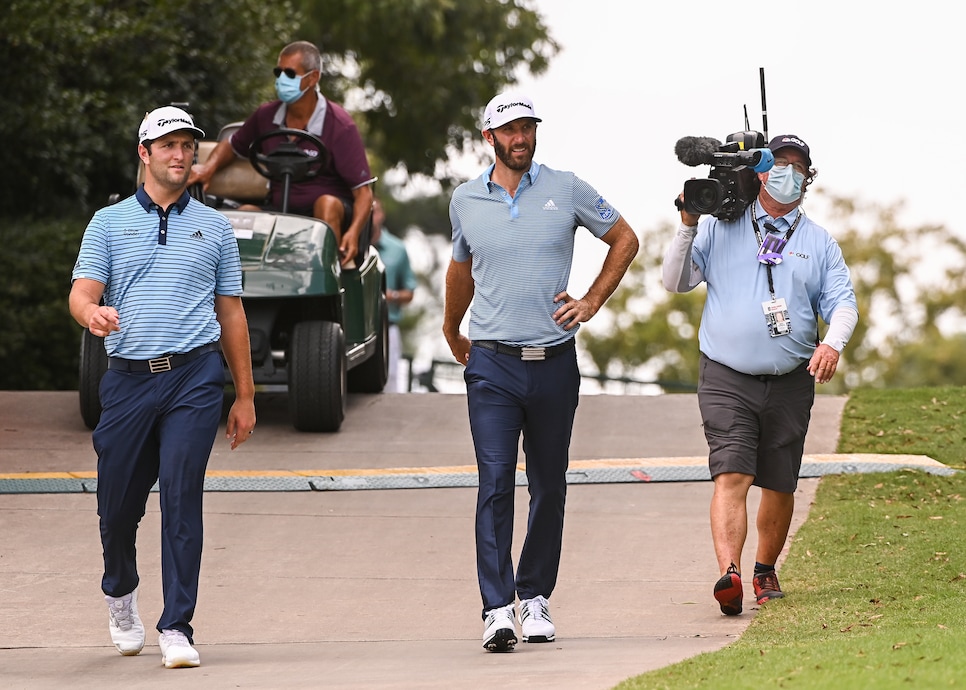 Jon Rahm and Dustin Johnson walk together to the first tee box during the first round of the Tour Championship.
Ben Jared
So does Rahm, and he played like it, racking up a half-dozen birdies, including four over his final seven holes, to shoot 65 to tie Johnson for the lead.
"I would say rounds like this don't come by very easily at East Lake," Rahm said. "I was able to put the ball on the green in good spots when I could, and when I couldn't, I was able to give myself the best up-and-down option possible. I tried at least."
And succeeded, despite, like Johnson, struggling off the tee. Rahm hit just three fairways. His iron play helped save him. Then there was his short game. He made a terrific up-and-down for birdie after short-siding himself in a buried lie in the rough left of the par-5 sixth, saved par from behind the green on the 10th and lipped out a bunker shot in nearly making birdie at 18.
"It doesn't make you second-guess when you're hitting shots into the green, What if I miss a shot?" he said. "I'm fully confident I can get up-and-down. But I hope I don't have to depend on my short game the rest of the week as much as I did today."
Once again, Rahm was magnificent with his putting. Five times, he holed putts from outside 10 feet, including from 29 feet for birdie on 12 and from 24 feet for another birdie on the par-3 15th.
Johnson's response to the latter? He made birdie, too, sinking a 16-footer of his own. Back and forth they went all day.
"I mean, technically it is a continuation, right?" Rahm said. "I kind of stole that tournament last week from him and he started with a two-shot lead, so hopefully I can steal this one, as well."