News
Oh baby! New dad Rory McIlroy fires 64 to get into mix at Tour Championship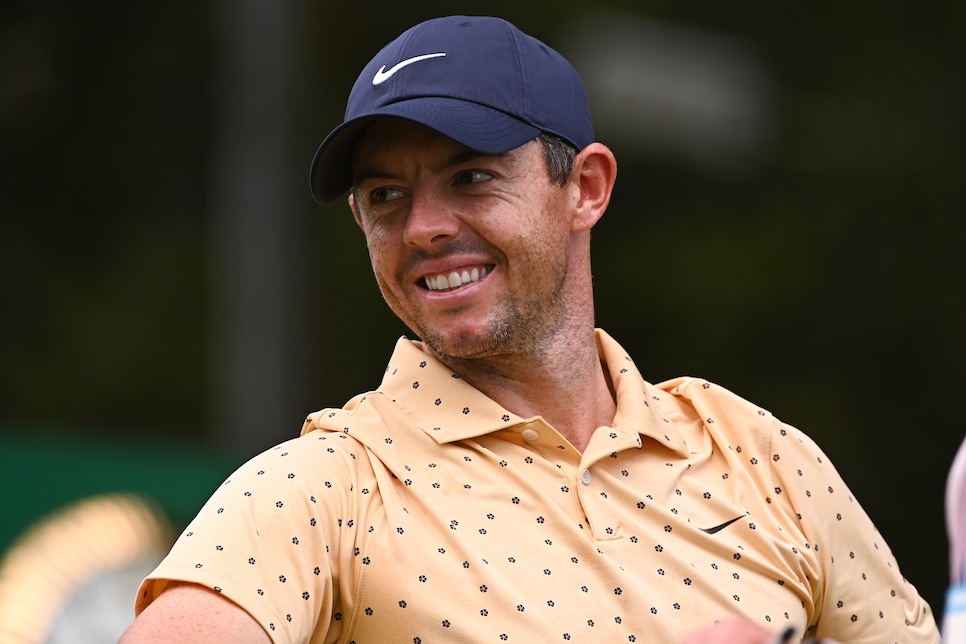 Rory McIlroy smiles while standing on the first tee box during the first round of the Tour Championship at East Lake Golf Club.
Ben Jared
ATLANTA — Despite having won last year's Tour Championship and consequently the FedEx Cup, Rory McIlroy arrived at East Lake this week with low expectations.
The distraction of becoming a father for the first time can do that, and McIlroy didn't arrive on site until Thursday afternoon after his wife, Erica, gave birth to a baby girl on Monday. He also didn't touch a club between last week's BMW Championship and when he arrived at East Lake, playing just nine holes on the eve of the season finale.
"I came in here and golf was sort of the furthest thing from my mind," he said. "Sometimes that's a good thing, just to decompress and get away from it."
McIlroy ripped off eight birdies, including three in a row to close out a back-nine 30 and a six-under 64 on Friday. That leaves him just four strokes back of leader Dustin Johnson after beginning the opening round seven behind in the staggered-format tournament.
The score matched McIlroy's career best in the Tour Championship and was his best round during the PGA Tour's restart since an opening 63 at the Travelers Championship, where he went on to finish T-11, also his best finish over the last three months.
Since the tour resumed its season in mid-June, McIlroy admitted he felt a lack of energy without fans and last week said in recent weeks that he had been "going through the motions." Knowing that a baby was on the way at any moment certainly played its role as well.
Now that she has been born, McIlroy can get back to golf. With mom and baby happy and healthy at home, his mind was free and so was his swing. His iron play was sharp and wedge play much improved in the opening round.
"Subconsciously, there was probably something in there that was lingering; it was just a perfect storm of that going on in my life and really not adjusting well to life without fans out here, as well, and just not really getting an energy," he said. "Your body is here and your mind is trying to be here, but your mind is also sort of divided and back there. I don't want to say—it's not an excuse—it wasn't a distraction, but it was on my mind.
"At the end of the day I just didn't play well enough over the last few weeks to get myself into contention, and I never want to make the excuse that there was other things on my mind, because you should be able to concentrate for that 15 or 20 seconds you're over a golf shot to do what you need to do."
If McIlroy's first round as a father is any indication, he should be just fine.