Here's what went into the course-mapping process for the PGA Tour 2K21 video game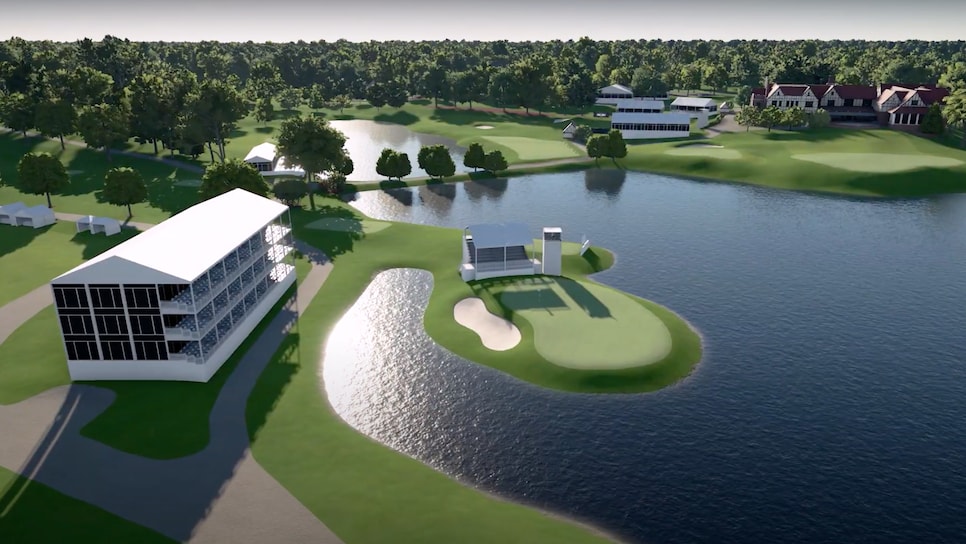 When the first trailer for PGA Tour 2K21 dropped in May, the two biggest lingering questions were: 1. Will there be PGA Tour pros in the game? And 2. What courses will be in the game? The former was answered in a series of announcements on social media, while the latter remained a bit of a mystery despite the August 21 release date rapidly approaching.
On Wednesday, the full course list was finally revealed, featuring 15 licensed TPC tracks. Six of them were carried over from the previous iteration of the game, The Golf Club 2019: TPC Boston, TPC Deere Run, TPC Sawgrass, TPC Scottsdale, TPC Southwind and TPC Summerlin. Minor changes have been made to each to ensure they play true to the current version of each course.
The rest of the lineup is an eye-popping one for any PGA Tour fan: Atlantic Beach Country Club, site of the Korn Ferry Tour Championship; Innisbrook's Copperhead course, site of the Valspar Championship; East Lake Golf Club, site of the Tour Championship; Quail Hollow Club, site of the Wells Fargo Championship; Riviera Country Club, site of the Genesis Invitational; TPC River Highlands, site of the Travelers Championship; TPC San Antonio, site of the Valero Texas Open; and TPC Twin Cities, site of the 3M Open.
You are using an unsupported version of Internet Explorer. Please upgrade to Internet Explorer 11 or use a different web browser.
The course-mapping process began almost two years ago, as each course took several months to complete. Shaun West, senior producer at HB Studios, which produces the PGA Tour 2K21 game, was very involved in that process.
"Starting those conversations, making sure we were aligned on which courses would be in the game, setting up times with our scanning team, Terra Imaging, to go to each course and capture the data that we'll use in the product," West told Golf Digest. "And then several months to take that 3D data, building the stands, the trees, mapping out the fairways, greens and bunkers, and then play testing it for review and feedback.
"Our 3D team has done an amazing job, so there hasn't been a ton of major feedback we need to address."
That made the final, fine-tuning process much quicker than expected. Two-to-four weeks per course, says West. The result is expected to be one of the more realistic golf video game experiences any user has seen. Judging by the first few trailers, there does not appear to be a blade of grass out of place.
Aerial footage was a big part of Terra Imaging's process. The team went to each course and used a drone to capture nearly every real-life detail of these famous courses. Users will be able to feel every break in the green and elevated tee box that PGA Tour pros face in real tournaments.
"I feel like we've done a fantastic job of recreating them as close as you can get," said West. "I've never personally played any of them, but just from the detail we get from the scan data, the reference in video footage that the course and event provide to us and the months we've put into recreating them, I feel that this is the best version of any of these courses that people will have access to."
In addition to the 15 TPC licensed courses, there are also 21 user-generated courses carried over from the previous iteration of the game, The Golf Club 2019, which make up the rest of the 36-event schedule in the game's PGA Tour career mode.
"People get pretty creative with what they try to publish," West says. "We have some of our favorites and some fan favorites and we've integrated them into the experience.
Fans of the old version of the game will be happy to know you can still create courses in PGA Tour 2K21. More importantly, users can import works that they've published on the 2019 game, so they don't have to start from scratch.
At first glance, fans may be very excited about the prospect of taking on Riviera Country Club, or TPC River Highlands, which features a few of the best risk-reward finishing holes on tour. West's favorite is one you might not have first guessed.
"I think all of the courses have their own unique feel to them. They all present their own challenges. It depends how you play the game and the difficulty you're playing on. Depending on who you ask on our team, everyone is going to give you a different answer on what their favorite is. Personally I'm a huge fan of the Innisbrook Copperhead Course, I think the event that's held there is so unique compared to some of the other ones, the different layouts, the dressing that you see on there, it changes with almost every single hole. And then of course finishing out with the Snake Pit, some of the toughest finishing holes in golf, we really captured that in our product. Being able to experience that the way that the pros do, when they play that event, it's been a lot of fun for me."
The game features six difficulty levels: beginner, amateur, pro, pro-am, master and legendary. Users will be able to mix and match how they see fit, i.e. playing on amateur mode but putting the swing on master mode. Each mode has its own subset of presets and aids they provide to the user.
Expectations are already very high ahead of the Aug. 21 release date. West and the rest of the PGA Tour 2K21 team can't wait until people get their hands on a controller.
"I'm excited to see what people think of this product," he said. "A lot of great comments have come from some of the courses we put out already. I think it's going to be a lot of fun to see the feedback once they get hands on, because that's the true test of the product."
You are using an unsupported version of Internet Explorer. Please upgrade to Internet Explorer 11 or use a different web browser.